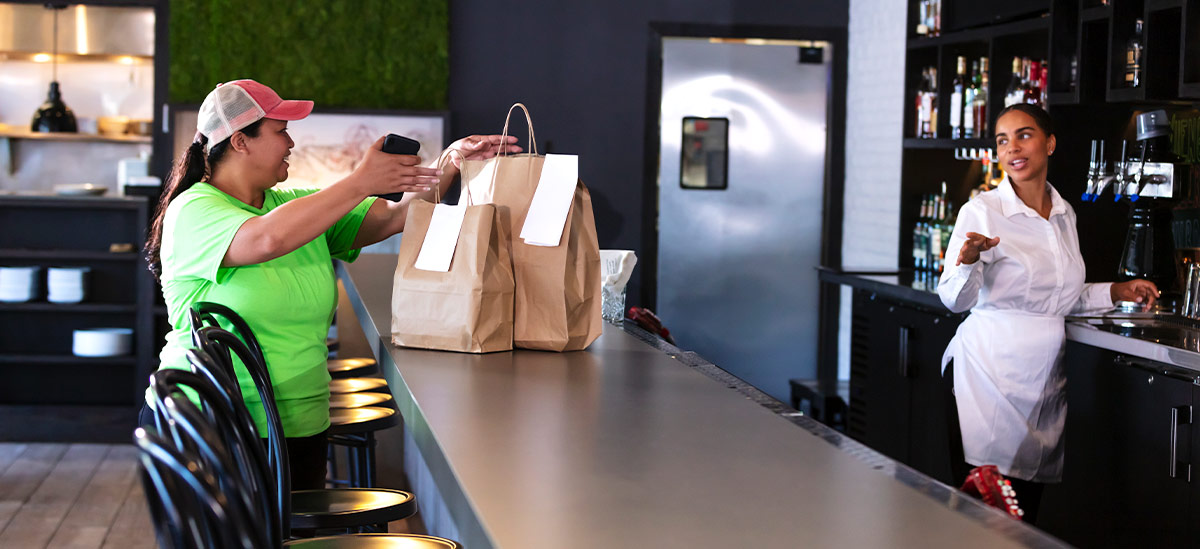 With more than 265 million consumers expected to shop digitally in 2023,[1] business must do everything they can to compete in an increasingly online market. The food and beverage sector hasn't been on the sidelines of this digital growth, either: 28% of US consumers said they'd order groceries online for pickup or delivery at least once a month in 2022, which was up from 23% the year before,[2] while the number of Americans using apps to order food and other groceries was expected to rise from 27.9 million to 30.4 million in 2022.[3]
Whatever food and beverage products your small business sells, one thing's clear — consumers are consistently taking their business online. Keeping up with this increase in demand means FBA small businesses will need to focus on several essential areas, like transparency and the proper labeling of ingredients and allergens, to name a few.
Here are a few things to keep in mind to ensure your FBA small business is ready for optimal eCommerce success this year.
Boldly List Your Best Assets
The first and most essential way for FBA small businesses to connect with clientele through eCommerce is to ensure they are calling out the benefits of their products that consumers crave.
These days that includes things like:
Sustainability: If your products focus on sustainability, shout it from the(digital) rooftops. According to the National Retail Federation, 50% of consumers claim they're willing to pay a premium for sustainability (although fewer than one in three say sustainable products made up more than half of their last purchase),[4] and 55% of consumers indicate they're more likely to purchase a packaged food item if it includes a sustainability claim.[5]
Local pride: If you source products and employee people from local markets, consumers want to hear about it. Surveys show that just over 82% of consumers say they'd spend more to support local businesses after the pandemic, while 70% of consumers say they're supporting local businesses by shopping online only, or through a mix of online and in-store.[6]
Make Shopping on Your Website Easy and Delivery Convenient
Whatever food and/or beverage products your business sells, ease is key:
Checkout and delivery: According to one survey, 23% of food and beverage online shoppers would abandon an order if same-day delivery wasn't an option.[7] Another 17% admitted to abandoning their checkout carts when the checkout process was too long or complicated.[8]
Payment options: When possible, offering additional payment options and additional incentives — like free shipping and fewer fees — is another way to entice consumers. Especially as prices continue to rise, consumers are increasingly looking for additional payments — like Buy Now, Pay Later[9] — to cover their food expenses, while almost half of consumers — 48% — say they abandon their carts during checkout because extra costs, like shipping, taxes and fees, were too high.[10]
Be More Transparent
Transparency in the areas listed above matter (sustainability, sourcing and hiring practices), but when you're providing people with food and beverage online, companies need to go one step further and consider additional health and wellness concerns.
For example:
Highlight all ingredients: 94% of Americans say they are familiar with front-of-package (FOP) food labels, with 54% admitting that FOP labels impact their food and beverage purchases.[11] Make these details easy to enlarge online so people can gather all the information they require before making a purchase.
Call out allergens: About 32 million people have food allergies in the United States, according to the Asthma and Allergy Foundation of America.[12] Follow the U.S. Food & Drug Administration's Food Labeling & Nutrition laws to ensure you stay compliant and to make it easy for customers to find this information on your website to avoid putting them in harm's way.
eCommerce is here to stay, and FBA small businesses that aren't prepared to put their best website forward will not succeed. The above suggestions can help.
For more information: PNC Solutions for Food, Beverage & Agribusiness