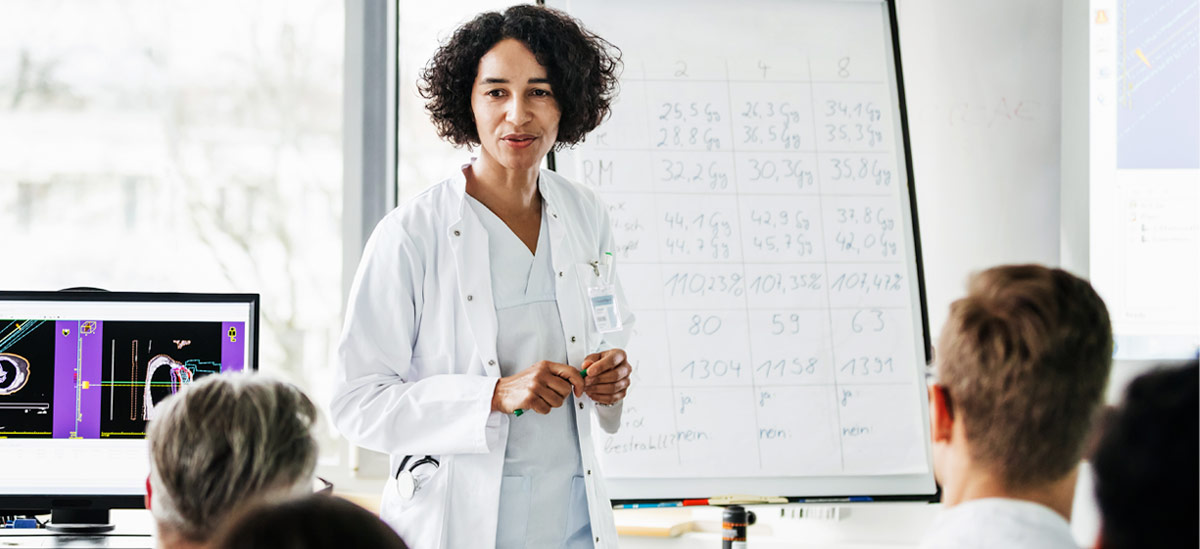 As the Great Resignation continues, healthcare can be counted as the second most affected industry.[1] The numbers[2] are staggering, with nearly 660,000 people leaving their positions in the education and health services category in November of 2021 alone. On a broader scale, nearly one in five healthcare workers have left their jobs since February 2020, and 30 percent are still considering quitting.
On the one hand, it makes sense that healthcare workers — those on the front line of the pandemic and all the havoc it's wreaked — would be eager to leave behind the stress, health concerns, and frustration of their jobs. The reality, though, is that healthcare companies can certainly be doing more as a whole to help attract and retain the talented workers that we so desperately need in this field. Besides monetary incentives — to the tune of raises, retention bonuses, profit sharing, and continued hazard pay — paying attention to the shifting dynamic of the healthcare industry as a whole can go a long way towards instituting the changes that will help create a better overall atmosphere for healthcare workers to flourish. Here's how.
The issue: Taking staff burnout and mental health seriously.
A survey[3] of over 500 healthcare workers and first responders found that most respondents reported clinically significant psychiatric symptoms like post-traumatic stress disorder, depression, and anxiety.
How to help: While there's no easy fix to issues like these, there are some good places to start. Instituting a few structural and cultural changes like better paid sick leave — including for mental health days — helps offer better access to the right kind of mental support when needed. The proper Employee Assistance Programs, for example, provide the type of mental health benefits that ensure employees receive the targeted and specialized care they need for whatever emotional issues they might be dealing with. Providing seminars and literature to help de-stigmatize mental health needs can also go long. Our healthcare providers may be heroes without capes, but they're only human. In that regard, appropriately normalizing the need to deal with the emotional fallout from these stressful jobs should be a top priority.
The issue: Providing the right kind of training and technology for the ever-changing healthcare field.
The pandemic made necessary a version of healthcare that has long been evolving: Virtual care. There are many perks to this version of healthcare visit, but it also comes with a steep learning curve for the workers tasked with making it seamless for patients. For example, healthcare providers working in a virtual environment deal with more workplace transparency (through things like recorded calls) and are often required to make back-to-back "visits" (aka calls) without much downtime in between. This hyper-visualized workplace, combined with an increase in turnaround, requires a new level of diligence and productivity from healthcare workers.
How to help: Investing in the proper employee training and technology (like better streaming services) can help make the conversion from in-person to virtual care less stressful. Healthcare workers agree: In one survey,[4] 90 percent of providers exposed to the concept of telemedicine during COVID-19 agreed that it needs to be part of the overall training curriculum.
The issue: Helping workers deal with disruptive patients.
Even as Covid cases decline, dealing with unruly patients[5] has become a mainstay for healthcare workers who, at the end of the day, want nothing more than to be able to help those in need.
How to help: Providing workshops with experts who can arm workers with different methods and strategies for dealing with disorderly patients can help them set boundaries, avoid escalations, and have a place to turn to for more support.
The issue: Offering advanced training and courses for career growth.
Talk to any healthcare worker who has stayed in the field, and most will say that they've done so because working as a healthcare provider is about more than collecting a paycheck. That might explain why one (admittedly pre-pandemic) study[6] found that personal calling was the most commonly cited reason for joining the profession across all four settings of staff interviewed.
How to help: With more people leaving the workforce, it's easier than ever for people looking to advance in the industry to score a coveted role. Organizations can set up a win-win situation by expanding the resources that healthcare workers need to thrive — like offering flexible scheduling for additional training and providing free pathways for career growth — which helps these companies retain good workers and grow their staff of well-trained employees.
If there's anything we've learned over the past two years, our healthcare workers are more essential than ever when it comes to the overall safety and health of our society. By instituting some of the changes above, healthcare organizations can ensure that they are doing everything they can to care for those who work in the healthcare system the way they have continued to care for us.