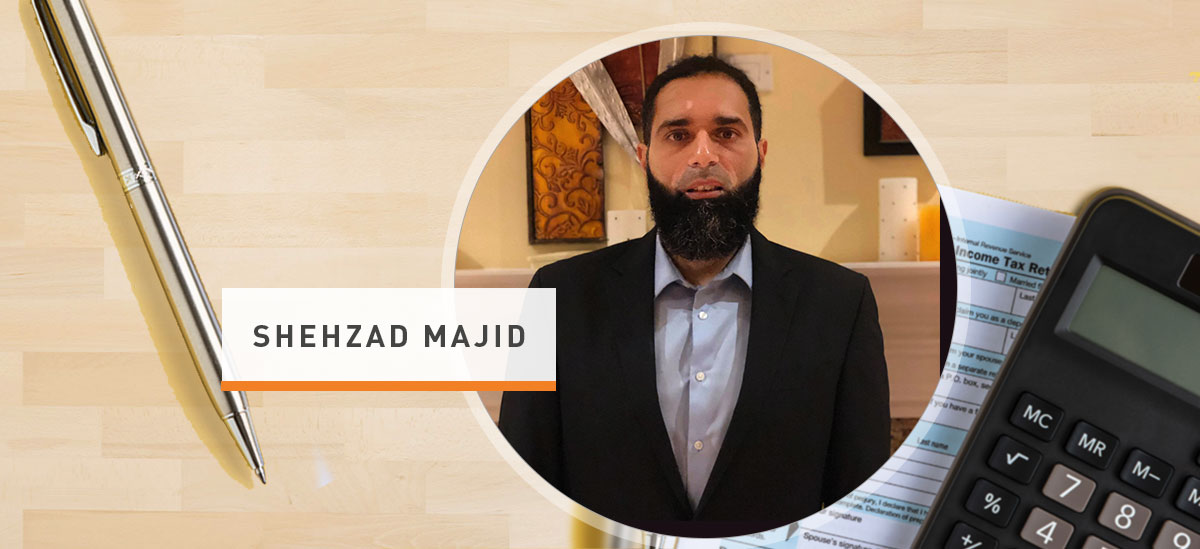 Shehzad Majid amassed financial experience for 15 years before becoming an entrepreneur. Working in the audit practice of a Big Four accounting firm and then as a controller with an apparel distributor, he set a goal for himself of one day running his own business.
"I always wanted to be my own boss and have the flexibility to be able to work my own hours," says Shehzad. "My corporate jobs did not offer great work-life balance and, after starting a family, I realized how important it was to set priorities in my life. I knew that running my own business would be challenging, but I was committed to figuring out a way to make it work.
In 2002, Shehzad joined Strategic Tax Consultants, a practice established by Kashif Puthawala just a year earlier. Over the past two decades, the partners have built a team that provides a range of accounting services — tax preparation, payroll services, bookkeeping support and tax planning — to healthcare professionals, information technology businesses, household and consumer goods distributors, and other businesses and individuals.
We asked Shehzad to share some insights into his business and career:
What differentiates your company from other CPA firms?
We pride ourselves on staying up to date with changing technologies and are continually looking to improve our client experience. This is evident with our response time to client requests, which is an area we stress with our staff members. We believe in making ourselves available for our clients, especially when they have a pressing need.
What challenges have you needed to overcome to build your business?
CPAs work with a lot of sensitive financial data, and many people are not willing to change CPAs unless they are referred by a trusted source. This challenges us to establish trust with the client and show them how we can bring about positive changes before we start working with them. Our biggest challenge is bringing in new clients who are interested in learning more about us based on our online presence rather than a referral.
How did you grow to serve a national clientele?
We realized that focusing on niche markets where we had a strong presence would be important to growing the business. That led us to leverage our existing relationships with healthcare professionals and product distributors. Our sales team focused on pursuing those clients, which was not an easy task, but it turned out to be well worth the effort. We got our foot in the door with smaller distributors who eventually introduced us to larger clients, with whom we built great relationships. Today our largest clients are on the East Coast, hundreds of miles away from our home office.
Are you active in the community — with nonprofits or civic organizations?
Our organization offers pro bono services to numerous nonprofits that we feel are struggling to bring about positive change. While we may not play an active role in the services they provide, we strongly believe in lending a hand in areas in which we have developed expertise.
What is your vision for Strategic Tax Partners going forward?
We want to continue growing the business and are looking to add more CPAs to our practice —individuals who are motivated to build client relationships and start their own books of business. Our goal is to have a team managing our operations so that my business partner and I can work virtually and still oversee the business. In a couple more years, we want to be able to work fewer hours at the office so that we can pursue new leads while our staff services client needs.
What advice would you offer aspiring entrepreneurs about starting a business?
Starting a business right out of college or in your younger years is not always easy. However, if you are not happy with your job and know you could be doing something bigger, then entrepreneurship may be a good fit for you. With entrepreneurship, you don't have a ceiling in terms of how much you can grow. You can always look to work more, expand your business or offer new service lines. Then when the time is right, you can set the business on cruise control and delegate work to employees so that they have the opportunity to grow with the business as well.
Finding the right lead is not easy, and in many cases, you cannot figure out what business you want to start. But ask yourself what you are really good at and try building off of that. You probably won't find the answer with the first couple things you try, but if you stick to it, things will start falling into place. During this time, you will have to live a simplified lifestyle to make it work, but in the long run, you can more than make up for it.
Find them on the web: https://staxc.com/