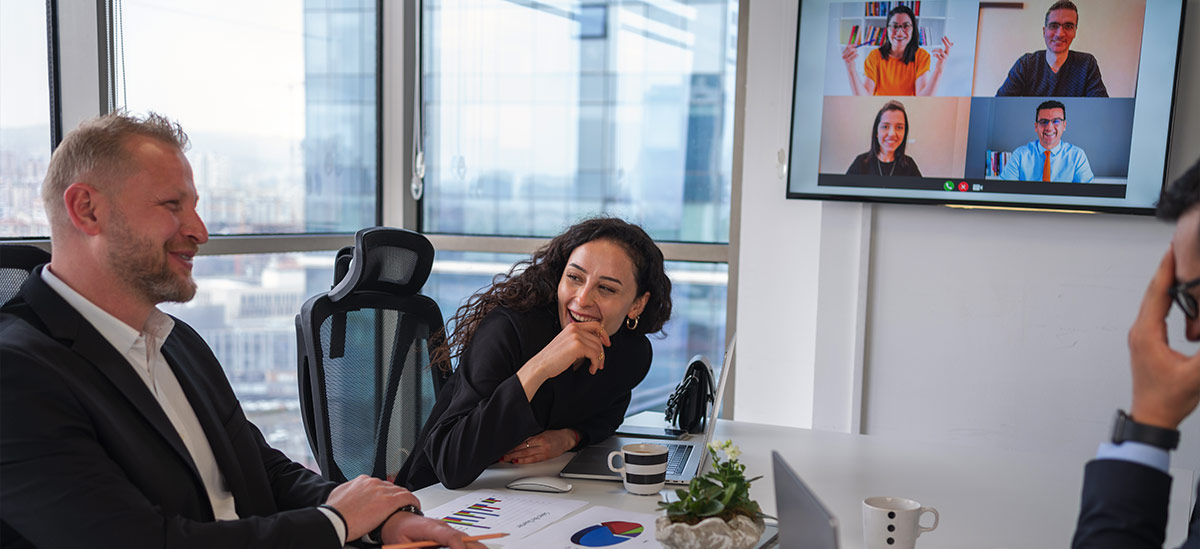 In the days before the COVID-19 pandemic, it was a rare exception for a small business employee to spend most of his or her hours working from home. But the post-pandemic world is fundamentally different from the one that preceded it.
The post-pandemic economy has been defined in large part by the Great Resignation and a historically tight job market. The challenge of attracting and retaining employees has been particularly acute at small companies, which have to compete for talent with large corporations with the resources to pay for big salary increases and perks. Large companies like SAP and 3M have also embraced hybrid work arrangements that give employees the flexibility to work at both home and the office as a way to compete for employees.
Potential Benefits of Hybrid Work
This shift in the work culture has put pressure on small companies to offer hybrid employment opportunities. Beyond attracting new employees, hybrid work can deliver benefits of particular importance to small companies. For instance, allowing employees to work from home at least some of the time can help reduce office expenses. Hybrid work can also boost employee morale and expand the potential pool of workers companies can draw from beyond their immediate geographic area.
While there are certainly upsides to hybrid work, small businesses should also approach it carefully and clearly understand the potential challenges that come with it. A survey of small businesses offering hybrid work found that they were not performing as well as those with either 100 percent in-office or remote arrangements.
Here are some issues small business owners need to consider with hybrid work.
Hybrid Work Challenges are Real
Hybrid work has some obvious attractions, like spending less time commuting and more time with family. But if it's not approached carefully, hybrid work can also take a toll on employee morale and productivity.
Research firm Gartner found that employers that implement technology to track productivity and increase the number of meetings to maintain company communication actually end up fatiguing and alienating the workers they want to keep. In fact, Gartner reports that employee productivity decreases 33 percent when workers experience high levels of fatigue. Gartner also found that workers experiencing high levels of fatigue are 54 percent less likely to stay with their employer.
Customize Hybrid Work to Fit your Company
One way to avoid fatigue and stress is to not insist on replicating the in-office environment when employees work at home. It's a fundamentally different environment when people work from home – dogs bark, kids want help with homework or a snack – so insisting on a meeting cadence typical in the office can wear employees down.
Business owners should know their company and employees well enough to customize a hybrid work arrangement that serves everyone. That could mean that certain employees whose work depend on productive collaboration are required to come into the office at the beginning of new projects to brainstorm and then can return home to focus on execution. For other companies, more regular and scheduled in-person office time may be important to keep work on schedule. There is no one-size-fits-all version of hybrid work, so be sure to develop an approach that fits your company culture and employees.
Technology Upgrades are Necessary for Hybrid Work
Many workers who had to shift suddenly from office work to home during the pandemic quickly realized that they were ill-prepared to do their work from the kitchen table or TV room. Ensuring that employees can transition back and forth between home and the office often requires equipping them with the necessary technology.
What that looks like will depend on the work your company does and the employee's role. But basically, everyone needs a laptop, a strong Internet connection, and the proper software packages to work effectively at home. Business owners should create a checklist of technology requirements and provide the hardware and software employees need to participate in video meetings, make phone calls, and perform their everyday tasks.
Maintain a Cohesive Culture
Company cultures inevitably change with hybrid work. The serendipitous meetings and lunches that happen naturally in an office go away and are often replaced by more formal and scheduled interactions.
Culture matters, so it's important for small businesses that shift to a hybrid work arrangement to take steps to maintain and enhance their company culture. This can mean being more intentional about planning ways for employees to gather in person. Or it can mean setting up a video camera in a conference room so that employees at home can join in on lunches. Virtual happy hours that became a regular occurrence during COVID-19 can be continued.
Whatever you decide, make sure to solicit input from your employees. After all, doing so is the hallmark of a healthy culture.