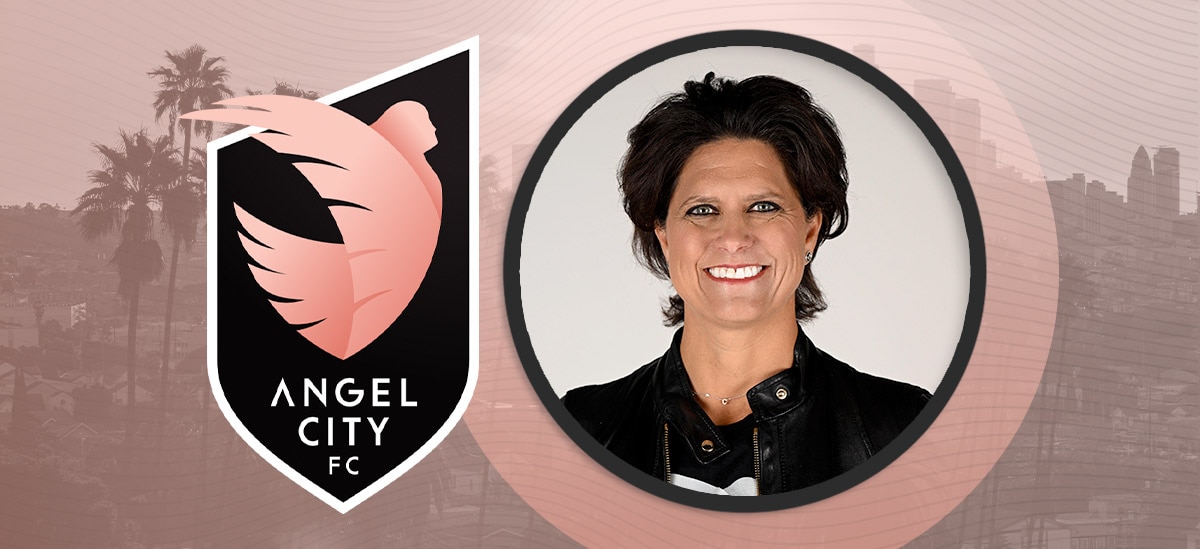 Creating a Sports Team Winning at Pay Equity and Community Impact
For Julie Uhrman, co-founder and president of Angel City Football Club, experience has come in varied roles – entertainment executive and an advisor and entrepreneur in the gaming space. Now, she's leading a majority women-owned soccer team in Los Angeles that is poised to transform the game into a movement for financial equality. She founded Angel City, part of the National Women's Soccer League, with venture capitalist Kara Nortman and actor Natalie Portman, and the team made its field debut during the 2022 season. As The Official Women's Business Champion for Angel City, PNC's commitment to the club reflects its decades-long commitment to providing resources to women financial decision-makers and accelerating women's financial equality.
How did your entrepreneurial career prepare you to lead a professional sports team?
It's almost like my whole career led up to this place in time. I've always viewed myself as an entrepreneur, so I follow industries and products that excite me. I think about how things like content development, mobile development and gaming are going to make someone's life better. I find bringing people joy is important. I grew up playing sports and am a huge fan, so when asked if I wanted to build a women's professional sports team in Los Angeles alongside Natalie and Kara, I jumped at the chance to put my entrepreneurial background to work in an industry I love and a city where I have deep roots.
What shaped the creation of the Angel City Football Club?
I don't think Angel City would exist if not for the courage and bravery of the U.S. Women's National Soccer team to embark on their lawsuit for pay equity. Natalie and Kara had the opportunity to spend time with the players on the U.S. Women's National Team and the executive director of the Players Association to learn more about their fight for pay equity. In doing so, they learned that the U.S. Women's National team had the highest viewership of any soccer team in the United States. They won the most awards and more competitions than any professional U.S. team – men's or women's. Yet, they weren't being treated or paid equally to the men's team.
That landscape really inspired Natalie and Kara to take action. In order to make meaningful change, they needed a seat at the table. That's when early formation of the Angel City Football Club began. We had this idea that we could build a business a culture and a community reflective of our values, reflective of our city and reflective of what we ultimately wanted – equity. We'll start with pay equity for women who are athletes, but ultimately equity for all women. That's really our North Star.
What makes Angel City's business model different from other sports teams?
We wanted to build an organization where mission and capital coexist. This idea made fundraising very difficult because people couldn't understand if we were a nonprofit, just trying to do good, or if we were a company that wanted to drive for profits and really make money. We agreed we would not sacrifice mission for capital, and we think we can deliver more revenue by living our values, which in turn can drive increased impact.
We developed the Angel City sponsorship model, where 10% of all sponsorship dollars go back into the community. We developed a social impact platform that has three verticals – equity, essentials and education. So, we work with our partners to direct that 10% toward one of those verticals. And that could include product donations, cash donations or programming.
Generally, organizations have corporate social responsibility programs, but our social impact approach is ingrained into our DNA.
With every single decision we make, we look at what positive impact we can have in the community while also driving revenue. The more revenue we can drive, the greater impact we have. The greater impact we have, the greater emotional connection we can have with our fan base. And ultimately, we can bring in partners who believe in the same thing.
How does Angel City choose its partners?
Having support for our team from companies with a presence in our city and a shared community allows for greater impact. Our partnership with PNC is a perfect example. The bank's Project 257® initiative and more than 20-year commitment to women's business development demonstrates our shared values.
What's so impressive about PNC is that they really do put their actions and their money behind what they say. Our Player 22 Future Program will allow our retired soccer players to apply for grants to help them continue their careers in sports as commentators, analysts, coaches or in executive roles. We were just a few months into fundraising for the $100,000 needed to launch the program when PNC stepped in to close the gap for us to launch the program. And, then, it was not even part of the sponsorship. Since then, we've worked together to shape and grow the program.
What advice would you give to other leaders met with challenges or barriers to success?
I would say there's always a way. Don't take "no" as the final answer. I dissect and understand why I may have received a "no" and figure out how to improve for that next conversation. It could be that your message didn't resonate. That just means you need to work on your storytelling. It could be that they really aren't the right people to support your work or venture. At the end of the day, it's really about not giving up and making sure you're pitching to the right people. If you believe in it, somebody else will, too.
More Conversations Around the PNC and Angel City Partnership