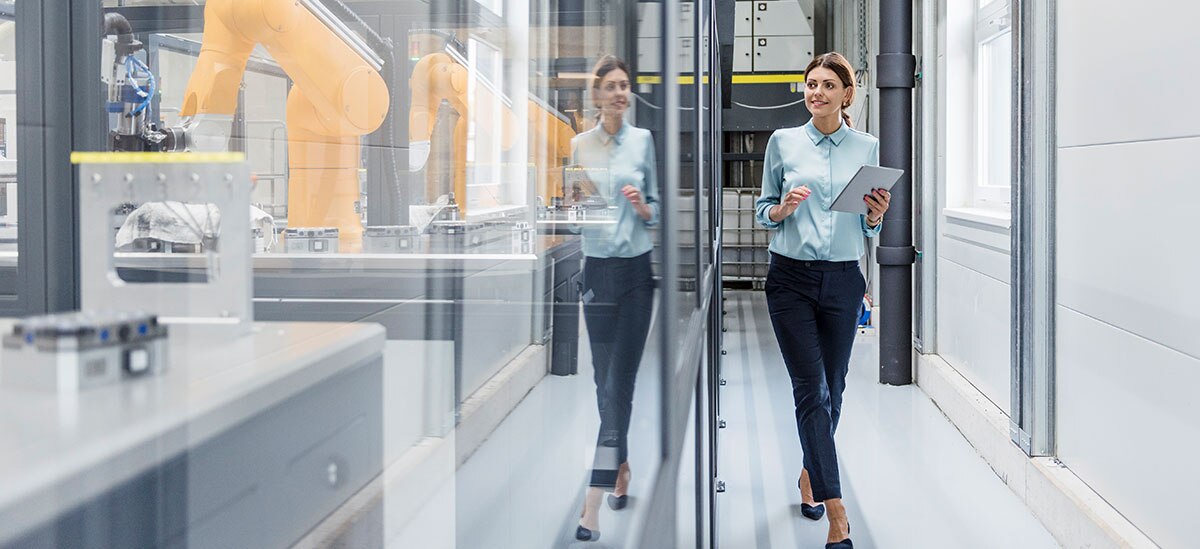 Ursula Bongiovanni, president and CEO of Innovative Automation in Romulus, Michigan, says that manufacturing is the best-kept secret in America today. She has made her living in manufacturing since the mid-'80s, when she designed and built equipment for General Motors. Today, her own global business engineers and builds manufacturing equipment, and develops custom solutions for clients' manufacturing processes. Like so many of her peers, Bongiovanni is resolute in her conviction to help other women reap the rewards in this land of opportunity.
"More women need to understand that manufacturing is a great place to build a career," she says. "There's plenty of need for talent on all levels, from engineering, design and skilled trades to management, professional services and operations. Importantly, there is also tremendous opportunity for entrepreneurs to build successful businesses."
Although recent statistics reflect underrepresentation of women in manufacturing — women make up only 29% of the U.S. manufacturing workforce despite comprising 47% of the U.S. workforce overall, according to 2016 U.S. Census Bureau data — the momentum backing manufacturing aims to move the sector closer to gender parity. Industry leaders are determined to create a more inclusive culture, where women can see a path to achieving their full career potential.
"It's time for us to make a change and for entrepreneurs within the industry to support one another," says Vanessa Valera Nolte, managing director of Florida-based Distrivalto USA and co-founder of its Holstein Housewares brand, a line of practical and unique small kitchen appliances. "If we confidently accept positions in manufacturing and ultimately excel, we'll move the industry forward and open up opportunities for other talented individuals. But if we pass on those chances, we will be having this same conversation 10 years from now."
Nolte feels gratified not only in her personal career choice, but also as a member of a sector that fuels local, state and national economies. "History shows that manufacturing generates ample economic activity and growth; creating middle-class jobs is one of the many benefits," she shares.
Indeed, the National Association of Manufacturers (NAM) says that for every $1.00 spent in manufacturing, another $1.82 is added to the economy; this represents the highest multiplier effect of any economic sector. In addition, for every one worker hired in manufacturing, another four jobs are created elsewhere in the country to support manufacturers' efforts.
Of course, what would opportunity be without challenges? While technological advances in manufacturing processes and equipment have created a broader range of career opportunities, the pool of qualified workers continues to diminish. Millions of baby boomers are retiring and young people are, for the most part, uninterested in manufacturing careers. Experts project that more than 2 million manufacturing jobs will go unfilled through 2028.   
Women Step Forward to Strengthen the Sector
Women like Bongiovanni and Nolte are focused on elevating perceptions of manufacturing and recruiting more women. Along with other female and male manufacturing leaders, they are reaching out to women, youth and communities as ambassadors of their industry; building corporate cultures where women have opportunities to advance and thrive; and collaborating with educational institutions, manufacturing associations and peers to cultivate a robust, sustainable workforce.        
Reaching out to improve perceptions. In spite of sweeping advances, traditional stereotypes and misperceptions persist. "Parents seldom encourage their children to pursue manufacturing careers, and many young women don't give manufacturing a passing thought as they consider their career choices," says Sherry Reeves, executive director of the Manufacturers Association of Central Florida (MACF). "We work with manufacturers to organize Manufacturing Day plant tours and career day talks to help students, teachers, counselors and parents understand the breadth of opportunities." MACF has also created the Henry Graeber MACF Memorial Scholarship Fund to support the next generation of manufacturing professionals.
Of her interactions with students, Bongiovanni shares, "At first, they seem shocked that a woman works in this field, let alone is the boss. I assure the girls that this world is every bit as much for them as it is for the boys. Then I illustrate how cool manufacturing can be by describing the various skill sets that went into creating the cell phone in their pocket or their favorite game system."
Even younger children can be exposed to the joy of making things, says Victoria Marquard-Schultz, CEO of OxyGo, an MACF member located in Orlando, Cleveland and Phoenix that manufactures medical devices and industrial safety equipment. "We sponsor leadership academies for underprivileged children in grade school. They're learning skills and expanding their worldview to see that they can be anything they want to be," she says. "These kids will lead the manufacturing businesses of tomorrow."
Building inclusive corporate cultures. The industry's leaders are developing policies and programs that support the recruitment, retention and advancement of women in manufacturing. They're implementing formal and informal mentoring programs, offering flexible work arrangements, increasing the visibility of high-level women leaders and creating work environments where diversity of thought and approach are embraced.
"A good salary and benefits package are a given; it's the culture that makes people want to grow with your company. They need to feel autonomous, know their work has meaning and be able to spend time with their families," says Marquard-Schultz. "We also need to lead by example. When I studied at the Hobart Institute of Welding Technology, women across the company took notice. Our own dedication can inspire a sense of belonging and achievement."
Collaborating with educational institutions, manufacturing associations and peer manufacturers. Claire Guth, director of outreach at the University of Pittsburgh Manufacturing Assistance Center (Pitt MAC), believes that the growing commitment among manufacturing leaders to focus on promoting the entire sector rather than their individual companies is creating success stories.
"There's a movement here. The Department of Labor, corporations, educational institutions, associations, nonprofits and networking groups are collaboratively addressing the skilled worker shortage, diversity efforts, training programs, policy issues and more. Pitt MAC works with 120 different companies and a variety of associations. We're seeing companies share best practices and public-private partnerships thrive," she says.
One partnership driving hands-on participation by women in the Pittsburgh area is the collaboration of Pitt MAC and feminist makerspace Prototype PGH. Guth offered to share Pitt MAC's space and manufacturing equipment when Prototype founder Erin Gatz could no longer accommodate all of the women registering for her manufacturing workshops. "We help women get their feet wet before they get their hands dirty," says Gatz. "They come to our events curious to learn about one aspect of being a maker and often end up moving forward into more career-specific manufacturing training."
Marquard-Schultz sees the tangible benefits of public-private collaborations, too. "If we all keep talking with one another, we can resolve common challenges and make sure manufacturing continues to grow and diversify."
Bongiovanni backs that sentiment 100%: When I was coming of age as a manufacturing engineer in the '80s and '90s, the widely accepted notion was that women were a temporary fixture in the workplace; that somewhere down the road we would leave to tend to our households and children. It wasn't worth investing time and training on us. Today, we're valued for the talents, perspective and dedication we bring. Today, manufacturing is our world, too.