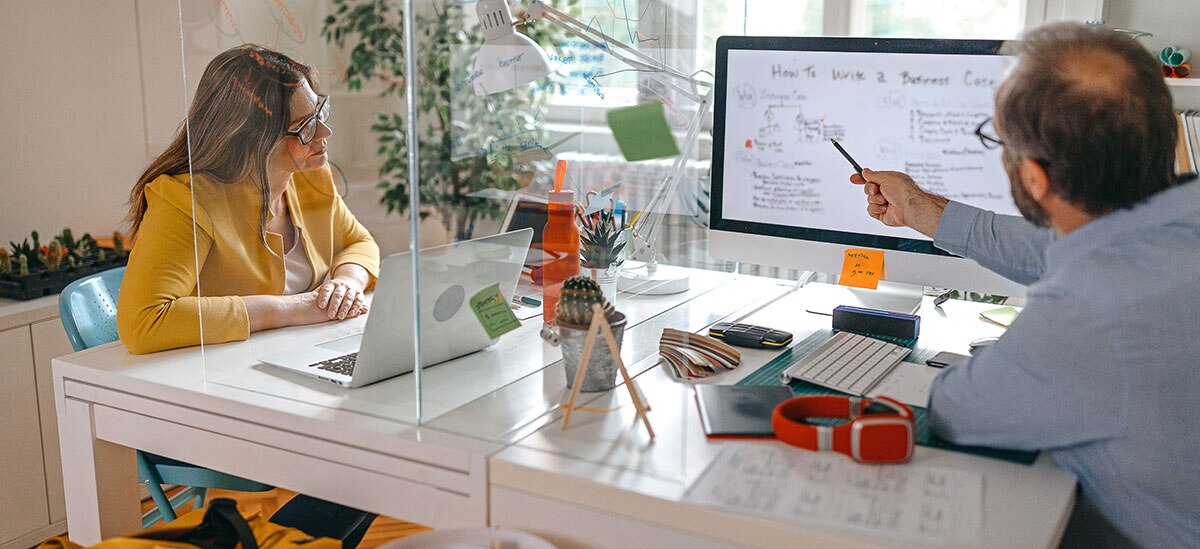 In just a few short months, the COVID-19 pandemic turned the US economy on its head, sending unemployment soaring, fueling stock market volatility, and shuttering many businesses –– in some cases permanently.  
On the positive side, the Federal Reserve aggressively cut rates, and Uncle Sam has provided more than $2 trillion in fiscal stimulus.   
"A big reason for optimism about the near-term outlook is the strong response that we've gotten from the federal government," said Gus Faucher, Chief Economist at PNC. There is no doubt that business as usual has been impacted, and the economic effects of the COVID-19 pandemic are likely to linger for years. Still, businesses that understand how to navigate the current environment could emerge even stronger.  
These were some of the key takeaways from a recent PNC webcast, Business Resiliency in Today's Economy, which offered participants an in-depth look at the economy, including industry-specific outlooks, as well as best practices for how businesses can stay resilient during these unprecedented times.  
"Our business owners have great ideas on how to manage risks on a greater and broader level of accountability, how to find revenue opportunities that address your customer's needs, their expectations around social distancing, and the easiest ways to pay for goods and services that they purchase from you," said Nicholas Spanakis, Head of PNC. Specialty Business Banking.
Meanwhile, it's critical that companies think about how they can reinvent themselves if necessary, said Dawn Fuchs Coleman, author of Get Your Game FACE On and founder of We Guide, You Grow, L.L.C. Before starting her current firm, Fuchs Coleman worked in a family business, Weavertown Environmental Group., which sold to UNIVAR in 2015.  
Along the way, however, Fuchs Coleman and her team endured many ups and downs. "We actually considered a bankruptcy," she said during the webcast. "So I feel for companies that have had setbacks," she says. "How do you get through them?"
Fuchs Coleman and the PNC team shared best practices from a wide range of businesses about staying resilient in challenging times.  
Put Safety First
Because of the rapid viral spread of COVID-19 and the lack of clarity about how it spreads, employers everywhere have to prioritize employee and customer safety in any plans to return to something resembling business as usual. Companies will need to adopt new rules that embrace health monitoring, social distancing, minimal close-quarter meetings, and a new regimen of cleaning and sanitizing.
"You have to visibly demonstrate to your employees and customers that you're following proper protocols for hygiene, utilizing personal protective equipment and adapting to new socially accepted norms," said Spanakis.
Audit Your Vendor Network
Don't assume that your business is operational until you've checked in with your vendor network, as this crisis may have affected them in ways that you haven't anticipated. "Many of our customers have told us that not only are they open for business and raring to go, but unfortunately, they can't get the supplies they need as they have in the past," said Spanakis.   
Alleviate Cash Flow Friction
The mantra that cash is king is even more applicable when consumer demand for goods and services is in retreat. When sales and cash are more scarce, optimizing cash flow will help eliminate delays and increase customer experience.  
"Cash flow is the lifeblood of your business," said Spanakis. "You have to make the most of it." To that end, businesses should continue to adopt digital payment technology and make contact-free payments a top priority. If you're still writing or accepting checks, make use of automated check deposits to eliminate mail handling. Scan them from your phone and avert another tactile interaction. For some businesses, this can avoid a lot of potential viral transmission risk.  
Pivot When Necessary
Business resilience means understanding when to stay the course and when to pivot. "You have to be aggressive and you have to know what to do for your business to sustain itself and grow in this time," said Fuchs Coleman.
Some businesses might have to change course completely to survive in this market and beyond, she added, but many companies end up stronger because of it. Businesses that were already declining due to digital disruption, for example, will have to make an honest assessment of what their prospects are going forward and consider changing their models to compete in the post-COVID-19 era.  
Get Your Employees On Board
Business resilience doesn't stop at the C-suite. On the contrary, companies that endure difficult times look for creative ways to keep their employees motivated. When Fuchs Coleman's previous firm was floundering, it asked employees to consider taking temporary pay reductions to shore up the company's long-term outlook. The response was surprisingly positive, Fuchs Coleman recalled. "We as leaders often think [pay cuts] are devastating, but look at those options and how to bring them into focus, so the person on the other end hears it as a positive."
Meanwhile, she says, continue to "sell, sell, sell." Incentivizing your sales teams to fight harder, she says, set realistic sales expectations, and support your sales team through a period where rejection may be the new norm.  
Develop Strong Banking Relationships
Keep your loan covenants top of mind. If you think you're getting close to tripping a loan covenant, Fuchs Coleman says, communicate with your banker that you're having a significant setback, and they might give you some reprieve on your covenant. "Hopefully you have that relationship with your banker," Fuchs Coleman said.  
If you see a financial setback on the horizon, this is the time for your CFO to shine. Make sure the CFO and the finance department are paying attention to payables, receivables and your loan covenants and your banking relationships behind them.  
Be Extra Vigilant About Fraud
A new report from the FBI[1] says that online fraud is one sector that is alive and well during the pandemic. Phishing emails, counterfeit solutions and equipment are some of the schemes that have increased over the past few months. Take this as an opportunity to establish or renew company policies, especially while employees are working from home, and security measures to avoid the hassle and the cost of fraud. "The last thing you need right now is somebody to swoop in and grab a few thousand dollars from you unnecessarily," said Spanakis. 
Think about the Long Term
Going forward, business as usual will remain elusive for quite some time, and some segments of the economy may never be the same. PNC's Faucher said he envisions structural shifts in the US economy. These shifts include: traditional retailing activity moving online, businesses repatriating their supply chains to make them less vulnerable to disruption, and more people getting comfortable working from home than in commercial offices. 
Faucher sees a recovery as we continue through 2020, but it will be slow-moving. "We see that when restrictions on movement are lifted, and people start to go out again, economic activity will resume," he said. 
No matter how long the economic recovery takes, the businesses best positioned to survive are those that think creatively, continue motivating employees, and emphasize key relationships. For more insights from PNC experts and business leaders, check out PNC's recent and upcoming webcasts.