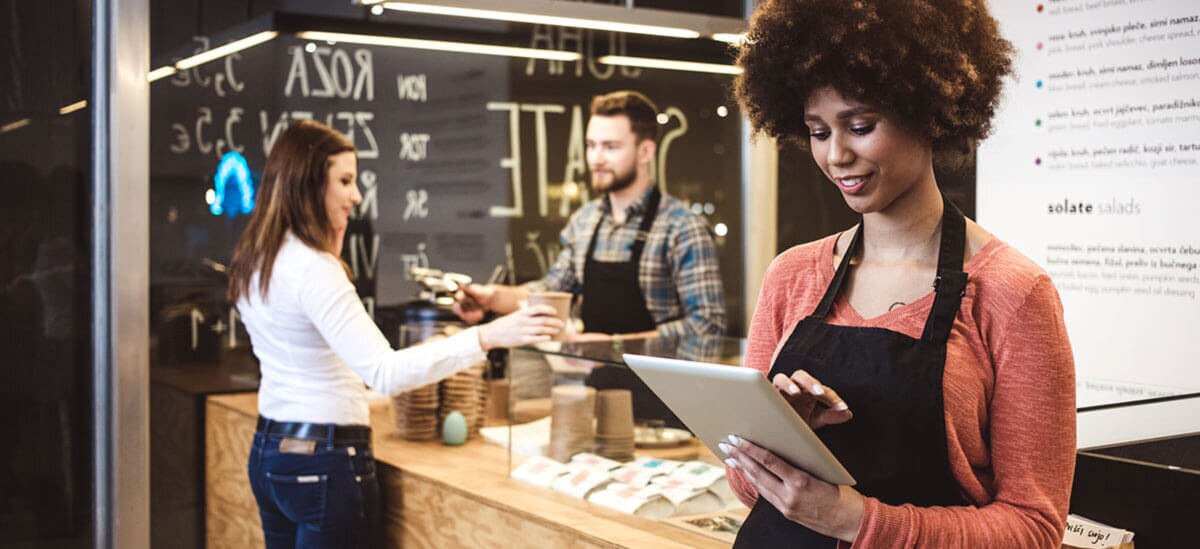 You've heard of virtual reality and the cloud, but have you used them for your business? Learn about five big benefits of tech.
When business is steady and the revenue is rolling in, it's easy to adopt an "if-it-ain't-broke-don't-fix-it" mentality, but one thing successful entrepreneurs know is that there's always room for improvement.
Technology is making it easier than ever for business owners to learn, adapt, and grow, so that their venture continues to thrive. If those things are important to you, these five tech innovations can help make your small business even more of a force to be reckoned with.
1. Augmented and Virtual Reality
Augmented reality and virtual reality have been around for decades, but it's only recently that they've begun to be adopted in business settings. Pokemon™ Go is a notable example of how AR technology can catapult sales. When the app first launched in July 2016, small business owners across the country saw dollar signs, thanks to Pokemon Go users' checking into Pokestops and Pokegyms located in or near their businesses.
Beyond driving foot traffic to retail stores and restaurants, augmented and virtual reality can be put to work in other business sectors. If you're a real estate agent, for example, you could use virtual tours to market and sell properties, saving yourself and the buyers you work with valuable time in the process.
2. Mobile Payment Apps
Mobile payment technology can benefit small businesses on several levels. If, for example, you run a service-based business that invoices customers, using a mobile payment app to collect what's owed can eliminate cash flow problems. Instead of waiting for a customer to mail you a check, you can use mobile payment apps or turn your mobile device into a payment management system.
Accepting mobile payments can lead to a boost in sales if your customers are looking for more ways to pay beyond cash. This kind of technology generally offers a faster, more secure transaction and you don't need to be stuck behind a register to use it. If you're setting up a kiosk to sell products at a farmer's market or another community event, for example, accepting mobile payments may help you attract a broader customer base.
3. Digital Advertising
Billboards can be an effective way to advertise your business, but they're expensive.
Putting an ad in the newspaper or the telephone book may be more cost-effective, but with digital media reshaping the way people communicate, that could be money wasted if you're not connecting with your target audience. Taking your advertising online, however, can increase your business's visibility factor exponentially.
Google AdWords™, for example, lets you create text-based search ads, graphic display ads, YouTube™ video ads, or in-app mobile ads. It's free to get started and you only pay when someone clicks on one of your ads or reaches out to your business. You can set your marketing budget as high or as low as you'd like — based on what works best for you — which is great if you need some budget flexibility.
4. The Cloud
Cloud computing is an entirely new way for small businesses to store and manage data. Instead of having to back up all of your inventory data or financial information to your computer's hard drive, you can send it to the cloud, where it's maintained remotely. This can save your business time and money — since you're not having to manage an in-house server — and it can cut down on the risk of important data files being lost.
The cloud is also a useful tool for keeping track of tasks and managing group projects. For example, if your small business employs remote workers, using a cloud-based application like Trello or Basecamp enables you to delegate tasks and monitor everyone's progress with just a few clicks of the mouse.

5. Social Media
Facebook®, Pinterest™, Twitter™, and other social media sites are an integral part of many small business owners' marketing strategies. If you've been reluctant to jump on the social media bandwagon, you could be missing out on a chance to engage with your existing customers and reach out to new ones.
Tweeting out your latest sales promotion or hosting an impromptu Facebook poll, for example, allows you to interact with people who use your business or may be thinking of giving you a try. Best of all, you don't have to have a huge marketing budget to use social media to your business's advantage.
Technology can be your business's best friend if you're willing to embrace it. Even if your business is already successful, exploring the possibilities that tech has to offer could open the door to even more opportunities for growth.