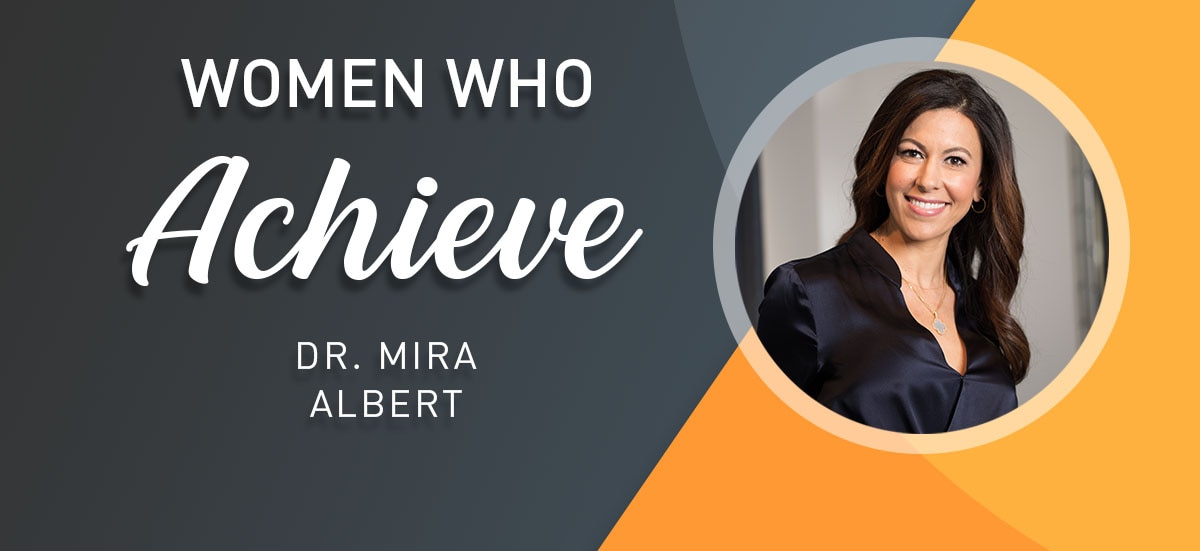 Brush Pediatric Dentistry    Hinsdale, IL
Combining the Roles of Medical Professional, Entrepreneur and Advocate
Dr. Mira Albert admits that when she decided to go into private practice as a pediatric dentist nearly two decades ago, she didn't think of herself as an entrepreneur. However, she's seen success running her own practice since 2011 and helping her husband run two general dental practices through her commitment to building relationships, observing and the hard work of educating herself.
The Perfect Mix
As a child, Albert looked forward to her visits to the dentist. She marveled at the instruments used to maintain her dental health, and the care and treatment her dentist provided. That childhood experience ignited an interest that has led her into a thriving career as a pediatric dentist and business owner.
"As I got older, I found dentistry to be the perfect mix of science, creativity, human interaction and entrepreneurship – four things that energize and inspire me to do better in the world," says Albert, who runs Brush Pediatric Dentistry in the Chicago suburb of Hinsdale, Illinois.
The pediatric dentist treats children, including those with special needs and complex dental issues, in the office and the operating room. Albert finds great joy in replicating the care she had as a child while helping families set the stage for a lifelong commitment to oral health. With her husband Dr. Sherif Albert, she runs two additional successful general dentistry practices in Greater Chicago.
Her Role as Dentist-Entrepreneur
Albert earned her bachelor's degree in psychology and doctoral degree in dental surgery from the University of Michigan and went on to earn a master's degree in oral sciences from the University of Illinois in Chicago after completing her two-year residency and specialty training in pediatric dentistry.
"Many people do not think of dental and medical practices as small businesses," says Albert, whose operation includes an all-women staff of 25.
Growing up, she recalled watching her father run his own business and credits that experience with her own success as a business owner.
"He was an engineer by education, but he was also a builder and entrepreneur," she recalls. "I really had a lifetime of observation of the grit and work ethic that's required to start, run and sustain your own business."
Building Professional Relationships
Albert, a PNC customer since March 2013, says her relationship with a PNC health care practice manager has been helpful in guiding her toward sound business decisions.
"Not only was my banker able to very competitively refinance the original loan for my practice, he provided an unparalleled customer service experience by introducing me to individuals at the bank who could assist with various financial solutions," Albert recalls.
She also says she will never forget PNC's words of encouragement during the early days of the COVID-19 pandemic.
"Upon making the very tough decision to close my practice ahead of most others, my banker was one of the first people to reach out to empathize with the difficult position I was in as a business leader, healthcare provider and human being," Albert says. "I have many professional relationships. My relationship with PNC confidently stands out as one of the best."
Educating Herself and Her Community
The pandemic heightened Albert's desire for an executive education that focused on crisis management and ethics as she thought about her business response to COVID-19.
After deciding to temporarily close her office, Albert pursued and obtained an executive MBA from Northwestern University's Kellogg School of Business while juggling the operation of her practice, duties within her professional organizations and the day-to-day rigors of motherhood.
"While I have always relied on my intuition to make good business decisions, I recognized there was a gap in my business acumen from a formal education standpoint," she says.
Albert says it was a great deal to manage – being all things while pursuing her MBA, but she's glad she took that extra step to further educate herself to run a more successful practice and to make a bigger impact as a pediatric dentist.
Beyond the Practice
Aside from running three active dental practices, Albert serves as the national spokesperson for the American Academy of Pediatric Dentistry and is a member of the American Board of Pediatric Dentistry.
"These organizations are the changemakers in our profession and set the tone for credentialing and the guidelines that we practice," Albert explains "My involvement has enabled me to make a direct impact on patients outside of my direct community by elevating the importance of early oral healthcare so that children can avoid common diseases that can cause pain, infection, lost school hours and work hours for their parents."
---
More Women Entrepreneurs & Executives Who Achieve
As PNC proudly serves the financial needs of women in business, we often come across truly inspirational leaders. Read their success stories.