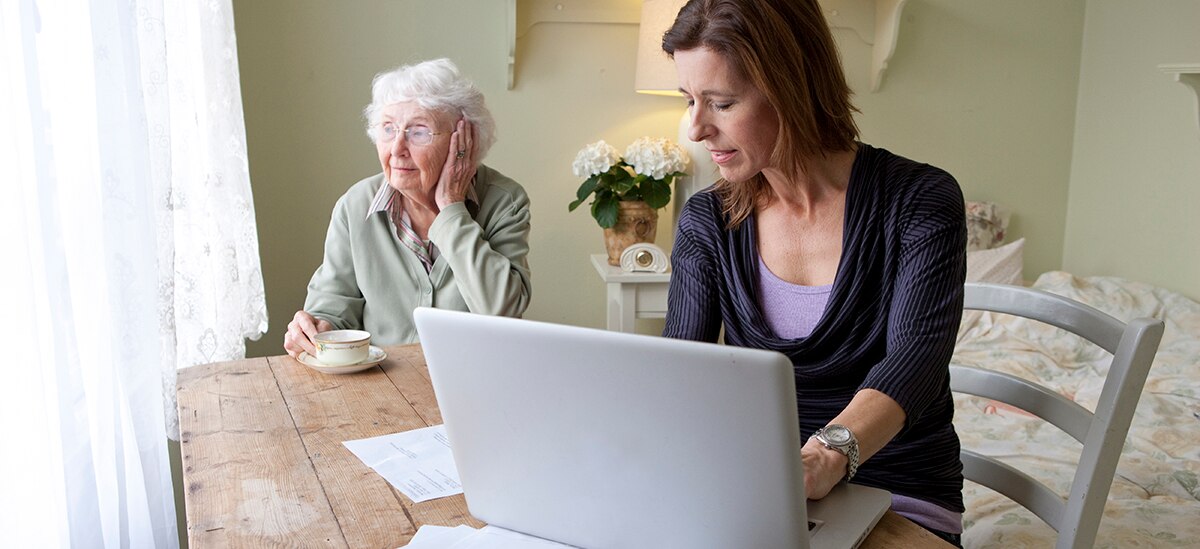 Caring for elderly parents or loved ones is an important and often demanding job. However, it should not be done at the expense of your own financial future.
-Joanne Shallcross, Vice President and Wealth Strategist, PNC Wealth Management®
Taking care of an elderly loved one can be a gift, an opportunity for deep connection, a duty – and a major source of stress, including financial worries. How can you balance your own financial priorities with the day-to-day demands of caregiving?
"Caring for elderly parents or loved ones is an important and often demanding job. However, it should not be done at the expense of your own financial future," says Joanne Shallcross, Vice President and Wealth Strategist, PNC Wealth Management®, who is also primary caregiver to her 92-year-old mother.
Choices about caring for your loved ones – such as giving up your full-time job to allow more time to provide hands-on care – have to be made in context of what they could mean to your finances down the road. To help, Shallcross offers these guidelines for caregivers and their families.
1. Take care of your loved ones' wealth strategy planning needs — as well as your own.
It seems basic, but Shallcross has seen too many people who don't have a will, power of  attorney and health directive in place, and who don't know if the elderly person they're caring for has the same. She suggests:
Work with an attorney who specializes in elder law to help make sure you have the documents in place that will cover situations that may arise for your loved one, such as a decline in decision-making ability, then get similar documents ready for yourself.
You should also plan for how you would replace your salary and the unpaid services you provide to your immediate family in the event that you were to become disabled or pass away unexpectedly.
"This financial contingency plan may include disability or life insurance products to help make sure you have the appropriate coverage. Also, you should have practical discussions with those whom you've named in your wealth strategy plan about how care is to be provided if you are unable to fulfill your caregiver obligation," Shallcross adds.
2. Set realistic expectations for your elder's long-term care.
Choosing how best to provide care can be an emotionally-loaded decision. According to Shallcross:
Caregivers often feel a sense of obligation as well as personal desire to supplement an elder's assets to help make sure they're comfortably provided for, but it's important to separate the emotional from the financial, so you don't shortchange your own long-term finances.
Ultimately, it's about setting and prioritizing goals. For example, if your mother has selected a particular assisted living facility, does she have the funds to cover the expenses and for how long? Or, does she want to stay in her home with the help of an in-home care professional? It's important to acknowledge what's aspirational, and what's realistic given her – and your – resources. It may become a matter of shifting priorities. "If choosing one care facility over another might limit, say, your mother's gifting program, you need to talk about that," notes Shallcross.
Having conversations coupled with reviewing all options can influence decisions about whether you'll need to pay for a portion of your loved one's care or other personal expenses. Your PNC Wealth Management team can help support you in understanding associated costs and options for covering them based on your own long-term financial strategy.
3. Plan to keep working.
The conflict of caregiving duties with your own employment can be intense. Some workers find they are able to manage better when they take advantage of workplace accommodations such as telecommuting, flexible hours and paid sick days.
However, you may feel like these types of arranagments just aren't enough – and may be tempted to leave the workforce entirely until you are able to relinquish your care duties.
"Leaving the workforce should be carefully considered," Shallcross cautions. "Before you make that decision, run the numbers and look at how long you realistically expect to be out – and how you plan to re-enter." It can be difficult to return to earning the same income after a prolonged break, and even self-employed workers can find it difficult to rebuild a business if it has been too long between projects. Plus, you risk losing a period of contributing towards your own retirement, which is a major reason Shallcross advocates finding a way to continue earning income while you're a caregiver.
"Many people face becoming a caregiver to an elder at some point," Shallcross says. "It can be a hard job that often comes with huge personal costs along with the intangible rewards." However, with sound financial decision-making, you can care for your aging parents or loved ones while keeping your own long-term financial strategy intact.
Take the Next Step:
Gather and review key documents for your loved one, and create the same for yourself (if you haven't yet).
Evaluate costs of care — will your savings coover the amount needed and for how long?
Get a second opinion — protecting your wealth is as important as growing it. Speak with a PNC Wealth Management Strategist to ensure that your wealth and estate plan is sound.
For more information, please contact your PNC advisor. If you are not a PNC client, please call 844-749-2854.