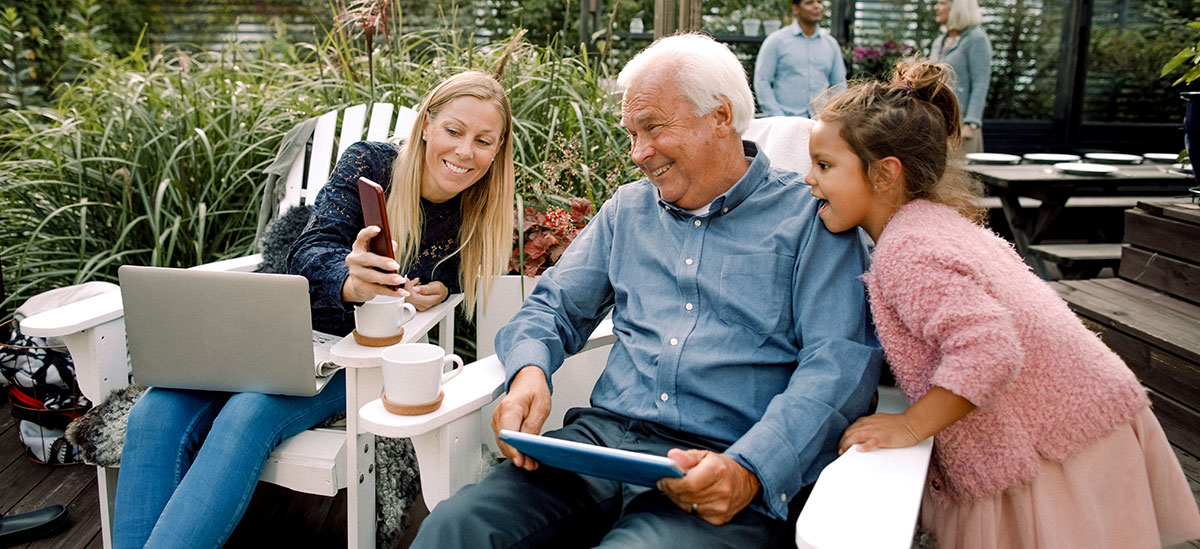 Work, school, socializing – much has changed as the pandemic pushed all of us to quickly adopt a wide range of digital tools and live a more virtual life. Fortunately, many Americans were already quite comfortable using digital tools to handle money matters. 
This comfort level was invaluable in 2020 as digital tools helped people safely manage their accounts, stay informed during volatile periods, and feel confident their wealth plan was on track.
Many financial institutions have invested in developing and upgrading digital account management platforms. Thoughtful enhancements have made these platforms more secure and more user-friendly. 
"From a wealth management perspective, we believe it's vital that online platforms support holistic planning," says Donald Heberle, Head of PNC Private Bank, PNC Asset Management Group. "The primary purpose of digital tools is to help wealth management clients achieve their financial goals. With that purpose at the forefront, we believe digital account tools should ease the complexities of wealth, support sound decision-making, and strengthen relationships between clients and their advisors."
As the popularity and capabilities of digital platforms continue to grow, it's important for everyone to consider how to best use these services to support their long-term wealth strategy. 
Expanded Capabilities Increase Usefulness and Ease Complexity
Online account management tools are evolving to become more responsive to clients with substantial wealth and complex financial circumstances. 
One trend especially beneficial to families of wealth is a movement to combine information about all assets and liabilities in one place. In keeping with this trend, PNC Private Bank brought deposits, lending and investments together under a single digital account service within PNC Wealth Online.
A comprehensive net worth figure includes deposit accounts, investments, credit cards, mortgages, real estate and other assets such as jewelry or artwork. Though calculating net worth is central to wealth planning, it can be complicated because people rarely hold all of their assets at a single financial institution. Digital account services can simplify the process by allowing you to add or link assets from multiple financial institutions, as PNC Wealth Online does. Taking full advantage of such capabilities lets you see a more complete financial picture without accessing each provider separately.
Customization is another trend with significant potential to ease complexity. Through the use of customization features, you can tailor your online experience to suit your personal circumstances and the way you think about your wealth. For example, families with a large number of accounts may benefit from the ability to group accounts by the names of family members or under categories that reflect their goals, such as retirement. Typically, these "groups" carry through across screen views so clients can see asset allocation, transactions and other details for a selected group. Additional customization, such as the ability to assign nicknames to accounts, can also make it easier for families to track their holdings. 
Greater convenience, functionality, and security are also noteworthy developments in digital account management. 
"The ability to access information through mobile apps has been a significant leap forward," explains Michael Golden, Head of Business Technology and Digital, Asset Management Group. 
For ease of use on the go and at home, PNC Wealth Online behaves in a similar way across all devices and screen sizes – mobile, tablet and desktop. We have also incorporated the latest biometric technologies, including FaceID and fingerprints, for fast, secure access.
Using Digital Account Tools to Work More Effectively With Advisors
"Because we believe the relationship between clients and advisors is the foundation for every successful wealth plan, we design our digital tools to strengthen and complement those relationships," states Mr. Heberle. 
Empowering clients with comprehensive access to information about their wealth promotes mutually beneficial, trusting relationships.
Digital account services are helpful throughout an advisory relationship. Clients can quickly build a complete net worth picture by adding or linking accounts and assets online. This helps to prepare for holistic planning conversations with Advisors.
Once a relationship is in place, clients and Advisors have easy access to details about asset allocation, transactions and performance. You can review current status, compile questions or concerns, and identify opportunities before meeting with your Advisors. Online availability of account balances, statements and tax documents helps you handle day-to-day responsibilities and stay informed between conversations with your Advisors, while self-service features facilitate the ability to move money (i.e., wire transfers) as needed.
Meanwhile, Advisors have ready access to changes in client assets – even those held at other institutions. One of PNC's key goals has been to create a shared digital experience for clients and their Advisors. Seeing the same information, particularly the same account views, gives Advisors and clients a common reference point that promotes understanding and enhances Advisors' ability to help people achieve their life goals.
Looking Ahead as Technology Marches On
Given the popularity of digital account management tools, it seems certain they will play an expanding role in comprehensive wealth management. 
As clients enjoy the convenience of real-time access and Advisors employ these tools to serve clients more effectively, we will continually look at new ways for Advisors and clients to communicate and collaborate. 
Whatever benefits technology brings in the future, the insight and knowledge of our PNC Private Bank Advisors will remain at the center of the PNC client experience.
For more information, please consult your PNC Advisor or contact PNC Private Bank.