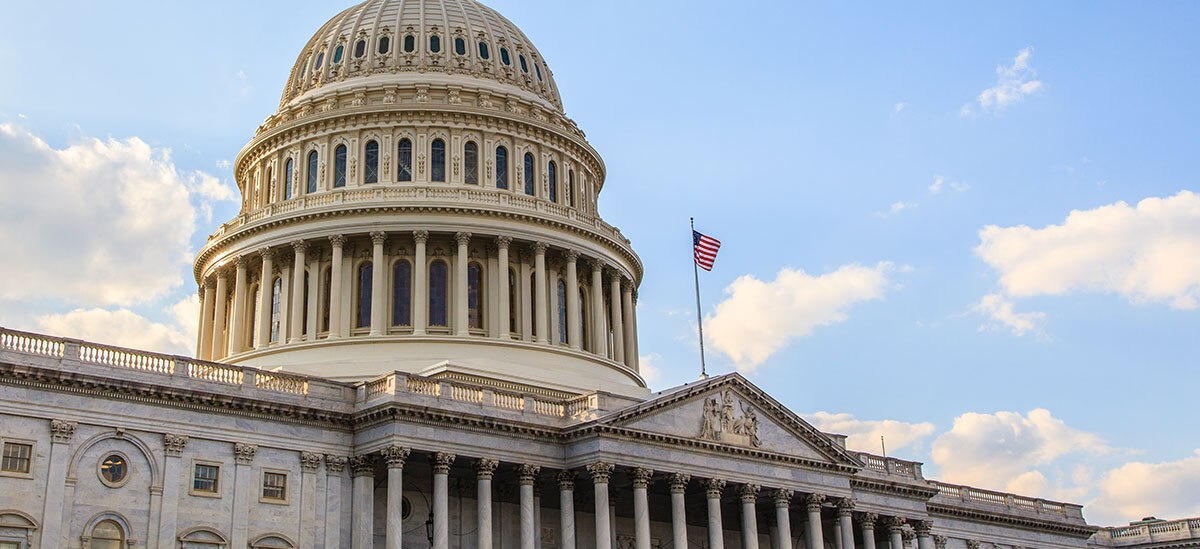 For a variety of reasons, calendar year 2020 was a year of uncertainty, anxiety, and stress for many Americans. January 2021 brings yet more uncertainty with political turmoil in Washington, violence at the Capitol, and a damaged political process. 
Yet, citizens of the United States have weathered crises and uncertainty before: a pandemic in 1918 and more than one difficult election (1800, 1824, 1860, 1884, 1928, 1960, and 1964, to name a few). 
President Trump will not attend the inauguration of his successor, but his action has precedent. John Adams, the second President of the United States, refused to attend the inauguration of his successor, Thomas Jefferson (notwithstanding that both were among the founders of the nation), and he was not the only other president to avoid his successor's inauguration.
Nevertheless, the shape of the 117th Congress is becoming clear. The runoff elections for the Senate seats in Georgia have been decided with both Republicans being replaced by Democrats. Unless there are other political shifts, the Senate will be divided 50/50.[1] In that case, Vice President Kamala Harris, acting in her Constitutional role as president of the Senate, would hold the tie-breaking vote, giving control to the Democrats. The election outcomes in Georgia mean that the Senate will be narrowly divided, which will likely bring continued uncertainty.
Even though we know who will sit in the 117th Congress, we cannot yet know which senators and representatives (outside of leadership) will, in fact, hold real influence over legislation. Given the narrow division between Republicans and Democrats in both houses of Congress, only time will tell who can sway a vote one way or another. Already it has been reported that a bipartisan group of senators is meeting to discuss the future of their chamber.[2]
Throughout this year, and more vociferously as the election approached, Americans heard a great many tax law proposals from various candidates for public office. With Biden set to become the 46th president, the change in administration will bring different priorities to Washington. There has been a lot written and said about what a Biden administration might do. This Alert focuses on what we actually know and what you may want to consider with respect to your estate plan.
Proposals from a President Are Not Law
It is important to remember how our system of government works. Although the President can communicate desired policy and suggest legislation to achieve it, the Executive Branch cannot change the Internal Revenue Code (IRC), or any other law for that matter. According to Article I, Sec. 7 of the US Constitution, all revenue measures must originate in the House of Representatives. The Senate can amend revenue legislation, like any other legislation. But, in the end, only Congress can enact tax legislation. 
Accordingly, the proposals put forth by Biden during the campaign are just that: proposals. We will have to wait and see what, if anything, happens as proposed legislation moves through the Congress.
It is worth emphasizing here that our system of government was designed to work slowly, with each branch of government being a check upon the other.[3] We also see deliberate slowness built into the interaction of the Senate and the House of Representatives, as Washington was reputed to have said to Jefferson, "we pour our legislation into the senatorial saucer to cool it."[4] Note, as an example, the Senate filibuster and the cloture procedure requiring 60 votes to bring a filibuster to an end found in Senate Rule 22.[5]
Although we don't know what will be enacted, we know that Biden has proposed changes to many tax laws impacting individuals. For one, Biden has proposed returning the estate tax to "historic norms." There has been much written, both in the popular press and among tax and financial advisors, about returning the the estate and gift tax exlusion and the generation-skipping (GST) tax exemption to 2009 levels along with an increase in the rates of those taxes.[6] It seems that this position is based on a statement in the Biden campaign website in which Biden proposed paying to permanently provide family, medical, and safe leave as well as well as sick and safe days "by returning the estate tax to 2009 levels."[7] Additionally, the desire to bring the estate tax back to 2009 levels has been proposed before in both the "For the 99.8 Percent Act"[8] proposed by Senator Bernie Sanders or the Obama 2016 Green Book.[9] Additionally, and separately, although Biden has also proposed eliminating the step-up in basis at death,[10] he has not proposed a Canadian style recognition event.
Similarly, Biden has proposed a number of changes to the federal tax on individuals' income. Among the proposals are: (i) creating a new 39.6% long-term capital gains tax bracket for taxpayers with incomes greater than $1 million; (ii) replacing the 37% income tax bracket with a 39.6% bracket for taxpayers with incomes greater than $400,000; (iii) increasing the corporate tax rate to 28%; (iv) imposing a 15% minimum income tax on book income of corporations with more than $100 million of net income and that pay no ordinary income tax; and (v) eliminating the deduction for qualified business income[11] for taxpayers with greater than $400,000 of income.
Nevertheless, at this time, it is important to emphasize that the foregoing are merely general proposals. They have not been enacted by Congress. They have not been signed into law. We do not know if any of the foregoing proposals will ever become law.
What We Know
We know what the federal gift, estate and GST tax (sometimes referred to collectively as wealth transfer taxes) law is today.
We know that there are very high exclusions from federal wealth transfer taxes. For 2021, the exclusion from these taxes is 11.7 million.[12]
We know that (unless Congress takes further action prior) the wealth transfer tax exemptions are scheduled to be reduced to approximately one-half of their current amount as further adjusted for inflation on January 1, 2026[13] (colloquially known as a "sunset").
We know that (under current law), should the exclusion amounts be decreased, whether by new congressional action or by virtue of the sunset, using your full exemption amount today should not cause an increased estate tax upon your subsequent death[14] (colloquially known as the "anti-clawback" regulation).
We know that there are two federal general elections between now and January 1, 2026.
We know that there is no substitute for frequently reviewing your goals and plans in consultation with your advisory team, doing the analysis to determine if your plan still works as desired, and evaluating whether any particular estate and tax planning strategy would benefit your particular circumstances.
We know with certainty that over time things will change; we just don't know when and how. You may want to watch what happens in Congress, continuously think about your plans, and make necessary changes to provide for and protect the interests of yourself and of the ones you love.

Consider the Following Now
The turning of the calendar to 2021 brings with it the stress of an ongoing pandemic, the inauguration of a new administration, the seating of a new Congress, the end of the 2020 tax year and the beginning of a new tax year. Although the future remains uncertain, there are a great many things that you may want to consider doing now.
Review Your Current Plan – Do the Analysis Before Making New Plans
Building flexible plans is important at this time. If you haven't reviewed your plans recently, or even if you have, perhaps now is the time to do so. 
The benefits of regular review, analysis, and consideration never go away, regardless of the political climate.
We firmly believe that before creating a new plan, particularly a plan that may be irrevocable, you must do the hard work of analysis. You should seek the advice of your legal, tax, and financial advisors to consider the following:
Determine your potential estate tax exposure. Prepare a core capital analysis and cash flow plan. As a result, you may find that you do 

not want to make large irrevocable gifts at this time.
Consider the impact of philanthropy on your federal estate tax exposure. Your estate receives a deduction for gifts to charity made at death[15] which can reduce your exposure to the federal estate tax.
If you decide to make gifts, consider what type assets to give. If you are giving things that are not easily valued, like artwork or a business interest, a valuation by an expert may be necessary.[16] Because a valuation result is a question of fact,[17] the valuation of an asset not traded on an established market will often result in a dispute with the Internal Revenue Service over the asset's correct value for tax purposes. While many such disputes are settled prior to litigation, it seems that courts sometimes make "Solomon-like" pronouncements when determining value for tax purposes.[18]
Remember that gifted assets may not receive a step-up in basis at death. Those assets will, generally, retain the donor's basis.[19] If making gifts to a grantor trust, build flexibility into the trust for basis-planning purposes; perhaps allow the grantor to "swap" low-basis assets in the trust for other high-basis assets owned by the grantor.[20] Protect the grantor from an unforeseen or unpalatable capital gains tax by providing a mechanism for turning off grantor trust status.
Consider leveraging gifts with life insurance covering the grantor or grantor's spouse. Life insurance death benefits, if held in a properly constructed and administered life insurance trust, generally are not subject to federal income tax[21] or federal estate tax.[22] Given the currently low interest rate environment, now would be a good time to consider entering into new life insurance programs or shoring up life insurance programs that may be underperforming or are at risk of failing.
FOR AN IN-DEPTH LOOK
After the Election and the Georgia Runoffs