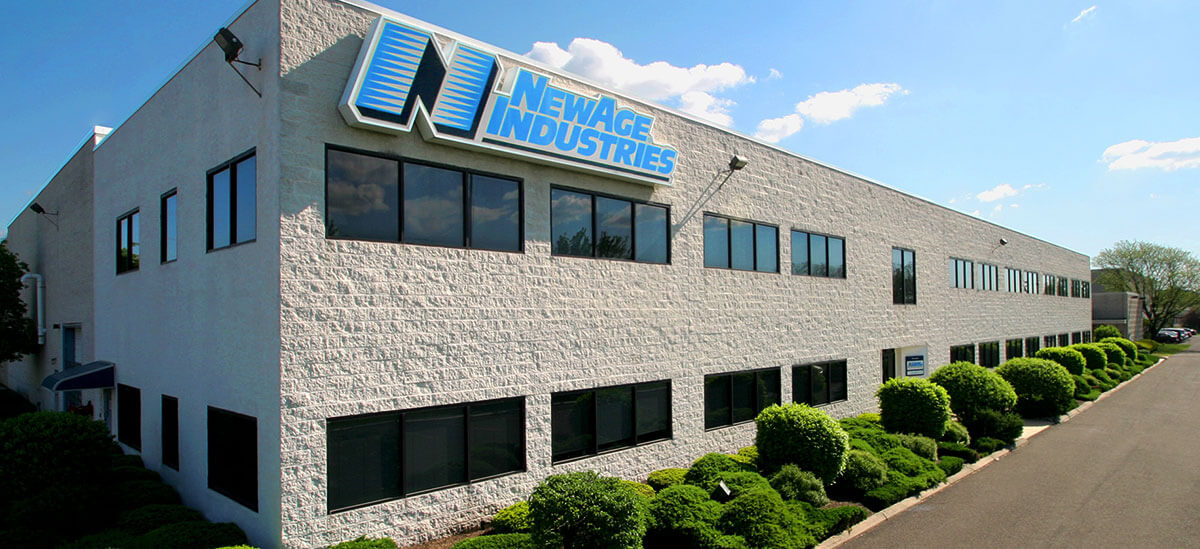 The value of NewAge has increased 1,000% since the ESOP's formation in 2006.
Ken Baker, President and Chief Executive Officer of NewAge Industries, is eager to talk about the journey to 100% employee ownership of his company via an Employee Stock Ownership Plan (ESOP).
NewAge, now headquartered in Southampton, Pennsylvania (Lower Bucks County), is a manufacturer of plastic and rubber tubing and reinforced hose and RFID tagging solutions, as well as a supplier of fittings, clamps and accessories for a wide variety of industrial and high purity applications.
The evolution to becoming employee-owned began with Ken's initial assessment of his options to address his long-term wealth preservation objectives as well as ownership transition.  An important priority to Ken through the process was to preserve the employee-centric culture he and his father had built and cultivated over the years. Ken eventually executed a successful phased approach to employee ownership, which culminated in the final transition of his ownership in 2019. Looking back, Ken attributes much of NewAge's success and maintenance of its corporate vision to being employee-owned. Under Ken's stewardship, employees understand that their actions directly affect the company's bottom line and, ultimately, the value of their retirement accounts inside the ESOP.
Following Ken's journey toward employee ownership can be helpful for any business owner considering a transition.
But first, a little history.
"If I Can Save It, Can I Buy It?"
Success wasn't always a given. Ken's father, Raymond Baker, left a Fortune 500 company to take a challenging job with a small company in New York City that imported hardness testers. It soon became apparent that NewAge International was struggling.
Anticipating that the company was about to close for good, Raymond flew to England and made a proposal to the owner: "If I can save it, can I buy it?"
In 1954, they made a deal. Raymond acquired the company, and under his leadership, it quickly rebounded and grew. In 1960, he discovered a revolutionary new product — clear, braid reinforced, flexible PVC hose. It didn't fit the hardness tester business, so he started a second business with this new product, a precursor of NewAge's focus today: fluid transfer.
The Fluid Transfer Specialists
When Ken joined the company in 1985, it was a master distributor without a manufacturing capability. He recalls, "We started having problems with some of our suppliers that were preventing us from providing optimum customer service. As a result, in 1990, I decided to begin making our products in-house."
"Positioning ourselves as 'fluid transfer specialists,' we focused on appealing to engineers who needed guidance in selecting the right tubing, the right material and the right attributes such as chemical resistance, heat tolerance and flexibility."
By 1998, the time was right for Ken to buy out his father and brother and assume the NewAge helm.
"You Can't Sell Out of an Empty Wagon"
Extensive inventory gives NewAge a significant advantage in the market.
"Competitors that don't have inventory on the shelf can't meet customer needs in a timely way," Ken notes. "As my father would say, 'You can't sell out of an empty wagon.'"
Expertise in materials, along with inventory enables NewAge to work with prospects to solve their fluid transfer issues.
 "The engineer tells us about their situation, we ask questions and provide a solution and free samples for testing to make sure it works in their application," Ken says.
When you solve the prospect's problem, you have become a partner – and they are more likely to give you the business when the bids come down.
—Ken Baker, President and Chief Executive Officer of NewAge Industries
"And our sales people are trained to keep the purchasing organization in the loop as they are working with engineering."
Thinking About the Future
"I've always felt that culture was the most important contribution to a company's success," Ken declares. "If you treat people with respect and dignity and foster relationships, your employees will be partners in your business. When you actually make them owners, then your objectives and goals are truly aligned."
With that philosophy in mind, Ken began to evaluate his options for his and NewAge's future. After attending a seminar on employee ownership and specifically ESOPs, it wasn't surprising that Ken quickly determined that an ESOP could be a good match for his long-term personal and corporate vision.
Diving deeper into ESOPs, Ken observed that "ESOPs have typically been presented from a technical standpoint. The bankers, lawyers and accountants can deal with those issues. On the other hand, the selling shareholder wants to know what's going to happen after the deal is done. How will it transform the organization? How will the company, employees and selling shareholders benefit?"
After researching the concept, soliciting advice from prudent advisors, and most importantly talking to business owners who've sold to an ESOP, Ken took the leap and sold 30% of his company to his employees via an ESOP in 2006.
My employees loved the idea that they would get a piece of the action. That was very clear. They also liked that they were all in it together rowing in the same direction for the good of the organization.
—Ken Baker, President and Chief Executive Officer of NewAge Industries
"An ESOP is Not a Magic Bullet"
"An ESOP can be a great attractor and retention tool for new employees," Ken notes, "But it's not a magic bullet. If you don't treat your employees right, if they don't respect their boss, they are going to leave. It goes back to respect and dignity, promotion and education."
"From the selling shareholder's point of view, a strategic buyer could pay more than that person could quickly realize from an ESOP. If you want to get top dollar, you might want to sell to your competitor or someone who can make 1+1=3."
But if you plan in advance and sell tranches over time to an ESOP, there is potential to get an equivalent strategic value over the long term, he believes. This opinion formed Ken's approach to his transition to becoming 100% employee-owned. 
After selling 30% in 2006 to the ESOP, Ken eventually sold up to 49% to the ESOP by 2016. In 2019, Ken achieved his ultimate goal for NewAge to become 100% employee-owned when he sold the remaining 51% to the ESOP. By working to structure financially sound transactions and strategically sell in tranches over time, Ken believes he captured the value he continued to create under his leadership at NewAge, while building meaningful retirement benefits for his employees. 
Advocating for ESOPs
Through his journey, Ken has become a passionate advocate for ESOPs.
Building on his observation that a focus on the corporate and personal financial outcomes of employee ownership leads to a stronger case for ESOPs, Ken realized that thousands of business owners in Pennsylvania were underserved when it came to understanding ownership transition options.
This insight led Ken to co-found The Pennsylvania Center for Employee Ownership (PaCEO), an organization PNC supports, to promote better understanding of the value of employee ownership to business leaders, public officials, employees, members of the media, students, teachers, nonprofit leaders, consumers, and other persons and organizations in Pennsylvania.[1]
"It took me a long time to wade through all the service providers," Ken recalls. "Which ones were the best? Who was not really a knowledgeable professional? I didn't want other owners to go through that. PaCEO can do much of the groundwork for selling shareholders." Ken strongly encourages business owners to leverage the resources the PaCEO has developed as they weigh their options.
The Bottom Line
The value of NewAge has increased 1,000% since the ESOP's formation in 2006. Caring for people and engaging them in the success of the business has proved to be a transformative business model.
Ready to Help
PNC's ESOP Solutions group was proud to participate in Ken's visionary transition to a 100% employee-owned company. We provide expertise to business owners, ESOP-owned companies and companies considering an ESOP, including: pre-transaction planning, initial ESOP transaction financing, second-stage transaction financing, refinancing of seller notes, mergers and acquisitions and repurchase obligation financing, among other corporate transactions.
For more information, contact Julie Williams at julie.williams@pnc.com or 616-771-8864.