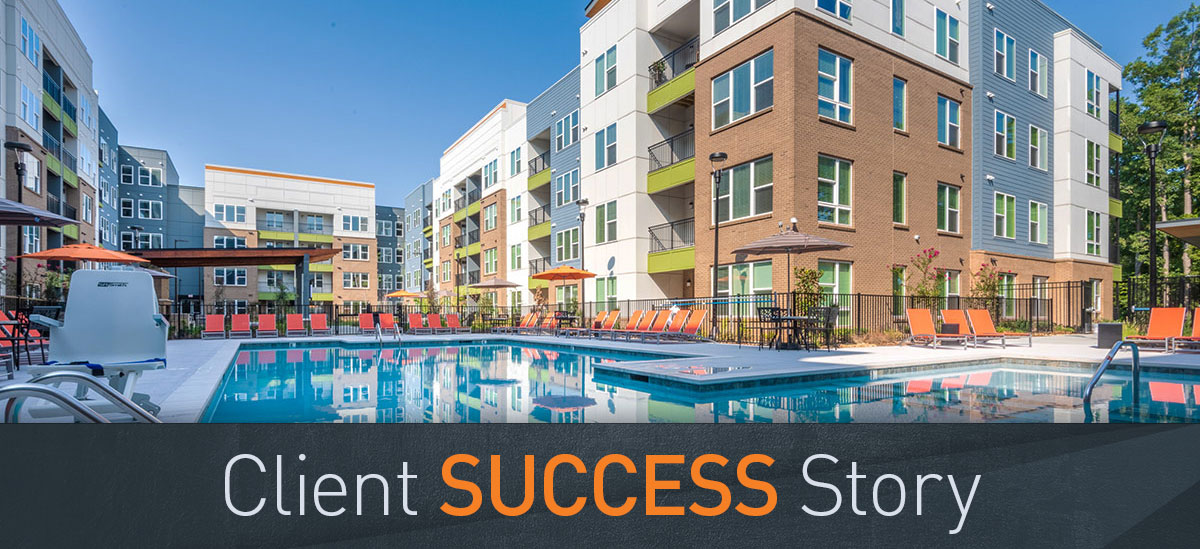 Date: July 2019
Location: Morrisville, North Carolina
Property Type: Multifamily
Financing Amount: $24.75 million
Financing Type: Bridge
Scope: 191 units
When Colony Club Apartments Manager, John Kasmarak, based in Cleveland, Ohio, needed short-term bridge financing for the acquisition of a mid-rise 191-unit apartment development in Morrisville, North Carolina, the sponsor re-engaged with PNC Real Estate by way of the bank's Chicago office.

The financing represented a conduit to a permanent execution and enabled the sponsor to take advantage of a 1031 exchange, deferring taxes on $20 million in capital gains.
The property, District Station, was highly desirable, located in a premier area called The Research Triangle that contains three major municipalities – Chapel Hill, Durham and Raleigh. Completed in 2018, it is part of  a larger mixed-use community, known as Park West Village, a new, 100-acre, 750,000 sq. ft. development that includes a town center district with national retail anchors like Target, Earth Fare, HomeGoods, Ulta, Michaels and PetSmart.
Competition for the deal was fierce and included an outside broker as well as other banks. The deadline was tight and the sponsor had specific expectations around the structure.
PNC Real Estate hit the client's sweet spots, delivering six-month bridge financing of $24.75 million while completing appraisal, due diligence and closing activities within the two month deadline.
Commenting on the process, John Kasmarak said, "We were familiar with PNC Real Estate through a legacy relationship with our affiliated company, Zaremba Group. We reviewed PNC's existing portfolio and history of bridge financing for other clients. They were fair and honest from a structural perspective and the term sheets were consistent with our understanding of the deal." They offered a competitive interest rate, flexibility and the terms we needed to see. It was great to re-engage and we look forward to working with PNC Real Estate in the future.