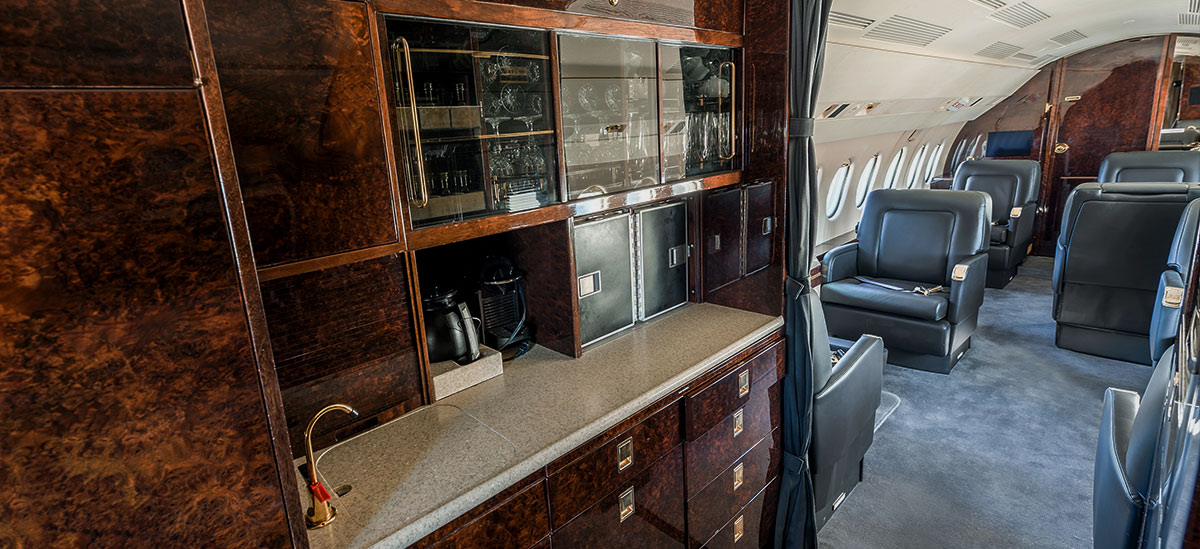 The earlier I can start on a project, the better the result will be — particularly a refurbishment from the secondary market.
Havilande Whitcomb, Design director and CEO, Aviation Aesthetics.
A new interior can make an aircraft feel brand new, improving the enjoyment of the journey, boosting productivity in-flight for passengers, and boosting asset value. But what interiors upgrades can give owners the biggest pay-back and what's the best way to decide whether to upgrade or buy-up?
In-Flight Wi-Fi
Today, travel in the sky doesn't mean you have to be disconnected from the ground, unless you want to be. Advancements in connectivity allow passengers to be as entertained and productive as they might be at home or in the office. Adding connectivity as part of FAA-compliance ADS-B installation can be a smart way to use aircraft downtime.
Deciding on a connectivity solution can be daunting, but the decision whether to choose a satellite supplier or air-to-ground service is best guided by the intended use. Those flying exclusively over the continental United States may not need to equip with global-network satellite solutions. But what happens if your travel habits change or the jet later changes hands?
Viasat offers an upgradeable Ku-band Advanced service which can be quickly upgraded to higher-speed and broader Ka-band coverage with a three to four day maintenance stop, without requiring a change to the interior on the upgrade.[1]
A promising development in the connectivity space, especially for those who want high speed global connections, is the new power-by-the-hour service from Intelsat FlexExec offered by Intelsat and Astronics AeroSat.[2] Like an engine maintenance program, this new service helps users budget hourly connectivity rates so there are no unpleasant surprises and it includes service as well as cybersecurity, post-flight reporting and other amenities. Astronics offers a variety of In-flight entertainment and connectivity systems options and can advise customers on installation, systems design, and certification.
Another development to keep an eye out for is the launch of the GoGo 5G air-to-ground aviation network, scheduled for 2021, which will cover the contiguous United States and Canada.[3]
Whatever connectivity option you consider, make sure to work with an MRO that is expert at these installations.
Digital Cabin Management Systems (CMS) and In-Flight Entertainment (IFE)
Whether or not you have connectivity on the aircraft, installing a digital cabin management system or in-flight entertainment server can improve experience onboard.
There are a host of entertainment options available, varying in costs and complexity of installation, from satellite-TV to AVOD (audio video on demand) entertainment systems, but with the rise of streaming entertainment services available, sometimes you already have what you want in your pocket.
With new digital CMS and IFE systems, personal electronic devices (PEDs) that you're already familiar with—smartphones and tablets—can manage cabin environmental conditions, entertainment and sound systems.
Steve Scarlata, vice president of engineering and R&D at Alto Aviation, which specializes in private jet sound systems, explains,[4] "Customers like to support and stream content from these devices, so the sound system needs to provide easy interface and high-quality sound," he says. "Alto Aviation has experienced a marked increase in the installation of systems providing full cabin audio with just an auxiliary input panel providing line input, USB charging, Bluetooth audio or HDMI connection.
This can eliminate the need for a full, complex CMS. We are seeing some avant-garde cabin designs that really deviate from the traditional styling of the above-seat PSU (passenger service unit) rail.
A key benefit of digital CMS and IFE is that they can reduce the weight of the overall cabin interior, either improving fuel efficiency or leaving room for other cabin upgrades.
Cabin Lighting
The right lighting can make a dramatic difference to cabin aesthetics and passenger well-being. Experts recommend a combination of focused LED lighting and making the most of natural light when it's available. This can be accomplished by installing dimmable or combined sheer and opaque window shades that let just the right amount of light in when you want it. A growing trend is to install programmable mood lighting which can help regulate the circadian rhythms to avoid jet-lag after longer flights.
Bombardier has introduced the Soleil lighting system for the Global 7500 aircraft, which can simulate daylight dynamically, using a combination of red and blue light, to help regulate sleep cycles.
These types of programmable lighting options can be added to aircraft as part of an interiorrefurbishment program. Multicolor LED strips can be added to cabin monuments, seats and other furnishings, to enhance design.[5] They can be combined with digital CMS systems allowing passengers to change environmental settings for productivity or restfulness with a few quick taps of an app.
Galley Upgrades
One of the most frequently overlooked areas of the jet cabin is the galley, and making room for quality food and beverage cabin service can really pay off in terms of passenger well-being.
Today, there is a wide range of galley equipment available—from toasters to espresso machines to stove tops and ovens—but the most basic need for catering is adequate storage.
As Alex Berry, director of OnAir Dining, explains,[6] "It's all about where you place certain items and how much storage you have. If we were asked to provide restaurant food, which would usually come in glamorous packaging, we would fast-chill and package it in more economic packaging, so that it can be stored safely and correctly on the aircraft. Then the food can be reheated and brought back to its original quality."
Flight attendants can be your best allies when it comes to galley planning. They are most familiar with the space and service restrictions of the aircraft and also understand food safety practices. It's a good idea to have them participate in the design brief when planning a galley upgrade.
"There was one company we provided training for that consulted its flight attendants when refurbishing the aircraft," says Paula Kraft, managing partner at DaVinci Inflight Training Institute. "It was a large aircraft, with the galley taking over the whole tail of the aircraft. The flight attendant created a trash shoot at the back of the cabin, so the trash would go into a dumpster in the belly of the aircraft. They never had a problem eliminating garbage from the cabin, and it wasn't cluttered with bags. They also refrigerated a salad station so that they could prepare salads and keep them in refrigeration separate from the proteins."
How Bespoke is too Bespoke? An Important Note on Aesthetics.
Part of the pleasure of re-furbishing the aircraft cabin is to make it personal and comfortable. But the scope of the design program should be considered in terms of certification requirements and longevity. Havilande Whitcomb, Design director and CEO, Aviation Aesthetics has helped many VVIPs convert their private jets into welcoming, comfortable spaces that reflect their identity. She recommends leaving enough time to ensure that the project goes smoothly, especially because issues are bound to arise as the project advances, particularly for certification.
"The earlier I can start on a project, the better the result will be — particularly a refurbishment from the secondary market, which is a big part of our business," she says.[7] "The ideal scenario is to be able to do the complete design and make decisions with the owner in advance and then present that package to different completion centers for competing bids. Then decisions can be made with enough time and there is no pressure to compromise because of deadlines. Having said that, we do excellent work on very short deadlines as well!"
Meeting short deadlines can be easier if the project relies on pre-certified materials and structures. It's possible to personalize "catalogue" items so that they feel bespoke. The right combination of pre-certified materials and furnishings can create something wholly unique, without complications.
Get to Know Your Completion Center
Completion centers with in-house design and engineering teams can offer a range of pre-certified textiles, finishes, fixtures and furnishings to choose from while offering luxury services like custom cabinetry and installation services for sound systems and other in-flight entertainment technology.
These experts can also advise owners in advance when changes that will require STCs (special type certificates), significantly extending the timeline and costs of refurbishment. For those planning to refurbish a recently purchased second-hand plane, it is particularly important to know up-front whether the original certification data is available for the interior build. In most cases, this data is missing so aircraft interiors may have to undergo a new certification process managed by the completion center's engineering team.
"When you do a floor-plan change—meaning a seat localization change or interior change—you go to STC level. Then, the aircraft will need longer certification lead time and period," says Alexis Ott, Senior Manager Sales & Key Account at AMAC Aerospace. "Floor plan changes mostly happen on a second-hand acquisition, where the client is willing to change the full interior."
The most common interior updates that completion centers see are changes to address common wear and tear of the cabin interiors. That includes new carpeting, fresh cushions and covers for seats, new textile trim and wall panel refurbishment.
These relatively quick refreshers can make a jet feel new, at a lower cost and with fewer complications. More complex projects that involve cabin re-design are best carried out when refurbishing a jet purchased from a previous owner, or when the jet owner wants to keep the jet for a longer period of time.
While there are many creative possibilities for a bespoke cabin, too much personalization can affect the jet's re-sale value. When buyers will need to effectively do a "clean sheet" interior refurbishment, including full STC certification, then they will consider those costs and aircraft down time in their offer.
Budgeting for and Financing Aircraft Interiors
The costs of refurbishment will vary greatly, depending on the scope of the project, but the investment can give aircraft a new life. Aircraft owners commonly invest in refurbishment near the midpoint of their jet financing term and take advantage of re-financing options to fund the aircraft upgrade, Jeffrey
Dunn, Head of Aviation Asset Management at PNC explains. "We see a lot of customers re-finance the aircraft and pay for the interior to be refurbished, the paint to be done, the avionics upgrades or Wi-Fi that they want to install," Dunn explains. We also see a many who have a big maintenance event and want to re-do their interior at the same time, paint the aircraft, and modernize it.
Addressing wear and tear by updating materials and finishes, can be helpful for owners who plan to put their jet back in the market Dunn tells us. "When you are showing an aircraft, you want to put a good impression out there," he says. "It can make a big difference to put a new interior out there rather than the dated interior. The smell, the feel of it, how bright the aircraft shows, it can make the difference between a sale and someone walking away."
A Fresh Start
If you're not ready to buy a new jet directly from the OEM, you can still have the satisfaction of flying on a new plane by investing in an interiors refurbishment. Find the right advisors by consulting expert designers, MROs and completion centers, and let your imagination take flight.
PNC Aviation Finance Delivers
Our financial experts are ready to assist you with your financing needs for turboprops, jets and helicopters in the United States and Canada. Contact us today at 1-888-339-2834 or complete the form below and we will get back to you as soon as possible.