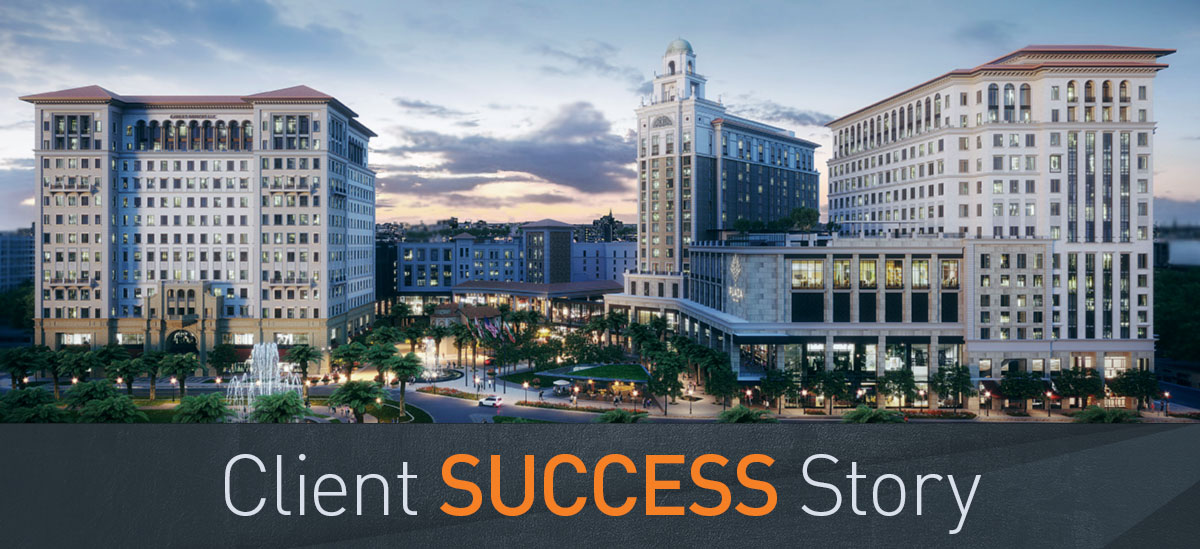 Date: May 2019
Financing Amount: $100 million
PNC Hold: $70 million
Financing Type: Construction
Location: Coral Gables, Florida
Scope (Phase I and II): 450,000 square feet of office in two towers; 164,000 square feet of retail; 174 multifamily units and a 242-key hotel
After ten years of planning, the first large-scale mixed-use development in the history of the City of Coral Gables, Florida, broke ground in fall 2018. Today, Plaza Coral Gables' first office tower, retail and multifamily high-end units has nearly topped off reaching 12 of its 13 stories.
When the two-phase, $700 million project is complete at the end of 2021, it will include approximately 450,000 square feet of office in two towers; 164,000 square feet of retail; 174 multifamily units; a 242-key hotel and 25,000 square feet of event space.
Along with the buildings, the developer has extended the project's one-acre open plaza area into Ponce Park. The approximately seven-acre site sits just blocks south of Miracle Mile along Ponce de Leon Blvd. The Plaza is expected to serve as a vibrant hub of activity with concerts, art and cultural events and restaurants attracting locals and tourists.
Designed by the architectural firm of Callison RTKL, the project will be constructed to LEED for Neighborhood Development standards.
The new community represents a long-term vision of the family behind the Jose Cuervo spirit business. The developer, Agave Holdings, LLC, is a privately-owned commercial real estate firm that operates in the United States and Mexico.
PNC Real Estate led a syndication underwriting $70 million of the $450 million project cost for the first of the Plaza's two phases. Agave also maintains a depository relationship with PNC.
Upon reflection of working with PNC on the project, Jose Antonio Perez Helguera, Managing Director USA, said, We appreciate PNC's patience and professionalism as we dealt with the challenges presented by closing the loan after construction had commenced on Plaza Coral Gables first phase.