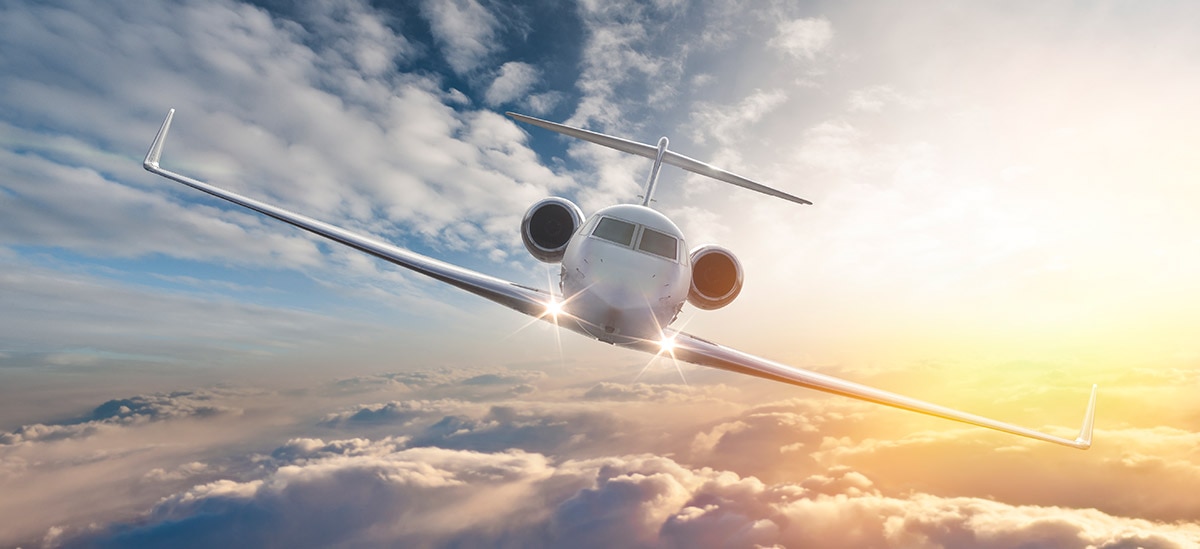 Get enough insurance to cover higher liability resulting from large personal claims.

Aircraft maintenance records and pilot training records can ensure insurance claims are processed.
Latest technology requirements keep you safe and control insurance costs.
Liability exposure for wrongful death or even permanent disability could potentially exceed typical corporate jet coverage amounts.
— Holland & Knight, LLP
Buying a private aircraft is about a lot more than finding the right model for your needs —you have to consider the overall costs of ownership including recurring costs such as aircraft and engine maintenance, pilots and crew, maintaining log book accuracy and maintenance records for regulators, and the costs of insurance.
A rash of recent aircraft crashes and accidents has had a big impact on aviation insurance, especially on single pilot aircraft.
While private jets have generally carried a bigger burden of liability—due to a higher accident rate—the recent 737 MAX crashes show that commercial aviation is also vulnerable. The higher combined liability for insurers is reshaping the insurance market and raising questions about whether "enough" insurance can ever really be enough.
While Aviation Is Safer Than Ever, High-Profile Accidents Expose Insurers to Risk
Flying is generally a safe form of transport, but accidents still happen.
This August, NASCAR driver, Dale Earnhardt, Jr., his wife and one year old daughter, along with two pilots, were fortunate to survive the crash of their private Cessna[1] in east Tennessee, without serious injury. The aircraft itself caught fire, resulting in complete hull loss. The crash evidently resulted from a runway overrun, according to preliminary reports.
In May of this year, a Challenger 601 departing from Las Vegas crashed about 280 kilometers from the northern Mexican city of Monclova[2] killing all 13 people on board
This March, Natalia Fileva, one of Russia's richest women and co-owner of Russia's second largest airline S7, was flying from Cannes to Frankfurt when the Epic-Lt single engine turboprop she was onboard crashed on approach,[3] in an airfield near Egelsbach Airport. Her father, who travelled with her, and the pilot were also killed in the crash.
On New Year's Eve 2017, ten people, including Bridgewater Associates executive Bruce Steinberg and his family were killed when a chartered Cessna 208B Grand Caravan plane crashed into a mountain in Costa Rica.[4]
We're not trying to spread a fear of flying by sharing these stories. Although high-profile, incidents like these are still uncommon and, as the 27th Nall Report shows,[5] there has been a positive trend in safety for General Aviation.
While the number of total accidents increased in the period of the report (through 2015), there was also a corresponding increase in flight hours flown. Because of this, the rat of non-fatal accidents and the rate of fatal accidents both decreased. On the whole, aviation is getting safer.

Initiatives by the FAA and other global regulators to reduce loss of control accidents[6] in General Aviation continue, but so do these incidents.[7]
With greater awareness of safety protocols and adoption of safety technology, the rate of accidents may continue to decrease.
The reason we cover these accidents though, is that, for insurers, the rise in incidents and higher levels of liability are affecting their business. This results in higher insurance premiums for aircraft owners.
High Coverage for Turbulent Times
As Bloomberg reports, insurance costs have increased as much as 20% over the past year,[8] but that could be just the beginning.
Insurers have suffered other high-profile and expensive losses in the airline, aerospace and general aviation sectors this year, and they are still measuring[9] their exposure from Boeing 737 MAX crashes[10] and the subsequent worldwide grounding of the fleet.
Some believe the exposure could be as high as $1 billion combined.[11]
These higher risk factors have prompted several insurers to leave the business aviation market in 2018, and the remaining insurers are re-evaluating their exposure. London based insurers Willis Towers Watson projects future increases between 5% and 15%.[12]
How Much Insurance Is Enough?
Aircraft owners have to ensure that they have the right coverage, even as the cost of coverage increases, because liability is also likely to increase, especially following successful wrongful death settlements in commercial and general aviation.
"The structure of the operating entity or entities, the aircraft usage practices put in place by owners and operators, as well as the insurance policy limits are all important considerations in protecting owners from personal liability for accidents involving their aircraft," Holland & Knight, LLP explains.
Five Points for Aircraft Owners
Holland & Knight suggest five points for aircraft owners to consider when deciding on a liability limit:
1. Flight Plans: Owners should consider both how many hours they will typically fly and the type of journey (short-haul or long-haul) the plane will make. Because takeoffs and landings are the riskier phases of flight, an aircraft that makes a lot of short flights may require a higher liability coverage than one that makes fewer long flights, even when both aircraft have the same number of combined flight hours.
2. Pilot Experience: Insurers set minimum flight hour and training requirements for pilots, and will refuse claims when these requirements are not met.[13] Before a new pilot is hired, or if a pilot is being contracted through an agency, owners, or their flight operations managers, should check the pilot's license to ensure that they meet the insurance requirements.
3. Typical Destinations: The places over which the aircraft is most likely to fly can also affect coverage levels. Considerations include operations over densely populated areas, landing at busy airports, operations in countries with poor infrastructure, and whether the aircraft will generally fly a set route to recurring destinations.
4. Passenger Profile: Those onboard the aircraft will also affect liability. Employees may have partial coverage from workers' compensation or employer liability insurance, which lessens the burden on the aircraft's insurer. Alternatively, high-net worth passengers may result in large loss of future earnings claims. This is also a consideration when inviting guests onboard.
5. Aircraft Base: The security levels at the base hangar will also affect liability. Storing aircraft at a dedicated hangar with 24/hour security presents less risk to insurers than an open airfield.
Looking Ahead
Even with these increases, insurance costs represent less than 10% of the recurring costs of owning a private jet. The costs of having inadequate insurance can be far greater.
Insurance is like a good hangar. It's there to protect the aircraft owner from unforeseeable events that could have a significant impact not only on the asset, but also on personal wealth.
PNC Aviation Finance has a highly seasoned team of aviation finance experts and strong connections in aviation insurance and aviation legal service. We are ready to advise aircraft owners and future aircraft buyers to facilitate the process from tip to tail.
PNC Aviation Finance Delivers
Our financial experts are ready to assist you with your financing needs for turboprops, jets and helicopters in the United States and Canada. Contact us today at 1-888-339-2834 or complete the form below and we will get back to you as soon as possible.