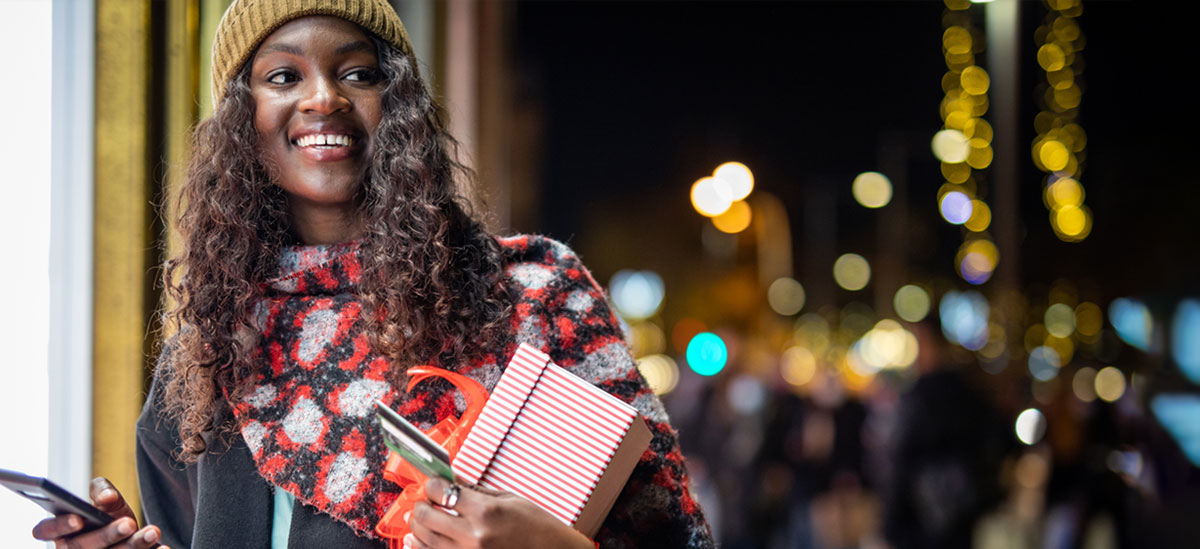 You've been hitting the books hard this term, so who can blame you if holiday shopping hasn't made it to the top of your to-do list yet? It is time to think about it, though. And while it may be tempting to just knock out all your shopping in one afternoon, a more strategic approach can help you avoid blowing your budget. Here are some tips to keep you on course. 

Make a List of the People You're Shopping For
First, think about who should be on your gift-giving list. Who's made your life more fun and fabulous this year? Who do you need to thank? This list will be your guide, so give it some careful thought. If your list turns out to be bigger than your budget, you can buy gifts for a few and send personalized cards or DIY gifts for the others. 
Set a Holiday Budget
Figure out how much you have to spend. If you already have a budget in writing, then you're halfway there! If not, decide how much you can realistically afford and set a maximum spending limit for yourself. Then determine how much you can comfortably spend on each person on your list. Don't forget to factor in additional costs for shipping and gift wrap. (Even better, re-use those gift bags you've received, which is both earth-friendly and wallet-friendly!) 
Search for Sales and Coupons
Look for deals, not only on Black Friday and Cyber Monday, but every day. Many websites offer online coupon and cash-back offers, as well as tips on saving money when you shop. Check the weekly sales ads for your favorite stores, too. Remember, the earlier you start shopping, the better. If you wait until the last minute, you may end up paying full price and exceeding your budget. 
Price Compare Between Stores
Don't be lured by convenience. Just because you found that gadget your cousin covets at Store A doesn't mean you won't find it cheaper at Store B. Check online and in person to see where you can get the best deal. Some stores offer price matching, so it's worth asking. Savvy shoppers know that investing a little time comparing prices can be well worth the effort. 
Make DIY Gifts
Thoughtful, personalized handmade gifts can be ideal for some of the friends and family members on your list. Consider:
Whipping up a homecooked meal or a plate of delicious holiday cookies
Framing a special photograph or memento — like tickets to a show you attended together or that fly ball your dad caught at the game last summer
Share your artistic talents with a one-of-a-kind creation – through painting, woodworking, knitting, glassblowing or pottery. 
Don't consider yourself a maker? How about offering your time? Coupons for babysitting, shoveling snow or providing tech support can mean the world to someone who can use a hand.
Suggest a Gift Exchange
You may be able to trim your gift list (and spending) by agreeing with family members or friends to have a gift exchange. Each person will need to buy a gift for just one other person instead of everyone in the group. Just be sure to set a spending limit that everyone is comfortable with.
Track Spending Carefully
Keep your gift list on your phone so you can record each gift you buy, along with how much you spent. That way you'll be able to see at a glance who you still need gifts for. Put your holiday shopping budget at the top of the list and subtract the cost of each gift as you go. Once you hit $0, that's it — you're done shopping. Think of it this way: Not going over budget is a gift you can give yourself.
Regardless of how much (or how little) you have to spend on holiday gifts, keep in mind that the greatest gift you can give is one that shows your loved ones you're thinking of them. Happy shopping and happy holidays!