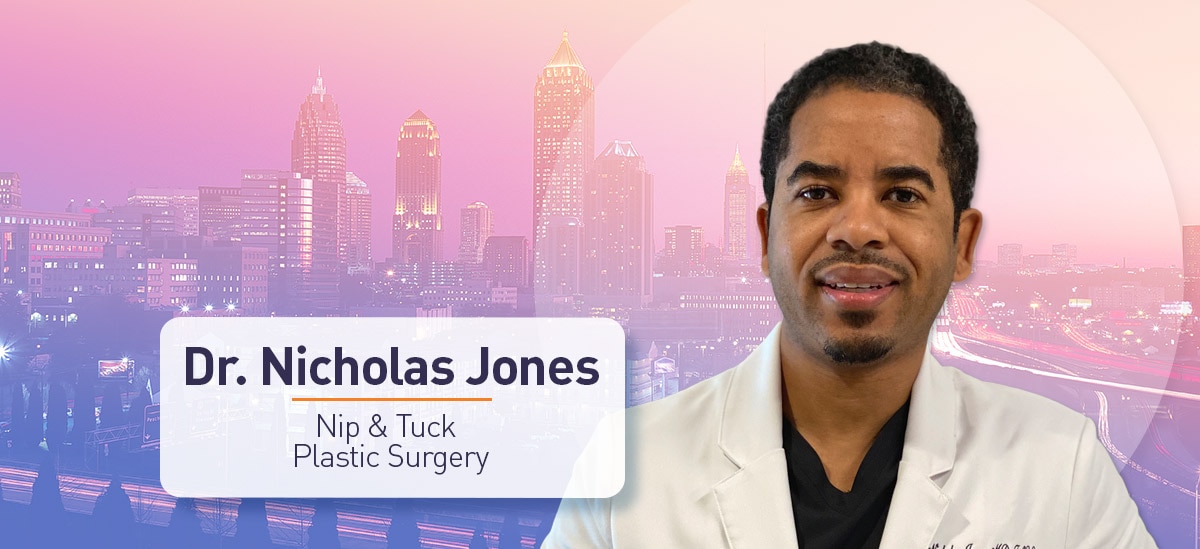 When Dr. Nicholas Jones decided to open his own plastic surgery practice, the biggest challenge for him was figuring out just where to start.
"As a physician, you spend so much time learning how to become a good doctor, but little time learning the business of medicine," said Dr. Jones. "It was a challenge, and I am still figuring it out. I opened my practice in the middle of the pandemic, so resources were limited, as well as the workforce."
Atlanta-based Dr. Jones found himself in a highly turbulent climate for small businesses but was determined nonetheless to get his operation up and running by the summer of 2020. In need of a small business loan, he turned to PNC, where he met PNC Relationship Manager Dan Walden — who specializes in advising healthcare private practices.
"My primary goal during the start of the pandemic was to help my clients stay profitable," said Walden. "After meeting Dr. Jones, I wanted there to be a constant stream of communication with him. Whether it was through text, email, or calls, I wanted to make sure he was doing okay even though we had already distributed his loan. I wanted him to know that I was there for him throughout his business's lifecycle."
Later that year, Jones' growing practice, called Nip & Tuck Plastic Surgery,[1] needed more medical equipment. Because of the already well-established relationship with the bank and relationship manager, Jones leveraged one of PNC's bank services that would allow him to buy that equipment with a convertible line of credit. Walden and Jones also collaborated on the best way to access capital for a surgical center, since Jones' business was growing rapidly at that point.
"It's just great to work with a banking expert that has your best interest in mind," said Jones.
Below are Dr. Jones' thoughts on his overall business growth, his relationship with PNC, and what he's looking forward to in the near future for his practice.
What challenges have you needed to overcome to build your business?
One of the biggest challenges was just taking that first step. I always knew I wanted my own practice, but I just wasn't sure where to start. Once I just started planning, and asking the right questions, everything sort of just fell in place. My support system really came through.
Can you tell us a little bit more about your practice?
Nip & Tuck Plastic Surgery is a small boutique practice. We focus on developing real, personal relationships with our patients. Our goal is to be a well-rounded practice that allows our patients to address their medical needs all under one roof. Once you are a patient here, you are family. We go the extra mile by showing true compassion like calling on our patients, and their caregivers the day after surgery to check in and offer additional assistance, if needed.
What advice would you offer aspiring doctors specifically plastic surgeons about starting a small business?
Start early and don't shy away from taking that leap of faith. Also, if you have the opportunity to earn an MBA, I encourage you to do so. Even if you decide not to open your own practice, understanding the business behind medicine will make you a better and more knowledgeable doctor. Although an MBA is not necessary, it gives you a stronger foundation. If you're not ready to start your own practice just yet, work for another practice for several years, learn as much as you can, and then take flight!
Can you talk a little more about your relationship with Dan, and how he and PNC's services have helped your business grow?
Dan has been an instrumental part of the financing for my practice — I consider him part of my finance team. I met Dan after applying for a small business loan to start my medical practice. For the longest time, we talked over the phone since I started my business during the pandemic. When you have a small business, many things can become outsourced, so I rely on Dan to give me sound banking advice. Dan, along with the entire PNC team, have provided me with the guidance, expertise, and capital that I need for expansion.
What is your vision for Nip & Tuck Plastic Surgery going forward?
My vision for Nip & Tuck is to continue to see growth throughout the southeast. Specifically, I want to open a large surgery center, hire additional physicians, and create another division focused on skin care and post-operative needs. I also want Nip & Tuck to create a philanthropic arm that is invested in the local community, focusing on introducing African American youth to the field of medicine.