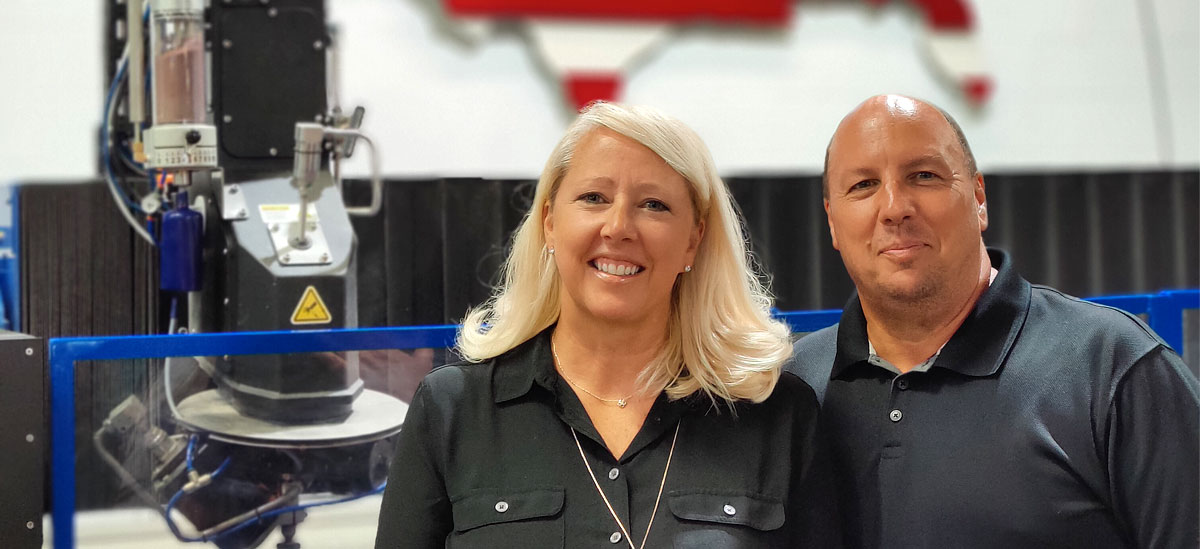 Midwest Machining Solutions fulfills a broad spectrum of machining and fabrication needs across a diverse range of industries. Based in St. Louis, this $4 million+ company handles everything from precision and custom machining, repairs and maintenance to large and small fabrication projects for Fortune 500 manufacturing companies, construction firms, medical and pharmaceutical companies, food manufacturers, and government and military organizations.

Owner Lisa Kilwin talks about how her business grew from a two-person operation in a two-car garage to a 30-employee operation in a 25,000-sq-ft facility.

Why and how did you establish Midwest Machining Solutions?

The timing was right for my husband, Dave, and me. Business was down at the company where he was working as a toolmaker, and I had left my office management position at an HR consulting firm to care for our young children. We opened Midwest Machining Solutions in the summer of 2001, stuffing our two-car garage with equipment we had bought at auctions. In hindsight, it may not have been the best time to start a business, given the 9/11 attacks happened shortly after, but then again, when is the best time? At some point, you just need to step out, take that risk and commit to making a go of it.

How did you position your company?

Before we wrote our business plan, we talked with people who owned businesses so we could learn from their experiences and insights. We also thought about trends we had seen over the years. For example, we had seen companies that focused on a single service suffer during economic downturns. Our approach would be to offer a diverse range of services, we decided. We started with quick-turnaround repair work and then evolved to where we are today: providing simple and complex reverse engineering, machining, manufacturing, production, repair and assembly services.

What differentiates Midwest Machining Solutions?

First, our focus on building relationships based on honesty and trust.
Too many companies see dollar signs when a big-name company walks through their door. We're fair across the board, whether you are an individual working out of your garage or a Fortune 500 company. We value every customer and provide the same high level of care, service and attention to everyone. In return, our customers support us in good times and bad. For example, when one of our largest customers went through a bankruptcy, they put us at the front of the line as a priority vendor because of the strong relationship we had forged with them. We weathered the storm together, and they continue to be one of our best customers today.

Second, the versatility, skill level and commitment of our people.
We've built a reputation for being adept troubleshooters and innovators, because our team is driven to resolve any issue a customer shares with us. They bring exceptional expertise to every challenge and take pride in developing the ideal solution.

And finally, our commitment to making Midwest Machining Solutions a great place to work.
Dave and I understand that everyone wants to enjoy their job and feel fulfilled. We also know that it's our job to figure out what makes each person tick — what they enjoy and how they want to be challenged — so we can bring out the best in them and help them enjoy coming to work every day. We want our co-workers to know that we appreciate and respect every one of them, and that we want them to have the opportunity to grow as the business grows.

How has the company grown?

We don't have a sales team out there pounding the pavement; it's all been reputation and word of mouth. When we started the business, we planned to build up to 15 employees; we're at 30 now … and counting! Over the years, we've let our customers lead us to growth opportunities — meaning they come to us and say, "We really wish you'd do this," and we tend to find a way to do whatever that is for them. We've built a solid structure so we can adapt to new requests and help each customer achieve their particular goals.

What do you see for the future of the company?

We are on a constant growth track. As we take on larger and larger projects, we're adding skills and capabilities every day, and looking to see what we can do next. One of our team members asked just the other day, "How far are we going with this? How big do you want to get?" I said, "I don't know! Fifty employees? Fifty is a good number!" He just shook his head and laughed. I believe that, as long as we're still having fun, who knows?
Find them on the web: http://www.midmacsol.com