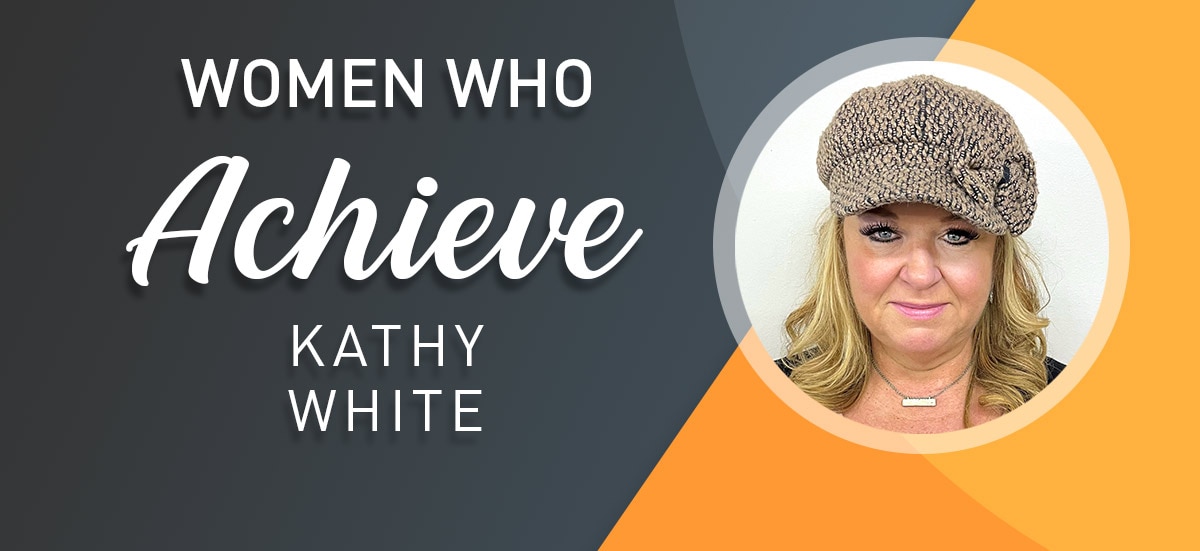 Jawz Auto & Jawz Auto Imports    Clio, MI

The easy choices you make every day can help drive your success. Choose to stay positive, set goals and achieve them. Keep your nose to the grindstone and always have integrity.
Gearing Up for Ongoing Growth
"If you build it, they will come." These are words Kathy White lives by; words that motivated her to start her businesses, Jawz Auto and Jawz Auto Imports, with her husband, Jeff; words that continue to fuel her spirit and commitment. Just like the Iowa farmer in "Field of Dreams," Kathy has brought her vision to full fruition.

"I was inspired to become an entrepreneur after we got married. Jeff had been a local mechanic for many years and had a huge following of customers, and I had been born into the family car business my grandfather started. Together, we had a lot of automotive experience," Kathy shares. "We decided the time was right to open our own repair facility in 2008. Our goal was to build a family business where we could earn residual income for our retirement and ultimately pass the company on to our children."

Word spread quickly throughout the Clio, Michigan, community, and business at Jawz Auto boomed from the start. Soon Kathy and Jeff found themselves moving from their small, secluded repair shop to a much larger facility in a high-traffic area. Kathy saw an opportunity to expand into importing and selling vehicles. She studied to become a Registered Importer with the U.S. Department of Transportation and the National Highway Transportation Safety Administration, and incorporated a second company, Jawz Auto Imports.

"The import business has opened a lot of doors for us," Kathy says. "It enabled us to expand our team to 12 employees and to recently purchase a neighboring property. We plan to move our detail and import departments to the new building, and add another parking lot to accommodate additional vehicles."
Diverse Experience and Community Involvement Drive Continuing Success
The complexities of running an operation that does everything from auto repair, maintenance and detailing to importing, reconditioning and selling require a business manager with deep knowledge and experience. Kathy has accumulated plenty of both.

"I had a lot of jobs prior to establishing Jawz, including heading up a quality control team and running my own nailcare business," Kathy explains. "I brought different pieces of what I've learned to this job, and I continue to educate myself every day."

One important lesson Kathy has learned is the importance of community involvement. "On the advice of my accountant and real estate agent, I joined the chamber and became more active across the community," she says. "We've helped those affected by the Flint water crisis, responded to churches' calls for support and donated services for many fundraisers. We've found that the more you give, the more you're rewarded."

Kathy also enjoys working with her local PNC branch. "PNC has supported us through every stage of our growth — as we've bought properties, adopted new banking products and applied for Paycheck Protection Program (PPP) loans during the pandemic," Kathy says. "The best part of our banking relationship for me is the feeling of home when I walk into the bank. Everyone greets you, and they know your name. That's been important to me as a business owner."
Business Award
2019 Business of the Year Award, Clio Chamber of Commerce

Community Involvement
Kathy and her team support several local churches and nonprofits, including their local chapter of The Fraternal Order of Eagles

Find them on the Web: https://www.jawzauto.com/
---
More Women Entrepreneurs & Executives Who Achieve
As PNC proudly serves the financial needs of women in business, we often come across truly inspirational leaders. Read their success stories.