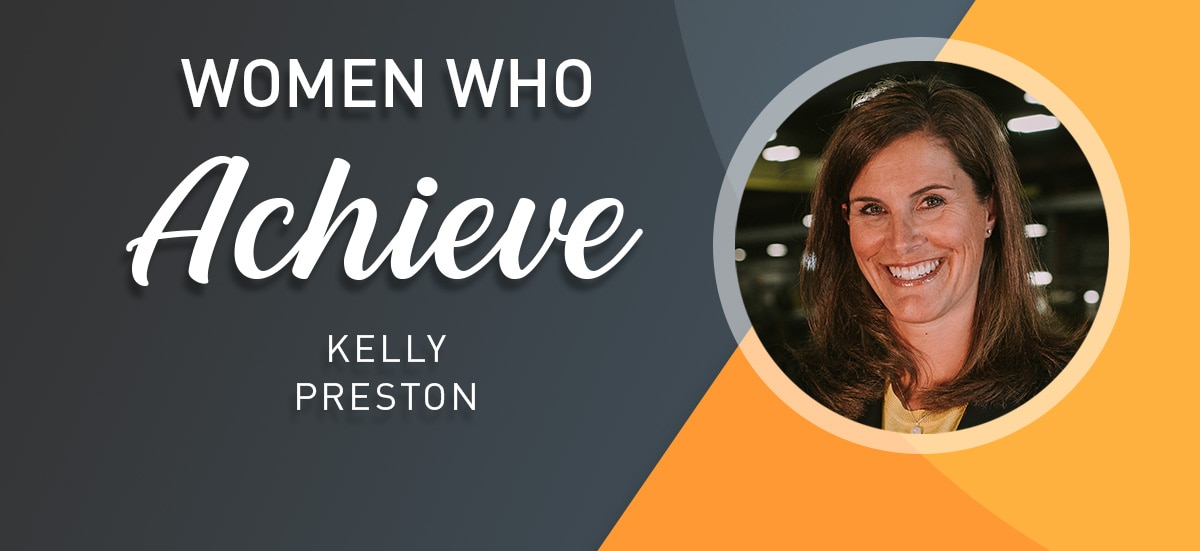 Capital Steel & Wire    DeWitt, MI

You can gain knowledge from every single person you meet. Lean in, listen, observe, ask questions, and see what you can learn from each interaction.

Steel Will Powers Business Growth
Kelly Preston is the embodiment of unapologetic leadership. "As women, we sometimes apologize for being strong leaders and for making the decisions we make. Instead, we need to advocate for ourselves and not allow gender discrimination or anything else to discourage us from being true to who we are," she says.
This philosophy has been pivotal to Kelly since she and her husband, Dustin, established Capital Steel & Wire in 2001. Entering into entrepreneurship, the then-elementary school teacher knew she was joining an industry with a male-dominated culture; when Dustin passed away in 2015, she realized how deeply that culture could cut.
"The day I returned to the office — just a couple of days after the funeral — one of our steel suppliers came in, looked me in the eye and said, 'We will no longer do business with you because your husband isn't running this company anymore; you are.' In that moment, I was devastated, but his comment also fueled my determination to succeed," Kelly recalls.
Since that day, Capital Steel & Wire, which manufactures and distributes steel bar and wire for a broad range of industrial applications, has more than doubled in terms of employees, from 35 to 80, and expanded from two facilities to four. Kelly attributes the growth of her WBENC-certified business to two factors: a culture that values and supports employees, and the company's relationship-based approach.
"We focus on being a partner to our customers, helping them solve their issues and improve their processes," she explains. "A company may come to us to buy a steel slug, but we take that a step further and ask, 'How can we help you with this? Is there another process you're having done somewhere else? Would it help for us to produce that in a larger quantity, stock it on our floor and provide you with just-in-time delivery?' We offer a variety of options to make things easier for our customers."
Taking the Reins and Setting the Course
When Kelly and Dustin ran the company together, he was the face of the company, managing relationships, sales and supply chain issues, while she worked behind the scenes on finances, human resources and other internal operations. Although she had no formal financial training, Kelly focused on developing her knowledge and skills to ultimately become the CFO.
"PNC was a remarkable resource and ally in this space," she says. "I leaned on them when I had questions and we worked together so closely that they got to know our business very well. They felt I was on the right path, trusted what I was doing and became a great partner in our success."
After Dustin's passing, Kelly had a choice to make. "I was forced to decide whether I wanted to continue with the company or sell it and do something else with my life. I realized if I kept the company, I couldn't sit behind a door crunching numbers anymore; I would have to push myself to become the face of the company," she says. "My passion for our business was strong; I decided to absolutely keep moving forward with it."
Looking ahead, Kelly says that one day she will make the decision about either selling the company or passing it down through the generations. For now, she is focusing on more growth. "My vision is to continue to grow strategically and sustainably, possibly broadening our reach geographically," she shares. "I'm very careful about how we grow and continue to build our financial strength and success."
Business Awards
2015 Executive of the Year, Capital Area Manufacturing Council

Community Involvement
Member, Lansing Economic Area Partnership (LEAP), 2021 - Present
Board Member, Sparrow Health System, 2022 - Present
Member, Sparrow Foundation, 2020 - 2022
Board Member, Ele's Place, 2017 - Present
Member, Lansing CEO Network, 2020 - Present
Board Member, Downtown Development Authority of DeWitt, 2017 - Present
Current Member, Lansing Chamber of Commerce
Find them on the Web: https://www.capitalsteel.net/
---
More Women Entrepreneurs & Executives Who Achieve
As PNC proudly serves the financial needs of women in business, we often come across truly inspirational leaders. Read their success stories.