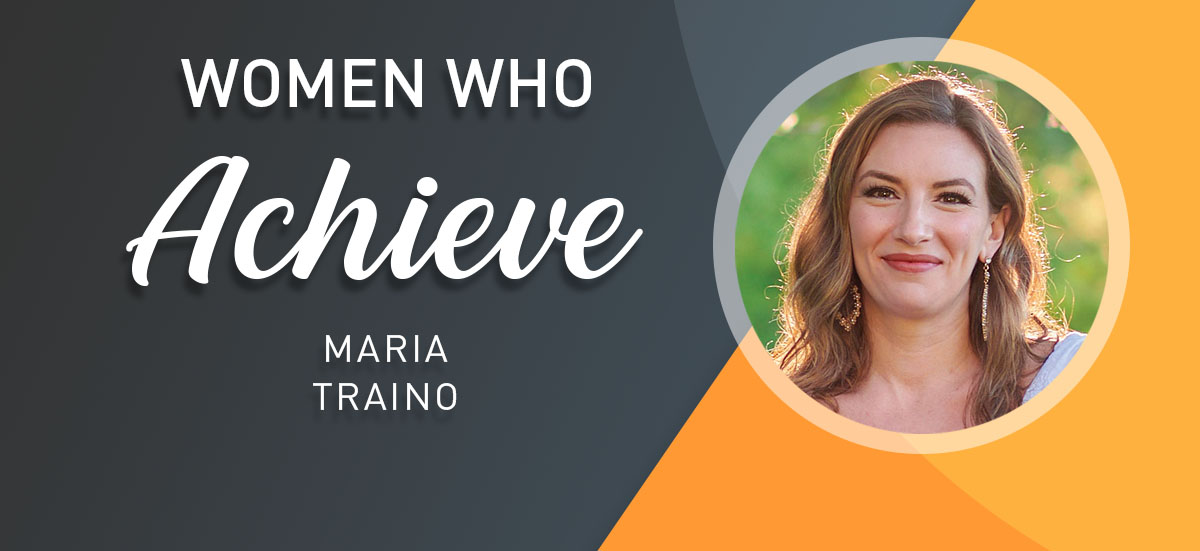 Maria Traino Success Coaching    Scranton, PA

If we have a desire in our heart, it's our job to make it a reality. We already have the answers inside us; we just need to ask ourselves the questions.
Entrepreneurs Seek Success Through Neuroscience-based Coaching
Maria Traino built a successful brand design business, Inspired Studio, by connecting with clients deeply enough to understand their "why."
"I recognized that entrepreneurs build businesses that are a reflection of themselves. I knew that identifying their differentiation factor would mean figuring out what made them unique. Once I understood that uniqueness, I would develop their brand," Maria shares.
Her approach fueled the growth of her business over a decade. Then a podcast changed the course of Maria's career. "I started feeling a 'nudge' toward doing something different a few years ago, but I couldn't put my finger on it," she explains. "Then I listened to a podcast featuring Dr. Shannon Irvine, who was talking about the psychology behind being a high-achieving entrepreneur. Something she said — that a thought always precedes an emotion — struck me. I became curious about how our thoughts can influence our emotions and how we, as entrepreneurs, can leverage that to design a business that lights us up from the inside out. That's why I switched from being a brand designer to being a life designer."
Maria became a Certified NeuroCoachTM through Dr. Irvine's program and established a business, Maria Traino Success Coaching, to provide entrepreneurs with science-based coaching focused on rewiring the brain to let go of long-held, limiting belief patterns and create new, positive ones. Her goal is to help business owners rediscover their passion and grow their companies without self-sabotage or resistance.
"Some clients come to me because they have achieved a high level of success on paper, but they don't feel successful; they're not excited about their business anymore. Others want to achieve the next level of success. They can see it, touch it, smell and taste it, but no matter what they've tried, they haven't been able to get there. Through a process I call The Inspired Approach, I help them naturally achieve the success they desire," says Maria.
Entrepreneurial Evolution
Maria's own entrepreneurial journey is rooted in rich family traditions. She grew up in a family restaurant business where her parents are the third-generation owners. "I worked in the kitchen from the time I could stand," she says. "My parents taught me the value of service and hard work, and that every challenge has a solution."
So when working for someone else as a graphic designer wasn't fulfilling her career aspirations, Maria established Inspired Studio and then evolved to build her coaching business. She surrounded herself with resources and advisors, including an accounting firm, SCORE and PNC, to help her manage the business side of her companies. "PNC has been an incredible resource for a line of credit, merchant services, and personal and business banking services. I love that it's a large bank yet I can call or visit my local branch and speak with an actual person who recognizes my face and name," says Maria.
Today she looks forward to a thriving future for Maria Traino Success Coaching. "I plan to grow beyond one-on-one to group coaching, which I will provide to corporations' leadership, sales, marketing and HR teams," Maria says. "We will define what success means to them and then work as a group toward achieving their goals."
Maria offers entrepreneurs and other business professionals success tips every Wednesday at 1 p.m. EST on Facebook and LinkedIn, and regularly speaks at women's conferences. "I want to help people find the inspiration inside of themselves to change their thoughts and their lives for the better," she says.
Business Awards
2013, 2014, 2015, 2019 American Advertising Awards, American Advertising Federation of Northeastern Pennsylvania
Community Involvement
Maria does pro bono work for a variety of nonprofits, including Marley's Mission, which provides  Equine-Assisted Psychotherapy for children who have suffered emotional trauma
Member, Greater Scranton Chamber, 2012 - Present
Find them on the Web: https://www.mariatraino.com/
---
More Women Entrepreneurs & Executives Who Achieve
As PNC proudly serves the financial needs of women in business, we often come across truly inspirational leaders. Read their success stories.