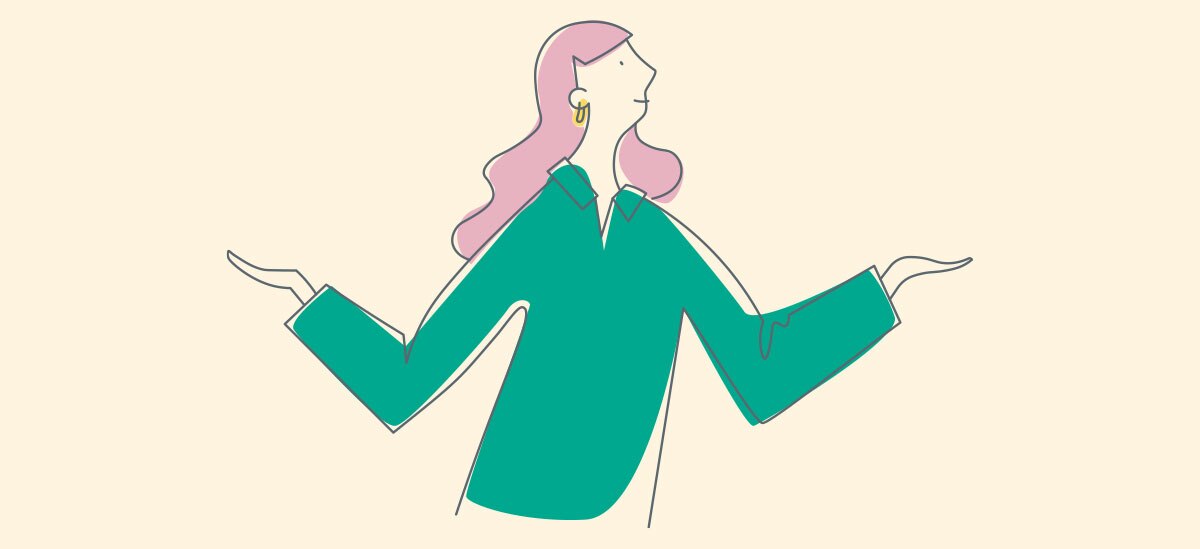 Clients frequently ask questions such as "How are we doing?" or "How do we compare to other families?", "Are we functional or are we dysfunctional?" -- These are some of the most frequent questions we hear from ultra-high-net-worth individuals. And they are not asking about their financial assets, which are regularly measured, analyzed and benchmarked.
Rather, what they want to assess is their family well-being -- are they doing well, poorly, or is what they are experiencing simply "par for the course"?
With this in mind, the Institute for Family Success has created a new offering. The Family Success Factors Assessment is a tool that will gives families a way of answering these questions now.
Most families with significant means are private, staying below the radar. Many don't speak openly about their wealth and the opportunities or challenges that it brings. Families typically shy away from discussing wealth-related issues, as they may be embarrassed to come across as dysfunctional despite the opportunities they have, and fear the "rich people problem" perception that it brings. In our experience, they also often feel that addressing these issues is like opening a can of worms; they are uncertain of where it will take them and unsure that they are prepared to deal with what they uncover. Therefore, many families may ignore the human dimension of family wealth and just hope for the best.
Even those who are willing to address these issues may struggle to do so.  Unlike financial well-being, which is easily quantifiable, family well-being is a soft, elusive notion. 
It's also highly complex, as families are intricate social systems and wealth is multifaceted and often multigenerational. Many times families with the best of intentions may not quite know how to approach these topics.
They simply may not know what they don't know.  Instead, they commonly revert to measuring symptoms. Since they may be unable to assess family well-being, they wait for signs of family ill-being. Unfortunately, just like in healthcare, it may be harder to treat conditions once they have festered or evolved into a crisis.
The Family Success Factor Assessment
This new assessment is a tool that brings issues lurking under the covers a chance to come out into the open, to be understood and managed.  Designed to address the non-material health of the family, the assessment is a simple online questionnaire aimed at helping families review key aspects of well-being and identify opportunities for improvement. It is organized around 7 Family Success Factors:
Family Legacy
Family Vision
Family Communication & Trust
Family Togetherness
Family Decision Making
Responsible Wealth Ownership & Stewardship
Personal Fulfillment
For each Success Factors, the individual surveyed answers three simple questions (see example below).
Example 1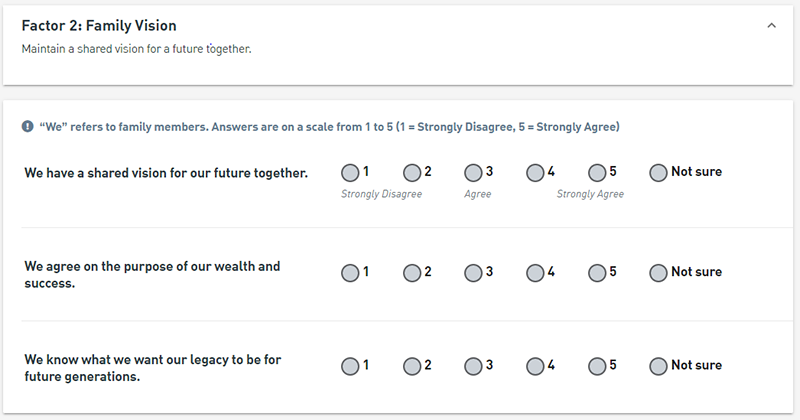 Once all 21 questions have been answered, the respondent gets a report summarizing his or her results. But the assessment becomes even more interesting when individual family member responses are aggregated into one family report. First, it allows a family to see the average group response for each Success Factor (see example below).
Example 2

Furthermore, it shows the range of answers (anonymously), underscoring the family's consensus or lack thereof in their evaluations (see example below).
Example 3

When is it appropriate to use this assessment?

This tool is particularly helpful for families who may not know what they don't know. It gives them a quick 360 degree view of their family well-being, including in areas that might have been in their blind spot. The report gives them something to react to, but also a language to discuss feelings and perceptions unaddressed until then. 
It can help a family member seeking to start a conversation with the rest of his or her family, but struggling to find how to begin.
It's a catalyst for conversations, helping families engage on topics they may have been avoiding—or just don't know how to articulate. It helps flag areas of risk or possibilities for growth, and may move the family into action. 

Finally, families may also use this tool when they feel that something is dysfunctional, but are unable to quite tell what it is. It guides families seeking to improve their family well-being but unsure about how to prioritize their work.
What will you learn from it?
This assessment provides an overview of a family's well-being. At the individual level, it will help you know yourself and your family better.  Seeing your results will help you understand your behaviors and guide your decisions in the context of your family. 
At the family level, it will reveal, possibly for the first time, your current family dynamics. It might be the first opportunity for some to privately share insights and feelings about family related issues. In particular, the family report will highlight three types of situations for each Success Factor:
Consensus on a high score from the various family members. For example, everyone may agree that the family communicates openly and frequently, while respecting and trusting each other. These are areas of best practice recognized by all and they should be preserved.  
Consensus on a low score, which are areas of worst practice acknowledged by all, and therefore the first issues to address. It might be an agreement that family members haven't spent time defining a shared vision for their future together and agreeing on the purpose of their wealth.
Finally, areas of disagreement, where some believe that the family is functional and others disagree. It could be that the first generation believes that there is a transparent and fair process to make decisions about the shared family wealth, but that the second and third generations feel that the patriarch rules and that they are left in the dark. These are the most challenging issues to address since you need to first get everyone to recognize the problem before you can start dealing with it.

In all cases, getting an initial family report helps establish a valuable baseline to measure future evolutions. And once a representative sample of families will have used this assessment, Hawthorn will be able to generate an aggregate benchmark of its clients' family well-being and to more precisely respond to your question,
How do we compare to other families?
Getting started
If you are curious to learn more about your current family well-being and identify opportunities for improvement, please contact your Hawthorn advisors and they will send you a link to this assessment. Then, if you wish, the Institute for Family Success team will be happy to discuss your family report with you.