United States
Expectations of longer-for-longer interest rates pressure U.S. markets
Domestic equity markets turned lower in December after the Federal Reserve's (Fed's) forward guidance pointed to longer-for-longer interest rate policy in its quest to tame inflation. During the month, the growth-oriented sectors of Consumer Discretionary, Information Technology and Communication Services fueled the sell-off, as higher interest rates continue to challenge forward valuations. Markets have struggled to adjust to the rapid rise in interest rates, with the S&P 500® falling 18.1% in 2022.
Economic data has begun to contract within key areas of manufacturing, with industrial production growth slowing to the lowest level since early 2021. The Institute for Supply Management Manufacturing Purchasing Managers' Index (PMI) also fell to 49.0, its first time below 50.0 — the point that delineates between expansion and contraction activity — since May 2020. In our view, these leading indicators point to further slowing in economic activity, which could weigh on corporate earnings growth.
Despite slowing economic activity, the labor market remains especially strong, a factor that may fuel inflationary pressures. We believe the Fed will continue to tighten monetary policy until it sees sustainable declines in inflation. The most recent Consumer Price Index (CPI) reading was lower than expected, coming in at 7.1% year over year versus the 7.3% consensus estimate. CPI now stands at its lowest level since December 2021. The Fed's preferred inflation indicator, the Core Personal Consumption Expenditure (PCE) Deflator, declined to 5.5%, the lowest level in over a year. Despite the welcomed softening, both measures remain well above the Fed's 2% inflation target, suggesting further rate hikes should be expected.
At the December Federal Open Market Committee (FOMC) meeting, the Fed moderated its rate hikes with only a 50 basis points (bps) increase, down from 75 bps at the previous meeting. More significantly the Fed updated its Summary of Economic Projections (SEP), to reflect an increase in the median expected terminal rate from 4.6% to 5.1%. The Fed's updated projections also point to expected slower economic growth in 2023, higher unemployment and inflation above the 2% target until 2025. We continue to view the Fed's forward guidance as the key driver of market volatility and expect continued, elevated volatility until markets get a clear signal that inflation is moving lower, which would allow the Fed to pause rate hikes.
Figure 1. Changes in the Fed's 2023 SEP
The economic outlook has grown increasingly dim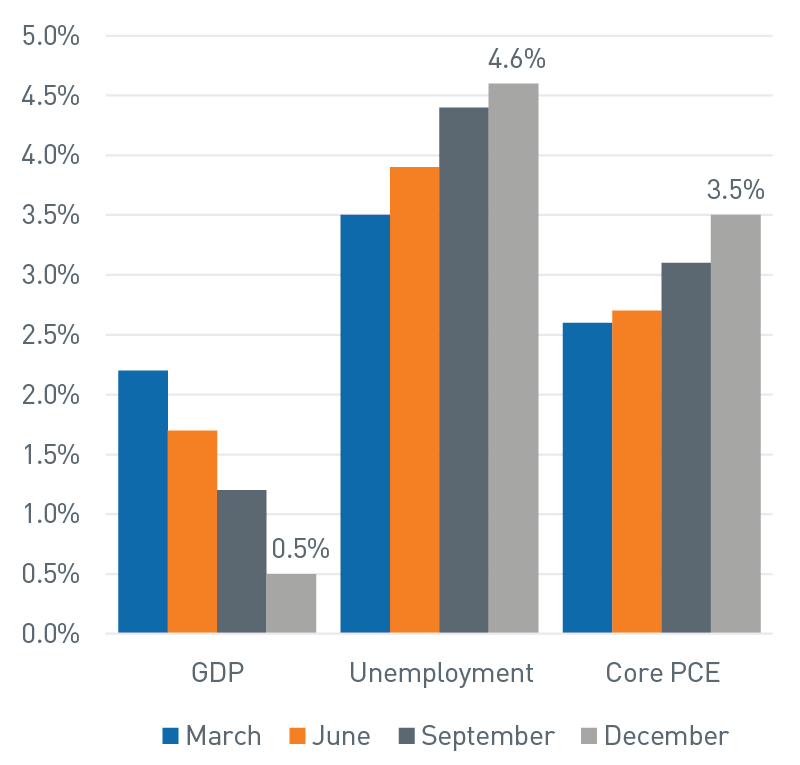 As of 12/14/2022. Source: Federal Reserve
View accessible version of this chart.
Fourth quarter earnings season is set to kick off mid-January with a current consensus growth estimate of -2.4% for the S&P 500. If that estimate holds, it will be the first quarter of negative growth in two years and well below the 3.6% estimate at the start of the quarter. Pockets of discretionary consumer and business spending are experiencing the largest negative revisions, while Energy and Industrials estimates remain durable. Although 2022 revisions have come down substantially in recent months as high inflation has impacted corporate profit margins, we believe the Fed's engineered economic slowdown has not yet been fully reflected in earnings and revenue estimates. In our view, the anticipated slowdown in 2023 U.S. economic activity will not only impact earnings estimates, but also revenue estimates, which have remained surprisingly resilient amid higher inflation.
As hopes for less hawkish Fed policy faded after the December FOMC meeting, equity prices and valuations ended lower for the month. The S&P 500 forward price-to-earnings (P/E) ratio fell one multiple point to 16.7 times (x), with mid- and small-cap equity multiples experiencing similar moves. Even with the equity rally in the fourth quarter, valuations across market capitalizations are back to or below their 20-year averages. However, we believe earnings estimates need to decline as economic activity continues to slow. We expect downward revisions as we enter 2023 and continue to believe the initial path for equities will be dictated by U.S. monetary policy and the markets achieving a line of sight to the Fed's terminal rate.
Fixed income markets were also pressured by the Fed rate hike during the month, as interest rates rebounded from November declines, pushing the Bloomberg U.S. Aggregate Bond Index to its third highest monthly yield for 2022. Despite rising interest rates, credit spreads were largely unchanged for the month in both the investment grade and high yield markets. Several closely watched yield curves remain at extremely inverted levels, including the curve measuring the spread between the 2- and 10-year U.S. Treasury (UST), and the 3-month and 10-year UST. While no single yield curve has perfect predictive power, the inversions of nearly all curves signal slowing growth ahead as aggressive monetary tightening takes hold. 

Developed International Markets
Negative consumer confidence and Bank of Japan shock are a microcosm of 2022
With the Bank of Japan's (BOJ) surprise monetary policy adjustment, the MSCI World ex-USA Index was unable to deliver a third consecutive month of positive performance. As milder weather conditions aided the European energy crisis, the index outperformed its large-cap global peers for the month.
One of the primary drivers of the index's relatively strong performance over the last few months has been the depreciation of the U.S. dollar. As such, when prices are converted to the euro, fourth quarter performance relative to the S&P 500 is essentially the same. This aside, the lagged effect from weaker currencies (relative to last year) only adds to the headwinds of higher borrowing costs and elevated inflation across developed markets.
European economic data, including industrial production and PMI surveys, continued the recent trend of surprising primarily to the upside, albeit still at levels that indicate contracting economic growth. Consumer confidence surveys, such as the ZEW Eurozone Expectation of Economic Growth survey, also show signs of rebounding from extremely negative levels. While sentiment is improving from the lows brought on by the onset of the Russia-Ukraine war, it is far from positive, given macroeconomic uncertainties.
Figure 2. ZEW Eurozone Expectation of Economic Growth Survey
Sentiment is improving, but from depressed levels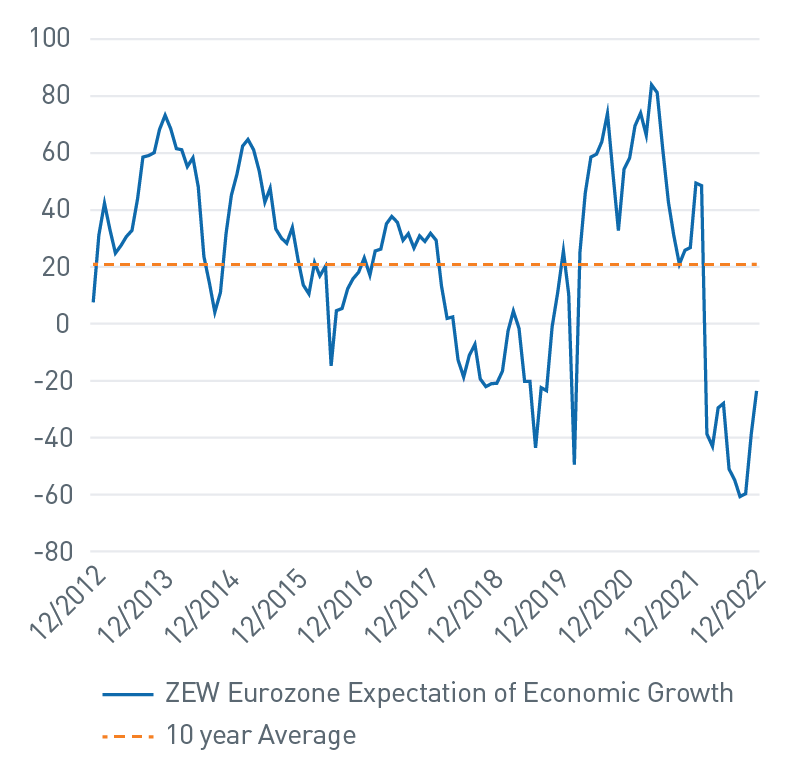 As of 12/31/2022. Source: Bloomberg, L.P.
View accessible version of this chart.
At its December meeting, the BOJ surprised investors with its first shift toward tightening monetary policy by raising the upper band of its 10-year government bond yield from 0.25% to 0.50%. While still incredibly low relative to the 10-year UST yield of nearly 4.00%, the action delivered the strongest one-day appreciation of the yen since 1998. Despite the near-term positive market reaction, we continue to believe developed markets face considerable headwinds from restrictive monetary policy, as economic growth rates turn negative.
Energy prices continue to be a significant driver of elevated inflation across developed markets, and the path forward remains highly uncertain after the latest round of sanctions against Russia went into effect in early December. According to Bloomberg data, Europe has enough fuel capacity to withstand average winter fuel consumption, but should the weather turn colder than forecasted, the continent may face considerable hardship with depleted access to energy resources.
Fourth quarter earnings growth consensus estimates are turning negative for the index as every sector, apart from Financials (the largest sector in the index) and Utilities, experienced negative intra-quarter revisions. Consensus estimates still call for positive earnings growth for calendar year 2023; however, we believe this is primarily driven by the impact of positive interest rates on European financial companies following the conclusion of negative interest rate policies in 2022. As economic data continues to weaken in 2023, we expect earnings estimates — and multiples — will be revised lower.
Emerging Markets
Changes in China's COVID-19 policy not enough to lift EM stocks overall
After November's exceptionally strong performance, the MSCI Emerging Markets Index pulled back in December, closing the year with the lowest annual return since 2008. While most emerging market (EM) countries were down for the month, China was an exception, largely due to abrupt changes in restrictive COVID-19 policies that have been in place since 2020.
Beginning in early December, Chinese officials reversed restrictive zero-COVID policies. While we believe these policy changes will be a significant tailwind for the global economy over the long term, investors should prepare for a near-term surge in COVID-19 cases, similar to what happened in the United States after lockdown restrictions were widely removed in the latter half of 2020. Therefore, it may take time for the Chinese economy to fully rebound after the anticipated surge in cases.
Figure 3. U.S. COVID-19 Cases in 2020 (7-day moving average)
Cases surged in the U.S. after lifting restrictions, China should prepare for a similar situation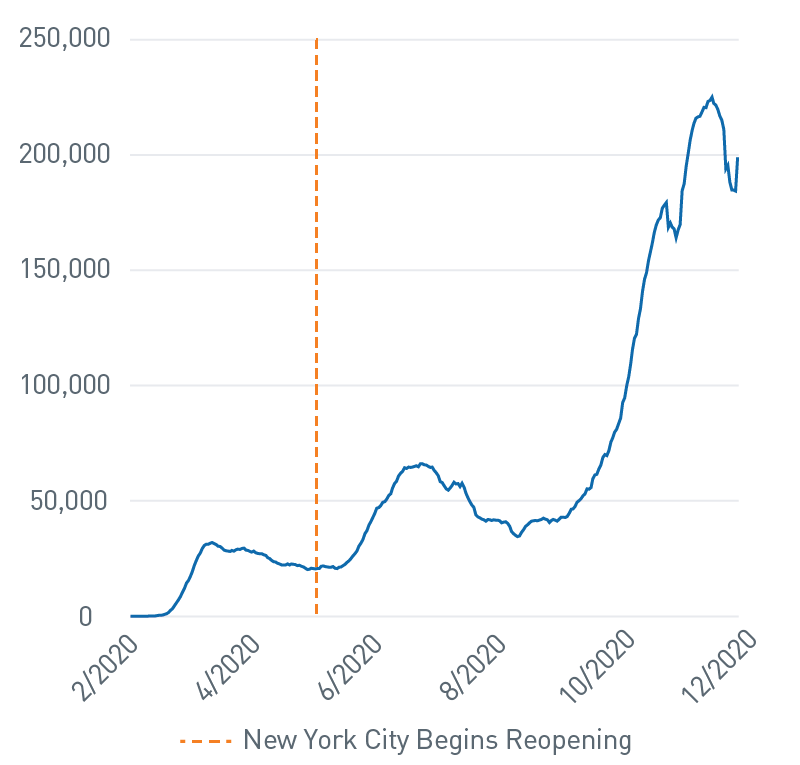 As of 12/31/2022. Source: Bloomberg, L.P.
View accessible version of this chart.
While China's equity markets reacted favorably to COVID-19 policy changes, economic data continues to show the impact of past lockdown restrictions. In addition to a second month of deflation in China's Producer Price Index, year-over-year export growth was not only negative, but it was also the lowest since February 2020. Decelerating industrial production growth and negative retail sales growth rates highlight the need for a quick reopening of the world's second-largest economy.
Broadly, EM equities were led lower by the Information Technology sector, which was impacted by ongoing geopolitical tensions in the semiconductor industry. Additionally, valuations were pressured lower by rising global interest rates. Energy had an outsized negative impact as Brent crude prices reached new lows for the year in December. Oil prices are down more than 30% from their peak in March 2022, and on a year-over-year basis, the average price of Brent is up just 8%, which in our view should lessen the impact of energy prices on inflation in 2023.
Due to the decline in energy prices, net-commodity-exporting countries throughout South America and the Middle East led declines. In contrast with developed markets, where dollar weakness for the month was a tailwind, the dollar had a negative impact on security and commodity prices in EM. Apart from the yuan, most EM currencies weakened versus the dollar in December.
Government turmoil in Peru added to geopolitical risks heading into year-end, as the impeachment of the former president was met with widespread protests. While Peru represents less than 1% of the EM index — and only two stocks — we are closely monitoring the situation, not only for contagion effects across the continent, but also due to the number of natural resource exports, from copper to blueberries, that could be significantly disrupted should tensions worsen.
For more information, please contact your PNC advisor.

TEXT VERSION OF CHARTS
Figure 1: Changes in the Fed's 2023 SEP
The economic outlook has grown increasingly dim (view image)
| | | | | |
| --- | --- | --- | --- | --- |
|   | March | June | September | December |
| GDP | 2.2% | 1.7% | 1.2% | 0.5% |
| Unemployment | 3.5% | 3.9% | 4.4% | 4.6% |
| Core PCE | 2.6% | 2.7% | 3.1% | 3.5% |
As of 12/14/2022. Source: Federal Reserve

Figure 2: ZEW Eurozone Expectation of Economic Growth Survey
Sentiment is improving but from depressed levels (view image)
| | | |
| --- | --- | --- |
|   | ZEW Eurozone Expectation of Economic Growth | 10 year Average |
| 12/31/2012 | 7.6 | 21.9686 |
| 6/30/2013 | 30.6 | 21.9686 |
| 12/31/2014 | 31.8 | 21.9686 |
| 7/31/2015 | 42.7 | 21.9686 |
| 12/31/2016 | 18.1 | 21.9686 |
| 7/31/2017 | 35.6 | 21.9686 |
| 12/31/2018 | -21 | 21.9686 |
| 7/31/2019 | -20.3 | 21.9686 |
| 12/31/2020 | 54.4 | 21.9686 |
| 7/31/2021 | 61.2 | 21.9686 |
| 12/31/2022 | -23.6 | 21.9686 |
As of 12/31/2022. Source: Bloomberg, L.P.

Figure 3: U.S. COVID-19 Cases in 2020  (7-day rolling average.)
 Cases surged in the U.S. after lifting restrictions, China should prepare for a similar situation (view image)
Date

U.S. COVID-19 Cases
(7 day moving average)

New York City Begins Phase One of Reopening

2/29/2020

1

 

4/20/2020

28544

 

6/8/2020

21231

1

6/20/2020

26087

 

8/20/2020

47278

 

10/20/2020

61253

 

12/20/2020

221741

 
As of 12/31/2022. Source: Bloomberg, L.P.