United States
Choppy end to historic quarter as COVID-19 cases reaccelerate.
Following a tumultuous first quarter capped by the market bottoming on March 23, US equities staged an impressive rally in the second quarter, with the broad S&P 1500® index up 20.8%, its best quarter since fourth-quarter 1998. Investor optimism was tested during June, as accelerating new virus cases challenged reopening hopes. However, better-than-expected economic data, combined with tailwinds from monetary and fiscal stimulus, were enough for US equities to deliver monthly gains. Small-cap stocks led markets higher, as the Russell 2000® outpaced both the S&P 500® and S&P 400®, with returns of 3.5%, 2.0%, and 1.3%, respectively.
Concerns grew over a resurgence in COVID-19 infections during the month, as rising case numbers in states including Arizona, Florida, Texas, and California pushed the 7-day daily moving average (DMA) of new COVID-19 cases in the United States to more than 41,000 on June 30, a new all-time high (Figure 1).
Total COVID-19 Cases in the U.S. (Figure 1)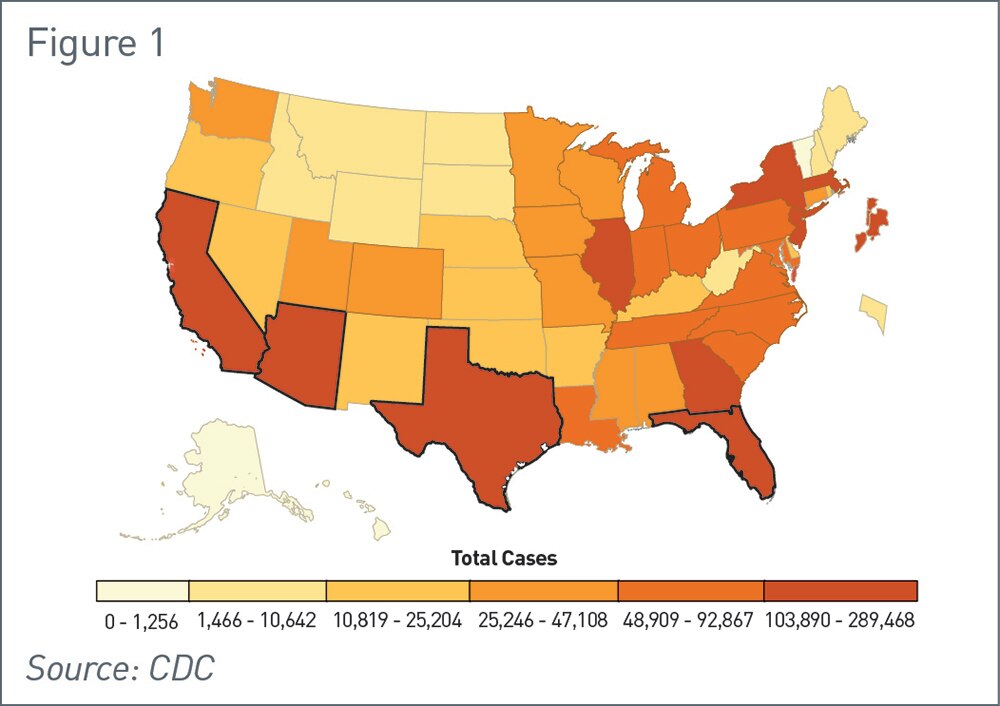 Source: CDC
This increase in new cases will likely slow the reopening of businesses and challenge hopes of a "V-shaped" recovery in the economy, employment, and earnings. We continue to believe improving COVID-19 data are necessary to fully reopen the economy and justify a path higher for markets. Ultimately, we do not expect another round of widespread, government-mandated shutdowns, but we do expect the economic recovery to be uneven and somewhat tied to different regional or state infection rates. For example, late in the month, Texas decided to halt its reopening plans altogether, and Apple, Inc. closed some of its Florida stores. New York and other northeastern states continued to slowly move forward with the reopening process, as their case numbers remain well off regional highs.
The technical backdrop continues to reflect concerns over increasing case numbers as well. Specifically, in conjunction with the market's recovery off of its March 23 lows, we saw market breadth (the number of stocks trading above their 200-day moving average) recover from a low of 3% to a high of 68% in early June. Historically, this measure has remained above 50% during sustained market rallies. This recovery in market breadth also coincided with small-cap and mid-cap stocks outperforming large-cap stocks for most of June. However, uncertainty about an acceleration of COVID-19 cases once again led to a narrowing of market leadership, with market breadth closing the month at only 42%. This reflected investors' preference for the "stay-at-home" stocks perceived to have the strongest growth prospects, which tended to be concentrated in larger-cap growth companies.
Shifting investor sentiment was also reflected in notable changes in factor and sector leadership during the month. Specifically, growth and momentum factors resumed their outperformance in June over the more cyclically sensitive value factor.
From May 28, when the 7-day DMA of new cases bottomed, through the end of June, the momentum factor, as measured by the iShares Edge MSCI USA Momentum Factor exchange-traded fund (ETF), was up nearly 6.0%. The corresponding value factor ETF was up just 0.3%. From a sector perspective, growth-oriented stocks drove S&P 500 performance, as Information Technology and Consumer Discretionary were the two best-performing sectors within the index, up 7.1% and 4.9%, respectively. Within Consumer Discretionary, Amazon.com, Inc. drove the vast majority of the sector's performance given its 13% gain for the month and its more than 40% weighting in the sector. We continue to believe large-cap companies with sustainable growth prospects will be the primary beneficiaries in the post-COVID world, as they may generally benefit from secular tailwinds related to scale and other competitive advantages to continue to expand market share.
The longest economic expansion in US history officially came to an end in February, as the United States fell into its first recession since 2009, according to a National Bureau of Economic Research announcement in June. While it's possible the recession could ultimately prove to be one of the shortest in history, it very well could be one of the deepest. Although recent economic data have improved, we do not believe this suggests a normalization of economic growth. We continue to expect the economic recovery will be similar to the prior cycle, meaning we could see economic growth well below the long-term historical average of 3.3%. From an investment perspective, we are watching closely to see if the short-term effects of forced shutdowns lead to longer-term permanent economic losses, particularly for employment. According to Bloomberg, corporate bankruptcies rose at their fastest pace since 2009 in the second quarter, with 75 companies filing for bankruptcy protection, led by the hard-hit retail industry and the Energy sector.
To date, the massive fiscal stimulus programs, namely the Coronavirus Aid, Relief, and Economic Security Act (CARES Act), have largely focused on income replacement following a historic rise in unemployment claims and stay-at-home precautions earlier in the year. While still early, results from these programs have been encouraging, as we have seen a notable improvement across discretionary sales data for restaurants, homes, and automobiles over the month. After falling by the most on record in April, consumer spending posted the largest monthly increase in history, up 8.2% in May as local economies began to reopen. With consumption accounting for roughly 70% of US GDP, we believe a sustainable rebound in spending and a healthy US consumer will be critical for a recovery in economic growth.
Given equity market gains across the capitalization spectrum in June, US valuations remain elevated and are an area we are watching closely. The next-12-month (NTM) price-to-earnings (P/E) ratio for the S&P 500 is now 22 times (x), its highest level since September 2000. While this level reflects significant earnings declines from COVID-19 shutdowns, the index's P/E on a two-year forward-looking earnings-per-share (EPS) basis is still 19x, the measure's highest level since 2002. The NTM P/E for the S&P 400 Mid Cap index finished June at just under 21x. While this is down from its mid-June all-time high of 23.4x, it still represents one of its highest valuation levels ever. Additionally, the Russell 2000 Small Cap index finished June with a NTM P/E of 58.5x, an alltime high. While price appreciation played a role in these elevated valuation levels, the significant decline in forward earnings estimates has been the primary driver of P/E expansion (Chart 1). With second-quarter earnings likely to be the worst for the year, we expect equities to be somewhat range-bound until the path of the virus and the pace of economic growth and earnings become more clearly defined. 
Domestic Valuations 10 Years Ended 6/30/2020 (Chart 1)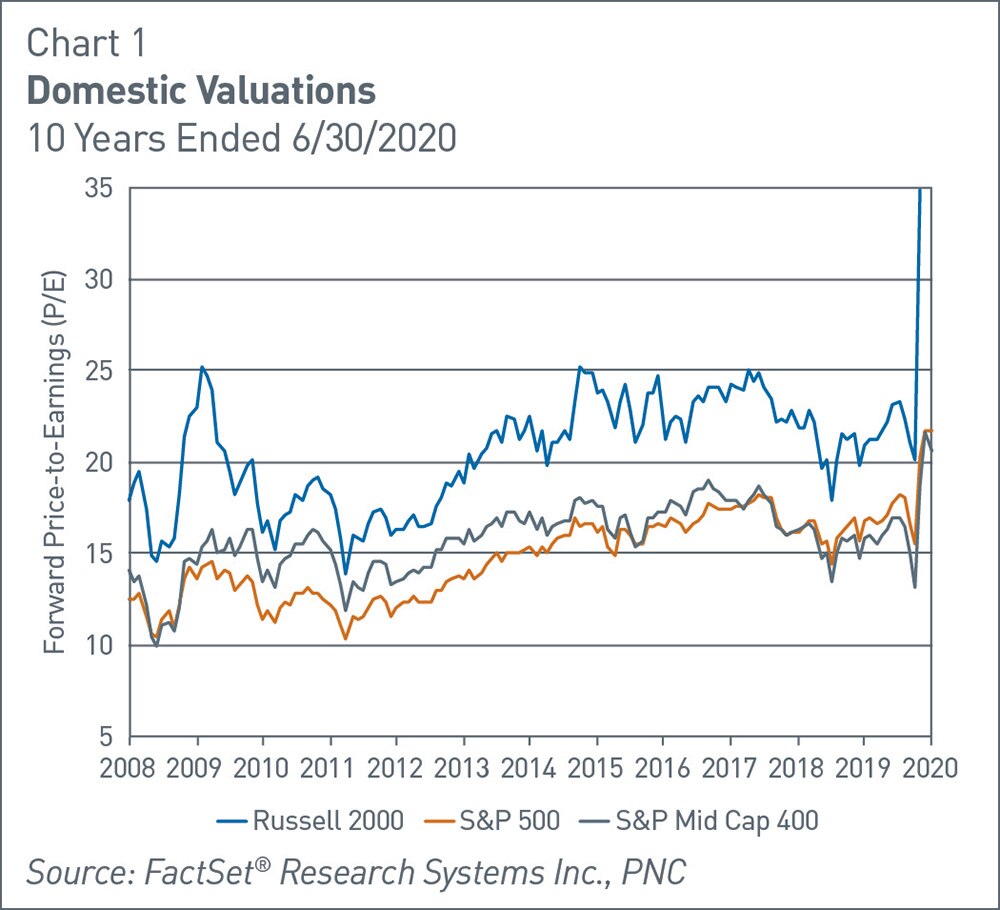 View accessible version of chart 1
Source: FactSet® Research Inc., PNC
In fixed income, credit spreads narrowed during the month, serving as the primary driver of returns, as long-term Treasury yields were little changed. Even the slope of the Treasury yield curve, measured by the spread between 10-year and 2-year notes, was essentially unchanged for the month.
June's outperformance of investment-grade (IG) corporate bonds led the Bloomberg Barclays US Aggregate Index to return 0.63% for the month, bringing the index's year-to-date return to 6.14%.
For the quarter, total returns in IG and high yield (HY) corporate bonds were the strongest since 2009, returning 9.0% and 10.2%, respectively. In our view, these returns were influenced in large part by the continued unprecedented Federal Reserve (Fed) intervention. The Fed now holds approximately $6.8 billion in IG and HY corporate fixed income ETF assets across 15 ETFs from various investment managers, including iShares, Vanguard, State Street, and even a VanEck ETF called "Fallen Angel High Yield."
The corporate primary issuance market continued its record-breaking pace in the second quarter, with debt issuance up more than 90% versus the first six months of 2019. That said, with companies largely having shored up cash needs in the very short term, we expect issuance to decline during the second half of the year, which may help IG investors to digest the surplus of supply that entered the market over the past three months.
The Bloomberg Barclays Municipal Bond Index returned 2.7% in the second quarter, outperforming the broad US Treasury index. Municipals generally benefited from rising economic optimism and attractive relative valuations, not to mention heavy monetary and fiscal subsidies from the Municipal Liquidity Facility and CARES Act.
Developed International Markets
Encouraging economic data mark an important first step toward recovery, but a variety of headwinds remain.
Amid a backdrop of improving COVID-19 data, robust monetary and fiscal support, and fewer lockdown restrictions, economic activity in most developed international markets is improving from recent historic lows.
While continued virus precautions for businesses, such as occupancy limits and reduced operating hours, and geopolitical headwinds, such as trade tensions and Brexit concerns, may act as governors on further improvements, the better-than-expected data have marked an important first step toward recovery.
Unlike the United States, most developed international markets continue to see a gradual decline in new cases of COVID-19. New cases in most European countries are rising 95% slower than during their respective peaks in late March.[1] Cases in Japan are rising at just 10% of its peak rate in mid-April.[2] Because containing the virus is critical to justifying further reopening, we consider these data essential to offering a path higher for both developed economies and their corresponding financial markets.
A boost from monetary policy and further potential for fiscal stimulus should continue to limit near-term economic damage in the European Union (EU). The €600 billion increase in the Pandemic Emergency Purchase Program (among other substantial asset purchase programs), negative interest rates, and a variety of lending facilities extend low borrowing costs to the EU's real economy. In addition to individual country-level stimulus, the EU recently announced a nearly €540 billion package that allows the European Stability Mechanism to offer further aid to workers and certain businesses. While Japan did not introduce any new fiscal stimulus in June, reports suggest more may be coming in the fall. These efforts are designed to improve financial conditions and help businesses weather the downturn.
In fact, we have already seen a pickup in economic activity across these regions. Strong readings in higher-frequency measures, such as retail foot traffic, restaurant bookings, and public transportation usage, are strengthening the case for a swifter-than-expected economic recovery. For example, the volume of retail foot traffic in Europe fell more than 80% from a year ago during the most intense lockdown periods, but is now down just 20% in France and 30% in Germany.[3]
Survey data from June improved as well, with composite PMI readings across the Eurozone, the United Kingdom, and Japan moving meaningfully higher. Furthermore, economic sentiment is looking increasingly optimistic. The Zew Indicator of Economic Expectations for Europe reached levels not seen since 2015, French business confidence rebounded sharply, and the Ifo Business Climate Index of German business expectations has nearly recovered to previrus levels. Investor confidence has also strengthened — the Eurozone Sentix Investor Confidence Index improved significantly in June, and the underlying expectations component registered its third consecutive increase while notching its highest level since November 2017. While we believe these economies are far from out of the woods, we find these strong survey readings encouraging.
Reflecting this optimism, developed international stocks posted strong quarterly returns despite more modest gains in June.
The MSCI World ex USA Index had a quarterly total return of more than 15%, the STOXX® Europe 600 returned nearly 14%, and the Japanese Nikkei 225 gained nearly 18%. These gains, along with a deteriorating earnings outlook, have lifted valuations for the MSCI World ex USA Index to a NTM P/E of more than 17x (Chart 2). This is the highest level for this benchmark since February 2004. Second quarter earnings growth for the MSCI World ex USA Index is expected to improve slightly (-58%) over growth in the first quarter (-60%), with 2020 growth expected to be -30%. We see this implied improvement in second-half earnings, along with a continuation of favorable COVID-19 trends and a recovery in macro data, as critical to driving international developed equities higher from here.
International Valuations 10 Years Ended 6/30/2020 (Chart 2)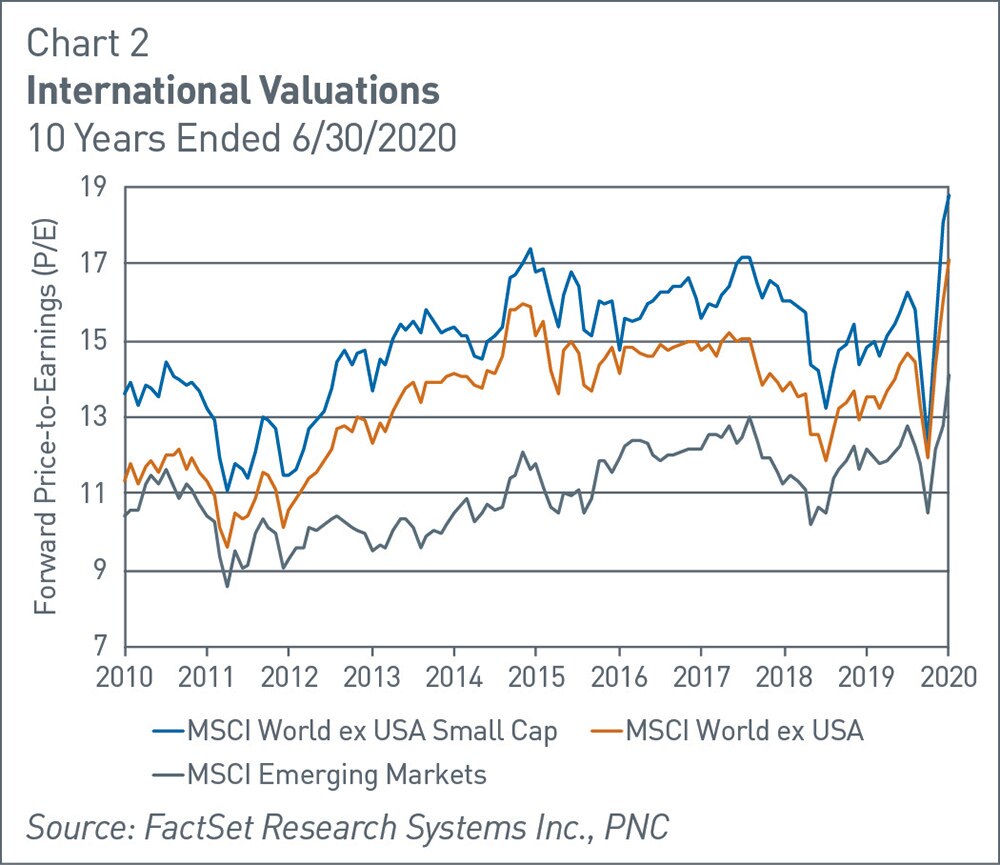 View accessible version of chart 2
Source: FactSet Research Systems Inc., PNC
Emerging Markets
More favorable virus and economic data drove significant outperformance in emerging markets.
The MSCI Emerging Markets (EM) Index delivered positive returns for a third consecutive month, outpacing the S&P 500 by nearly 700 basis points in June. It was the widest spread of monthly outperformance between the two indices since May 2009. The gains for EMs were widespread, led by growth stocks in the Information Technology and Communication Services sectors, with all but one sector (Utilities) delivering positive performance.
One reason we believe the EM Index had strong outperformance in June was due to improving COVID-19 case data. Whereas the United States is still struggling with the "first wave" of the virus, it appears some EM Asia countries, including China, South Korea, and Malaysia, have successfully moved into a recovery stage.
India also was able to reopen its economy after a 10-week nationwide lockdown, further indicating these countries should be able to resume "normal" economic activity, which contrasts with the uncertain timeline for a full reopening in the United States.
Chinese equities led strong EM performance for the month, as economic data in the world's second largest economy reinforced the recovery that began in May. The month started with the May Caixin PMI report, which not only beat consensus expectations but also measured above 50; above this threshold indicates an expanding economy. Retail sales (-2.8%) and industrial production (+4.4%) both improved off of low year-over-year growth rates (-7.5% and 3.9%, respectively), further reinforcing that March economic data in China was likely the bottom.
Initial second-quarter consensus earnings estimates of -16% indicate the first quarter was likely the bottom for EM earnings declines, which fell more than 30%. We believe this is largely a function of timing, as the impact from COVID-19 emerged in the EM Asia region during the first quarter, whereas in developed countries, such as the United States, the brunt of the virus impact occurred in the second quarter. Despite the expected earnings decline of 16% for the overall index, remarkably the Information Technology and Communication Services sectors are expected to deliver positive growth for the quarter. In our view, the "stay-at-home" trade has benefited EM tech firms that are responsible for making many of the components used in applications and devices that have been in high demand due to COVID-19 lockdowns. Alternatively, approximately 70% of the earnings growth decline for the EM benchmark is expected to come from the Consumer Discretionary and Financials sectors, both of which have been negatively impacted by lockdown efforts across the globe.
EM earnings growth estimates for calendar year 2021 continue to look promising, with 28% EPS growth expected at this early stage. While that growth rate is comparable to the S&P 500 EPS expected growth rate of 29%, the EM Index has a NTM P/E of just 14.1x, which contrasts with the S&P 500's valuation that's close to its 20-year highs at nearly 22x. The spread between the two valuation metrics is near its highest level since the summer of 2003 (Chart 3). While valuations should not be used as a timing tool, it is noteworthy that in the three-year period beginning July 31, 2003, the EM Index outpaced the S&P 500 by over 21% on an annualized basis. While the backdrop in 2003 was starkly different from today (i.e., China was growing GDP by double-digits versus its current GDP growth, which is at a 30-year low), when valuation differentials between the two regions reach this level of extreme, it tends to serve as an inflection point or catalyst to narrow the gap.
S&P 500 NTM P/E Relative to MSCI EM NTM P/E (Chart 3)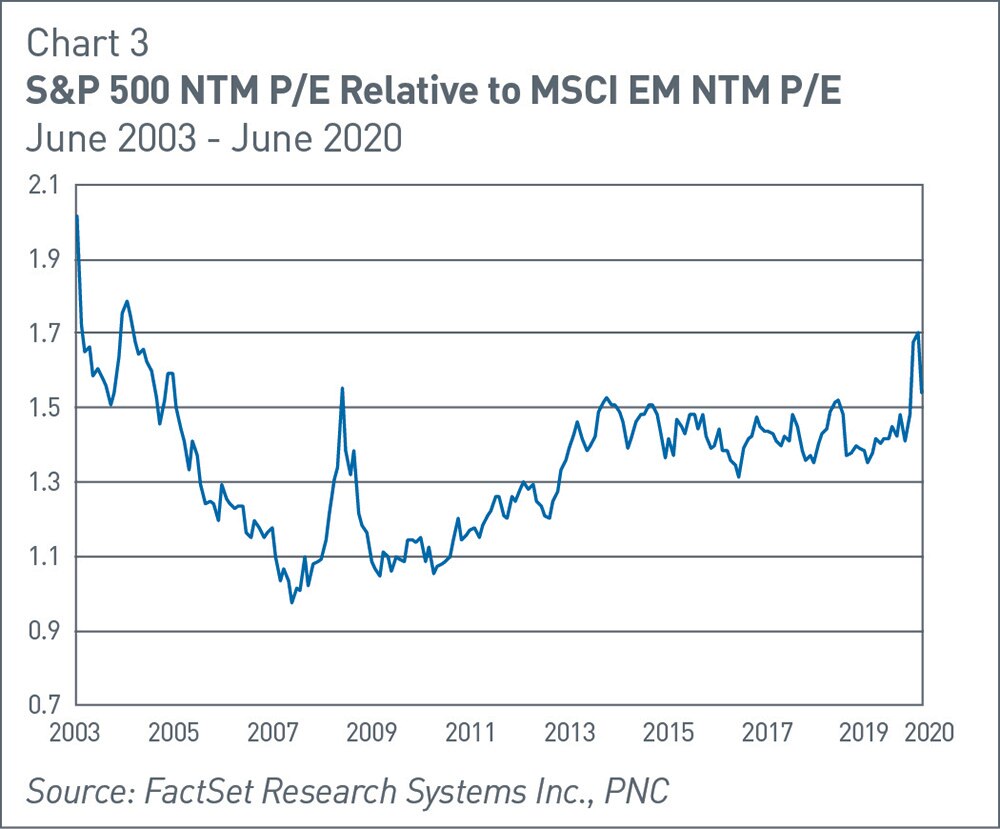 View accessible version of chart 3
Source: FactSet Research Systems Inc., PNC
EM dollar-denominated debt surged more than 10% in the second quarter, its strongest return since third-quarter 2009, lagging only US high yield across spread sectors. The asset class remains 0.4% lower year to date, which has primarily been a function of weakness in the commodity-exposed Latin America region. Given limited capacity for fiscal measures compared to more developed countries, we continue to favor dollar-denominated emerging market debt versus local-currency issues. 
For more information, please contact your PNC advisor.

TEXT VERSION OF CHARTS
Chart 1: Domestic Valuations 10 Years Ended 6/30/2020 (view image of chart 1)
| Date | Russell 2000 | Date | S&P 500 | Date | S&P Mid Cap 400 |
| --- | --- | --- | --- | --- | --- |
| 12/31/2008 | 15.67 | 12/31/2008 | 11.34 | 12/31/2008 | 11.08 |
| 12/31/2009 | 19.57 | 12/31/2009 | 13.95 | 12/31/2009 | 15.81 |
| 12/31/2010 | 18.15 | 12/31/2010 | 12.8 | 12/31/2010 | 15.53 |
| 12/30/2011 | 15.7 | 12/30/2011 | 11.52 | 12/30/2011 | 13.05 |
| 12/31/2012 | 16.57 | 12/31/2012 | 12.38 | 12/31/2012 | 14.32 |
| 12/31/2013 | 21.68 | 12/31/2013 | 15.07 | 12/31/2013 | 16.96 |
| 12/31/2014 | 21.76 | 12/31/2014 | 15.98 | 12/31/2014 | 16.81 |
| 12/31/2015 | 22.84 | 12/31/2015 | 16.01 | 12/31/2015 | 16.24 |
| 12/30/2016 | 23.57 | 12/30/2016 | 16.82 | 12/30/2016 | 18.52 |
| 12/29/2017 | 24.15 | 12/29/2017 | 18.14 | 12/29/2017 | 18.23 |
| 12/31/2018 | 17.88 | 12/31/2018 | 14.41 | 12/31/2018 | 13.4 |
| 12/31/2019 | 23.36 | 12/31/2019 | 18.17 | 12/31/2019 | 17 |
| 6/30/2020 | 58.53 | 6/30/2020 | 21.72 | 6/30/2020 | 20.68 |

Chart 2: International Valuations 10 Years Ended 6/30/2020 (view image of chart 2)
| Date | MSCI World ex USA Small Cap | Date | MSCI World ex USA | Date | MSCI EM (Emerging Markets) |
| --- | --- | --- | --- | --- | --- |
| 12/31/2010 | 14.4 | 12/31/2010 | 12.01 | 12/31/2010 | 11.63 |
| 12/30/2011 | 11.44 | 12/30/2011 | 10.42 | 12/30/2011 | 9.14 |
| 12/31/2012 | 13.77 | 12/31/2012 | 12.19 | 12/31/2012 | 10.32 |
| 12/31/2013 | 15.5 | 12/31/2013 | 13.91 | 12/31/2013 | 10.13 |
| 12/31/2014 | 15.08 | 12/31/2014 | 14.12 | 12/31/2014 | 10.58 |
| 12/31/2015 | 16.41 | 12/31/2015 | 14.66 | 12/31/2015 | 11.1 |
| 12/30/2016 | 16.22 | 12/30/2016 | 14.89 | 12/30/2016 | 11.89 |
| 12/29/2017 | 17.18 | 12/29/2017 | 15.02 | 12/29/2017 | 12.5 |
| 12/31/2018 | 13.23 | 12/31/2018 | 11.89 | 12/31/2018 | 10.5 |
| 12/31/2019 | 16.24 | 12/31/2019 | 14.64 | 12/31/2019 | 12.79 |
| 6/30/2020 | 18.79 | 6/30/2020 | 17.11 | 6/30/2020 | 14.1 |

Chart 3: S&P 500 NTM P/E Relative to MSCI EM NTM P/E June 2003 - June 2020 (view image of chart 3)
Date
S&P 500 - PE - NTM
Relative to MSCI EM (Emerging Markets)
12/31/03
1.58
12/31/04
1.60
12/31/05
1.29
12/31/06
1.15
12/31/07
1.00
12/31/08
1.32
12/31/09
1.09
12/31/10
1.10
12/31/11
1.26
12/31/12
1.20
12/31/13
1.49
12/31/14
1.51
12/31/15
1.44
12/31/16
1.41
12/31/17
1.45
12/31/18
1.37
12/31/19
1.42
06/30/20
1.54