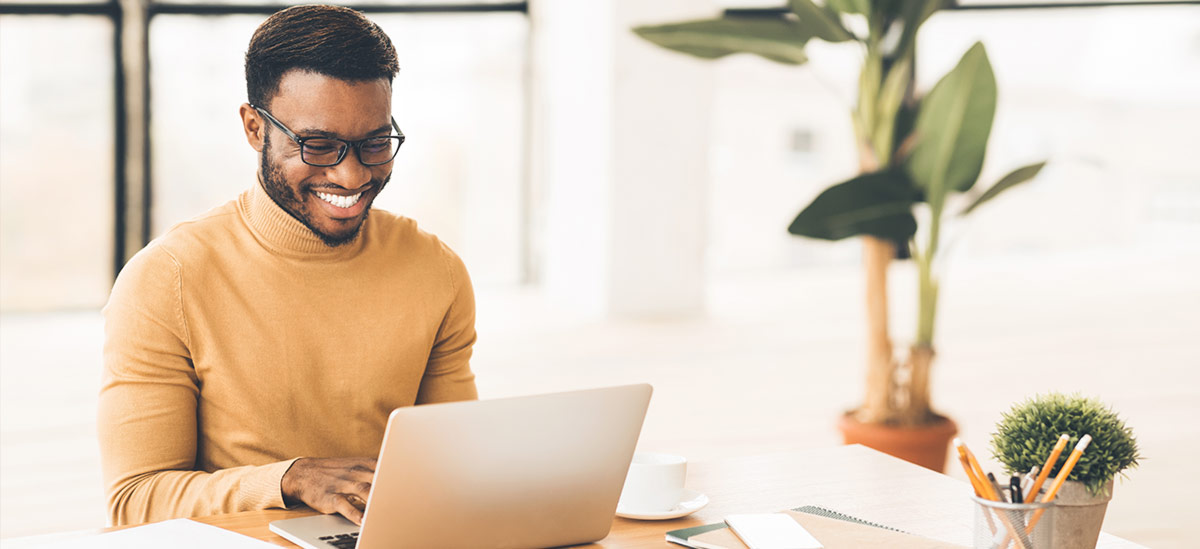 Employee financial stress can take a toll on an organization's bottom line. A customized financial wellness program that includes a bank-at-work benefit can help build employee financial confidence and create a more productive workforce for you.
With ongoing economic uncertainty, it's understandable that many Americans are deeply concerned about their financial health. And it's no surprise that those concerns don't go away when employees go to work — in fact, 47% of employees overall say that finances are a distraction on the job, and 60% of millennials and Gen Z report being distracted 3+ hours per week by financial worries.[1]
This explains why employees today are looking for financial wellness programs as part of their organizations' benefit plans. Research shows that these programs help to entice new talent, with 81% of millennials and 76% of Gen X saying they're more likely to be attracted to a company that cares about their financial well-being.[1]
The research also shows that these programs are being utilized. "We consistently hear from human resource leaders that employees participate in financial wellness programs when they are offered," says Matt Evans, senior vice president, Organizational Financial Wellness at PNC. "So not only is that good for employees, it's good news for employers as well."
Financial Wellness: A Benefit to Employers and Employees Alike
In addition to attracting quality talent by offering the benefits that more and more employees value, a financial wellness program can help current employees gain a better understanding of their finances, improve their money management skills, and build confidence in their plans for the future. This, in turn, helps to alleviate financial stress, which may deliver results for employers — namely, an increase in productivity and more engagement from their workforce.
It is important that a financial wellness program takes into account all employees — from entry level to executive management — and incorporates the full spectrum of financial products relevant to every life stage. Part of a diversified financial institution, PNC Organizational Financial Wellness incorporates bank-at-work benefits, consumer-directed healthcare, and retirement and investment solutions into a wellness program that's tailored to each unique organization. To help provide wellness resources to suit every employee demographic, the programs can be supported by indi®, a banking product tailored to 1099 contractors, and the PNC Financial Wellness Achievement CenterSM, an online education platform that can help employees improve their financial literacy and make better money decisions.[1]
As employees climb in their professional journeys, their financial journeys become more complex to match. PNC Organizational Financial Wellness helps employees at every step, building wealth along the way and providing private banking and estate resources for rising talent and executives when they need it.
Bank-at-Work Programs Help to Drive Participation
Of course, the key to realizing all of these benefits is to encourage employees to embrace the variety of opportunities offered. One of the best ways to do that is by including banking as the foundation of your overall financial wellness program. "Every employee needs banking services, which is why a bank-at-work offering is essential," Matt Evans says. "But what they need from their banking provider varies across an employer's workforce, and that's why a flexible solution is the answer.
With PNC WorkPlace Banking®, our consultants help to tailor solutions to the needs of each employee." PNC WorkPlace Banking is a bank-at-work program that's designed to meet the needs of employees and employers. Employees can find customized solutions that fit any stage of their lives and careers, and enjoy special offers and rewards on certain banking products and services. Free onsite and online financial wellness workshops are provided to help employees better plan and manage their finances. PNC offers Virtual Wallet®, which provides easy-to-use digital tools to budget and track spending, schedule bills and more.
For employers, PNC WorkPlace Banking delivers results that contribute to overall employee financial well-being. As an added benefit to employers, the program is available at no additional cost or administrative burden.
At all levels of an organization, open lines of communication are essential to success. "Employees need to be kept aware of the opportunities available to them, whether it's a webinar or a new product," says Cassandra Harding, Vice President, Organizational Financial Wellness Consultant at PNC. "They need to have someone they can go to with questions who can help them understand the full benefits of what's available to them." Your dedicated PNC WorkPlace Banking consultant is available to provide guidance, and review information about account options.
About PNC
For more than 160 years, PNC has been committed to the financial well-being of our clients. As part of that commitment, PNC Organizational Financial Wellness has been designed to meet the everevolving needs of our clients and their employees, with a comprehensive approach that includes a focus on personalized solutions and the advanced technology that makes managing finances more simple and convenient. To learn more, visit pnc.com/wellness, or contact your Relationship Manager or a PNC Financial Wellness Consultant.