Review
Corporate defined benefit plans saw increases in funding levels during second-quarter 2020, driven by a strong rally in public equity markets. A typical return-driven plan had a 3.0% increase in its funded ratio, while a typical liability-driven plan observed a 1.4% increase. Liability-driven plans with higher allocations to longer duration assets tend to see smaller funded ratio movements when market volatility increases. According to our analysis, equity market expansion accounted for the majority of the impact, while credit spread tightening partially offset gains from equities.
Funded Ratio Change: Return-Driven Plan (Chart 1)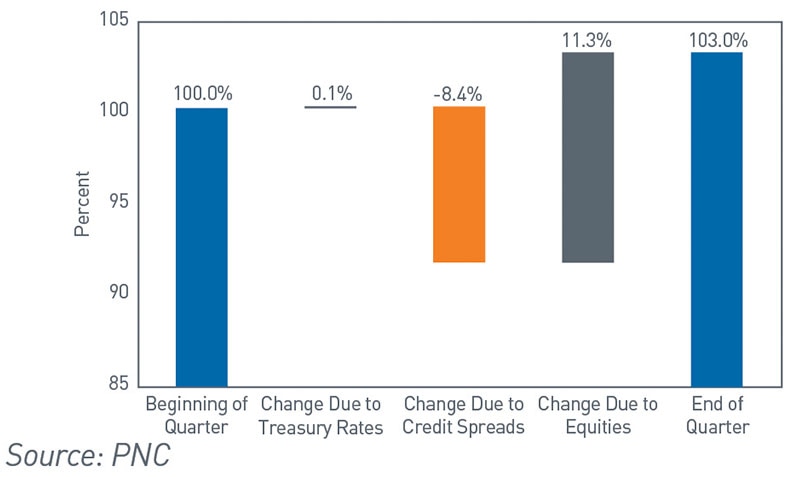 View accessible version of chart 1
Funded Ratio Change: Liability-Driven Plan (Chart 2)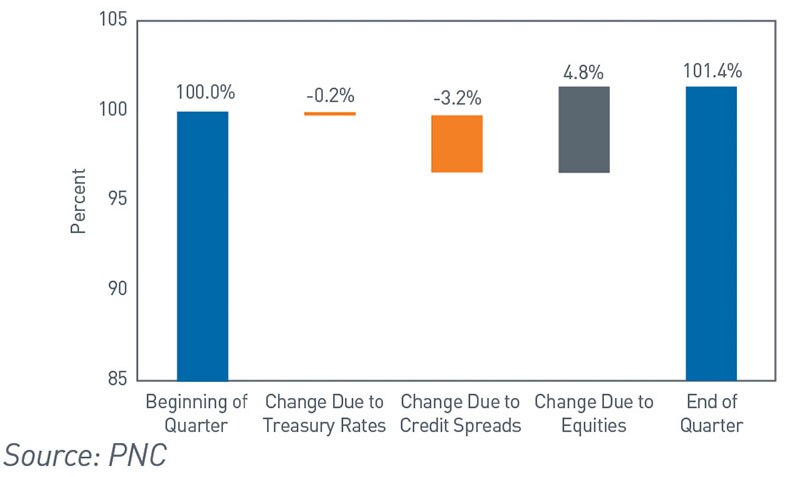 View accessible version of chart 2
Assumptions
The funded ratio changes displayed above are for generic plans with allocation and liability profiles specified below. Results are market driven and do not incorporate any plan-specific effects, such as benefit payments, expenses, benefit accruals, or plan contributions. Funded ratio changes are sensitive to the beginning of the period-funded ratio.
A return-driven plan is a pension plan with an asset allocation commonly associated with an absolute-return objective and has a high allocation to return-seeking assets (public equity in this case) and typically has high funded status volatility. Assumed asset allocation is 70% MSCI All Country World, 30% Bloomberg Barclays US Aggregate Bond Index.
A liability-driven plan is one that is well along its path in a liability-centric approach to investing and has a large allocation to long-duration bonds to help reduce funded status volatility. Assumed asset allocation is 30% MSCI All Country World, 56% Barclays Capital U.S. Long Credit Index, and 14% Barclays Capital Long Government Index.
The liability profile is based on BAML Mature/Average US Pension Plan AAA-A Corp Indexes with an average duration of 16 years.
Treasury Rates
Treasury rates increased slightly and had minimal funded ratio impact
During the quarter, the Treasury curve steepened slightly, with rates decreasing along the short end and increasing along the long end of the yield curve. Allocations to long duration Treasury instruments may have offset funded ratio improvements. Though investor optimism increased during the second quarter, the Federal Reserve (Fed) is cautious and remains clear about its full backing for low interest rates, both long- and short-term, and keeping liquidity in fixed income markets.
Treasury Curve (Chart 3)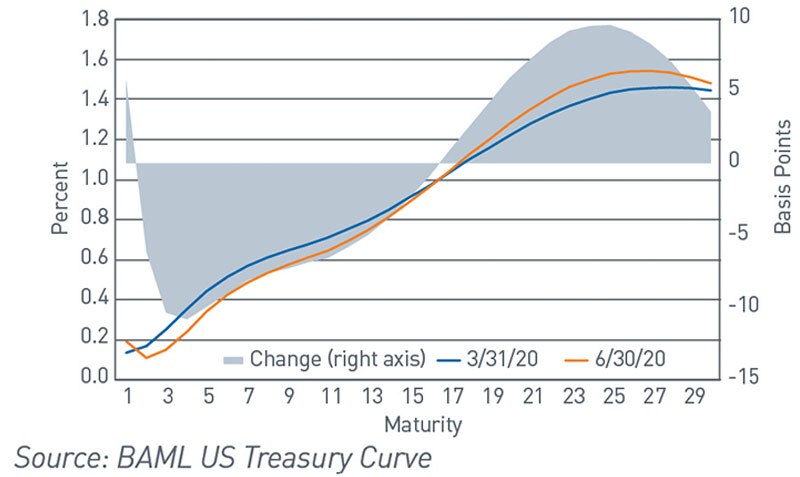 View accessible version of chart 3
Credit Spreads

Credit spreads tightened and lowered funded ratios as liabilities increased
Tightening credit spreads had a negative impact on funded ratios during the quarter. Intermediate credit spreads tightened 133 basis points (bps), while long spreads tightened 77 bps. Markets have swung back from the first quarter as investors became more optimistic and appear less concerned about corporate bond defaults. Fed bond buying in the corporate bond space has also improved liquidity. On a net basis, the total corporate bond discount rate for pension liabilities (which is derived from higher quality corporate bonds) decreased 59 bps.
Credit Spreads (Chart 4)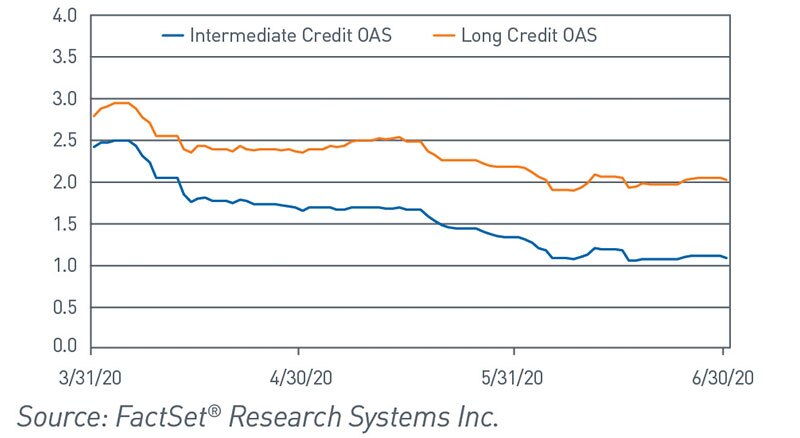 View accessible version of chart 4
Equities

Equity market performance had a large positive impact on funded status
Following a difficult first quarter, equity markets rallied during the second quarter. Despite the state of the pandemic and economy, fiscal and monetary support helped increase investor optimism and pushed stock markets upwards. In particular, the S&P 500® increased over 20%, the best quarterly gain since 1998. All major sectors posted large gains, as small-cap growth led with over 30% returns. International stocks also improved with returns mostly in the mid-teens
Equity Index Total Returns (Chart 5)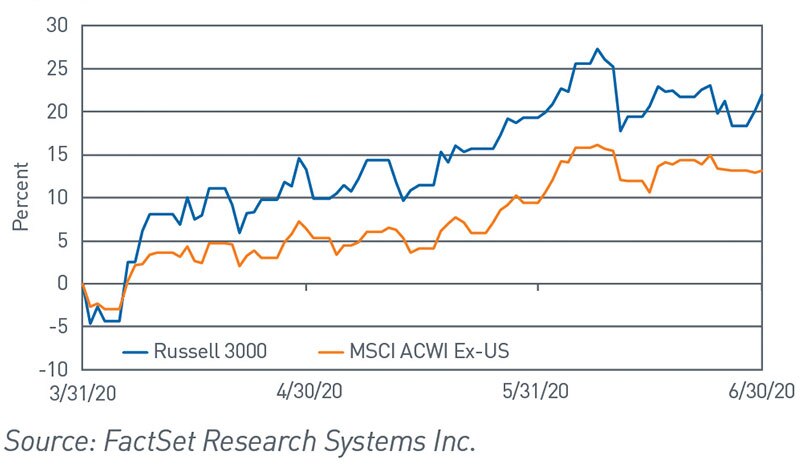 View accessible version of chart 5
TEXT VERSION OF CHARTS
Chart 1: Funded Ratio Change: Return-Driven Plan (view image of chart 1) 
| Return-Driven Plan | Funded Ratio Change |
| --- | --- |
| Beginning of Quarter | 100% |
| Change due to Treasury Rates | 0.10% |
| Change Due to Credit Spreads | -8.40% |
| Change Due to Equities | 11.30% |
| End of Quarter | 103.00% |

Chart 2: Funded Ratio Change: Liability-Driven Plan (view image of chart 2)
| Liability-Driven Plan | Funded Ratio Change |
| --- | --- |
| Beginning of Quarter | 100% |
| Change due to Treasury Rates | -0.20% |
| Change Due to Credit Spreads | -3.20% |
| Change Due to Equities | 4.80% |
| End of Quarter | 101.40% |

Chart 3: Treasury Curve (view image of chart 3)
| | | | |
| --- | --- | --- | --- |
| Maturity | 3/31/2020 |     6/30/20 | Change (Basis Points) |
| 1 | 0.14% | 0.19% | 6 |
| 3 | 0.25% | 0.15% | -10 |
| 5 | 0.44% | 0.34% | -10 |
| 7 | 0.57% | 0.49% | -8 |
| 9 | 0.64% | 0.57% | -7 |
| 11 | 0.71% | 0.65% | -7 |
| 13 | 0.80% | 0.75% | -5 |
| 15 | 0.91% | 0.88% | -3 |
| 17 | 1.03% | 1.04% | 1 |
| 19 | 1.16% | 1.20% | 4 |
| 21 | 1.28% | 1.35% | 7 |
| 23 | 1.37% | 1.46% | 9 |
| 25 | 1.43% | 1.53% | 10 |
| 27 | 1.46% | 1.54% | 8 |
| 29 | 1.45% | 1.51% | 5 |

Chart 4: Credit Spreads (view image of chart 4)
| Date | Intermediate Credit Option-Adjusted (OAS) | Long Credit Option-Adjusted Spread (OAS) |
| --- | --- | --- |
| 3/31/20 | 2.42 | 2.79 |
| 4/30/20 | 1.66 | 2.36 |
| 5/31/20 | 1.34 | 2.18 |
| 6/30/20 | 1.09 | 2.02 |

Chart 5: Equity Index Total Returns (view image of chart 5)
| Index | Date | Percent |
| --- | --- | --- |
| Russell 3000 | 3/31/20 | 0.00% |
|   | 4/30/20 | 13.24% |
|   | 5/31/20 | 19.30% |
|   | 6/30/20 | 22.03% |
| MSCI ACWI ex USA | 3/31/20 | 0.00% |
|   | 4/30/20 | 6.45% |
|   | 5/31/20 | 9.38% |
|   | 6/30/20 | 13.17% |