Review
Corporate defined benefit plans saw declines in funding level during third-quarter 2019.
A typical return-driven plan had a 5.0% decrease in its funded ratio, while a typical liability-driven plan observed a 1.6% decrease. Liability-driven plans with higher allocations to longer-duration assets tend to see smaller funded ratio movements when market volatility increases.
According to our analysis, interest rate declines accounted for a majority of the funded ratio losses, while equity markets and credit provided neutral impact.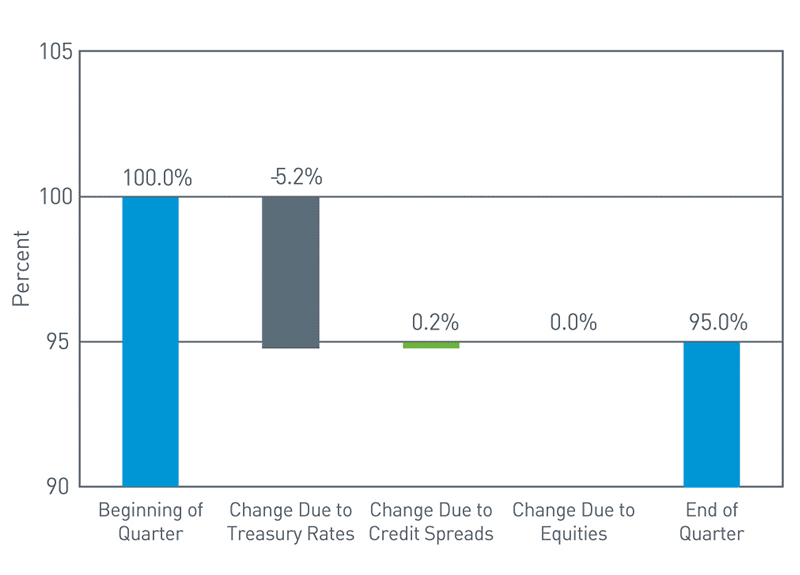 Source: PNC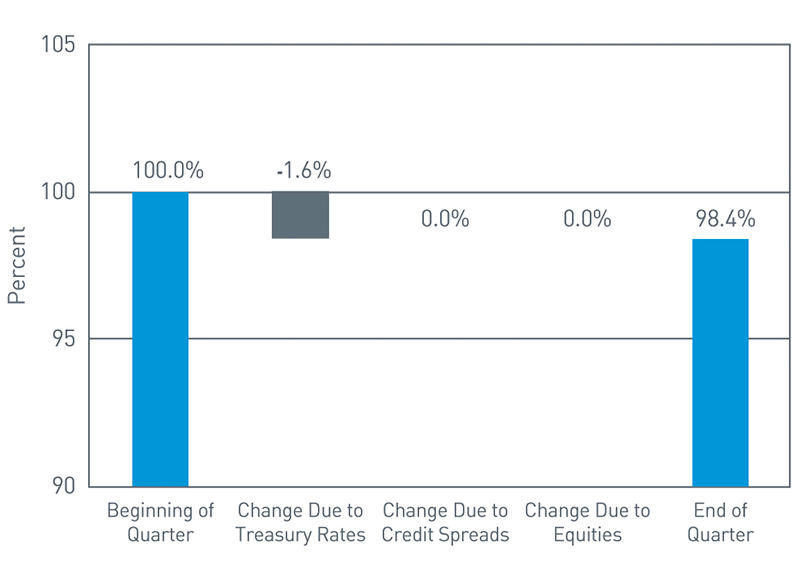 Source: PNC
Assumptions
The funded ratio changes displayed above are for generic plans with allocation and liability profiles specified below. Results are market driven and do not incorporate any plan-specific effects, such as benefit payments, expenses, benefit accruals, or plan contributions. Funded ratio changes are sensitive to the beginning of the period funded ratio.
A return-driven plan is a pension plan with an asset allocation commonly associated with an absolute-return objective and has a high allocation to return-seeking assets (public equity in this case) and typically has high funded status volatility. Assumed asset allocation is 70% MSCI All Country World, 30% Barclays Aggregate.
A liability-driven plan is one that is well along its path in a liability-centric approach to investing and has a large allocation to long-duration bonds to help reduce funded status volatility. Assumed asset allocation is 30% MSCI All Country World, 56 % Barclays Long Credit, 14% Barclays Long Government.
Liability profile is based on BAML Mature/Average US Pension Plan AAA-A Corp Indexes with average duration of 15 years. 
Treasury Rates
Treasury rates declined and lowered funded ratios.
Treasury rates declined across the entire yield curve during the quarter, with longer maturities experience the largest declines. The long end of the curve declined close to 45 basis points (bps), while declines for shorter maturities were closer to 15 basis points. Interest rates were affected by a continuation of the dovish outlook in major central banks globally, including the Federal Reserve (Fed), which followed through with two 25 bps cuts in both July and September. Demand for Treasuries also increased during August, with investors gravitating to safer assets.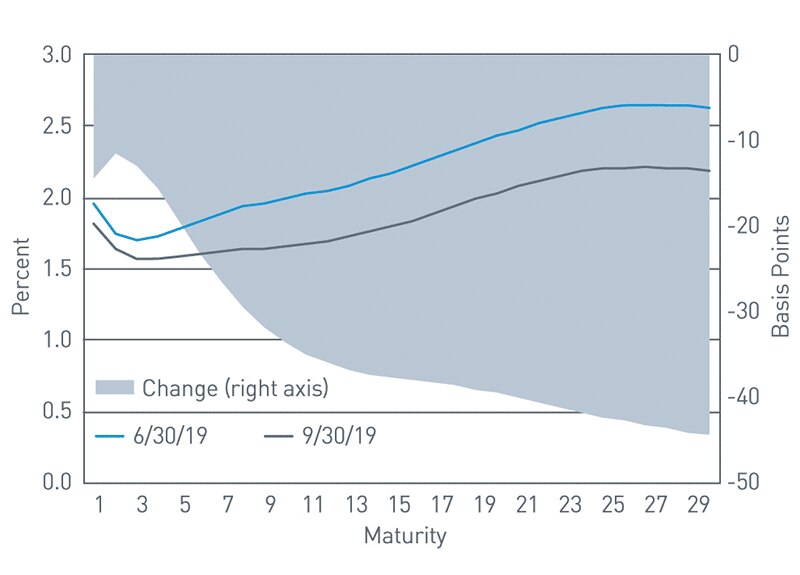 Source: BAML U.S. Treasury Curve
Credit Spreads
Credit spreads had minimal impact on funded status.
Credit spreads had minimal movement during the quarter. Intermediate spreads tightened 4 bps, while long spreads widened 6 bps. Credit bond performance was not dramatically different from Treasuries during the quarter. On a net basis, the total corporate bond discount rate (which is derived from higher quality bonds) was down around 35 bps, with 5 bps of spread widening offsetting a 40 bps decline attributed to Treasury rates.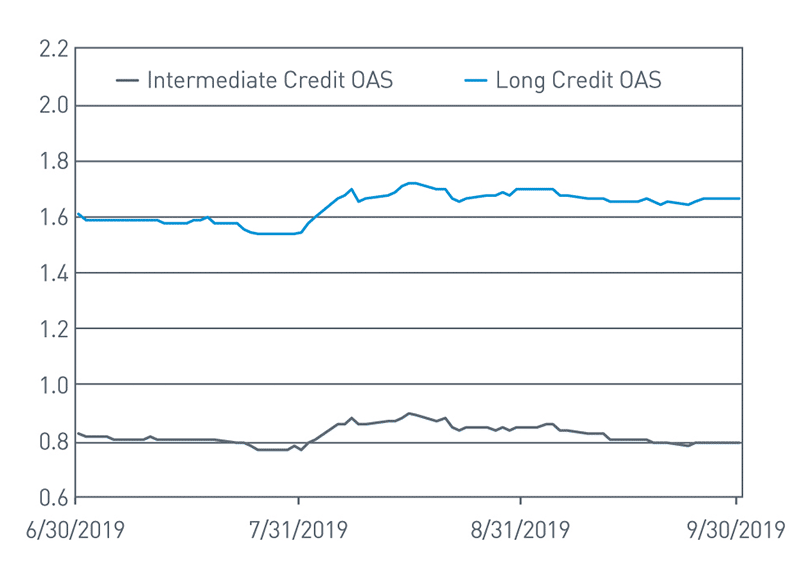 Source: Barclays Live
Equities
Flat global equity performance had minimal impact on funded status.
Equities ended mostly neutral during the third quarter, putting a hold on the positive performance of the first two quarters. The quarter was volatile, with positive returns in July and September offset by heavy declines in August. U.S. stocks outperformed international stocks as favorable economic growth and earnings data overshadowed trade war concerns. International stock negative performance was driven by elevated macro concerns, softening global economic data, and trade war tensions in emerging markets.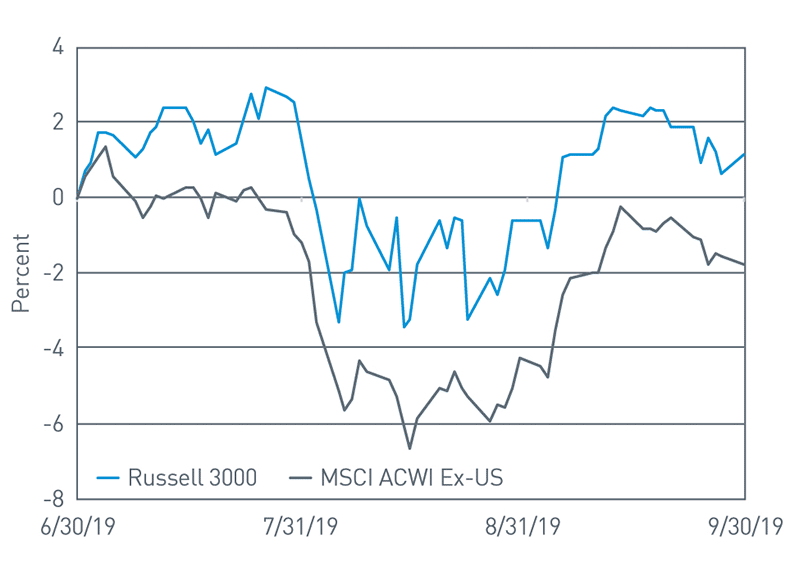 Source: Russell, MSCI
For more information, contact Kimberlene Matthews, Director of Pension Solutions, at 312-338-8138 or kimberlene.matthews@pnc.com.
---
Accessible Text Versions of Graphics
Chart 1 - Funded Ratio Change: Return-Driven Plan
Source: PNC

| Return-Driven Plan | Funded Ratio Change |
| --- | --- |
| Beginning of Quarter    | 100% |
| Change Due to Treasury Rates | -5.2% |
| Change Due to Credit Spreads | 0.2% |
| Change Due to Equities | 0.0% |
| End of Quarter | 95.0% |
Chart 2 - Funded Ratio Change: Liability-Driven Plan
Source: PNC

| Liability-Driven Plan | Funded Ratio Change |
| --- | --- |
| Beginning of quarter | 100% |
| Change Due to Treasury Rates | -1.6% |
| Change Due to Credit Spreads | 0.0% |
| Change Due to Equities | 0.0% |
| End of Quarter | 98.4% |
Chart 3 - Treasury Curve
Source: BAML U.S. Treasury Curve

| Maturity | 6/30/19 | 9/30/19 | Change (basis points) |
| --- | --- | --- | --- |
| 1 | 1.96% | 1.82% | -14 |
| 3 | 1.70% | 1.57% | -13 |
| 5 | 1.78% | 1.59% | -19 |
| 7 | 1.89% | 1.63% | -27 |
| 9 | 1.97% | 1.65% | -32 |
| 11 | 2.03% | 1.68% | -35 |
| 13 | 2.09% | 1.72% | -37 |
| 15 | 2.17% | 1.80% | -38 |
| 17 | 2.27% | 1.89% | -38 |
| 19 | 2.38% | 1.99% | -39 |
| 21 | 2.48% | 2.08% | -40 |
| 23 | 2.57% | 2.15% | -41 |
| 25 | 2.62% | 2.20% | -42 |
| 27 | 2.65% | 2.22% | -43 |
| 29 | 2.64% | 2.20% | -44 |
Chart 4 - Credit Spreads
Source: Barclays Live

| Date | Intermediate Credit Option-Adjusted Spread (OAS) | Long Credit Option-Adjusted Spread (OAS) |
| --- | --- | --- |
| 6/30/19 | 0.83 | 1.6 |
| 7/31/19 | 0.77 | 1.55 |
| 8/31/19 | 0.85 | 1.70 |
| 9/30/19 | 0.79 | 1.67 |
Chart 5 - Equity Index Total Returns
Source: Russell, MSCI

| Index | Date | Percent |
| --- | --- | --- |
| Russell 3000 | 6/30/19 | 0.00 |
|   | 7/31/19 | 1.49 |
|   | 8/31/19 | -0.58 |
|   | 9/30/18 | 1.16 |
| MSCI ACWI Ex-US | 6/30/19 | 0.00 |
|   | 7/31/19 | -1.21 |
|   | 8/31/19 | -4.26 |
|   | 9/30/19 | 1.80 |