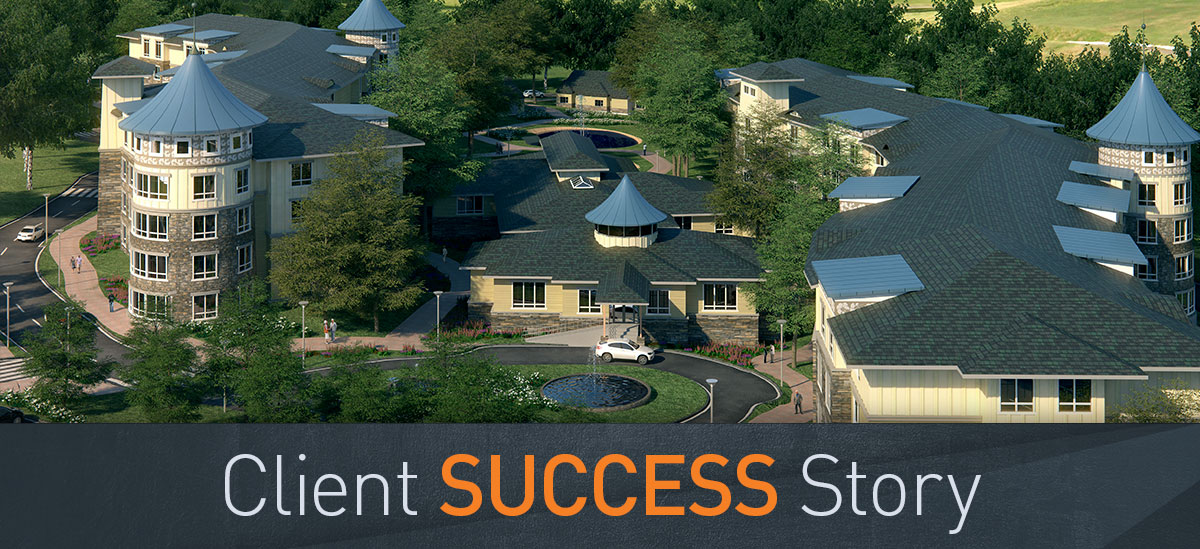 Date: August 2019
Location: Glenn Dale, Maryland
Property Type: Seniors housing
Financing Amount: $10.8 million
Financing Type: Bridge
Financing Amount: $16.9 million
Financing Type: LIHTC Equity
Scope: 252 units
On September 5, 2019, more than 200 people attended groundbreaking ceremonies for Woodlands at Reid Temple, an affordable seniors housing initiative in suburban Washington, D.C. The enthusiastic turnout demonstrated the support felt throughout the community for the 252-unit development.
Woodlands comprises two mid-rise residential buildings, community space, common amenities, a club house and fitness facilities. It's designed for adults aged 62 or older, including empty nesters and church members.
The new community was developed from the vision of Reid Temple A.M.E. Church and is named after the adjacent church. Founded in 1900 it now has a congregation of more than 3,000. Woodlands at Reid Temple will operate with a long-term ground lease from Reid Temple.
PNC Real Estate's investment in Affordable Housing Tax Credits provided the financial foundation for Woodlands.
The developer, Atlantic Pacific Communities, is a fourth-generation real estate company with expertise in acquisitions, development, property management and investments. With offices in Florida, Georgia, Texas and California, they develop and manage a wide array of affordable and market rate properties across the country.
Although Woodlands was PNC's first LIHTC deal with Atlantic Pacific, the prominent developer has had a long-term relationship with the bank, primarily focused on real estate banking and treasury management services. As a result, they turned to PNC Real Estate to structure a complex financing that included many different stakeholders from local entities to the state of Maryland.
In discussing the deal, Kenneth Naylor, Chief Operating Officer for Atlantic Pacific Communities, noted that, PNC has extensive experience in LIHTC financing. That, along with our long history of success with PNC, convinced us that they were uniquely qualified to complete the complex financing of Woodlands at Reid Temple. "Prince George's County, Maryland, is in one of the most cost burdened metropolitan areas in the United States, especially for seniors. Reid Temple, APC and PNC are proud to have partnered to develop this much-needed affordable seniors housing community."