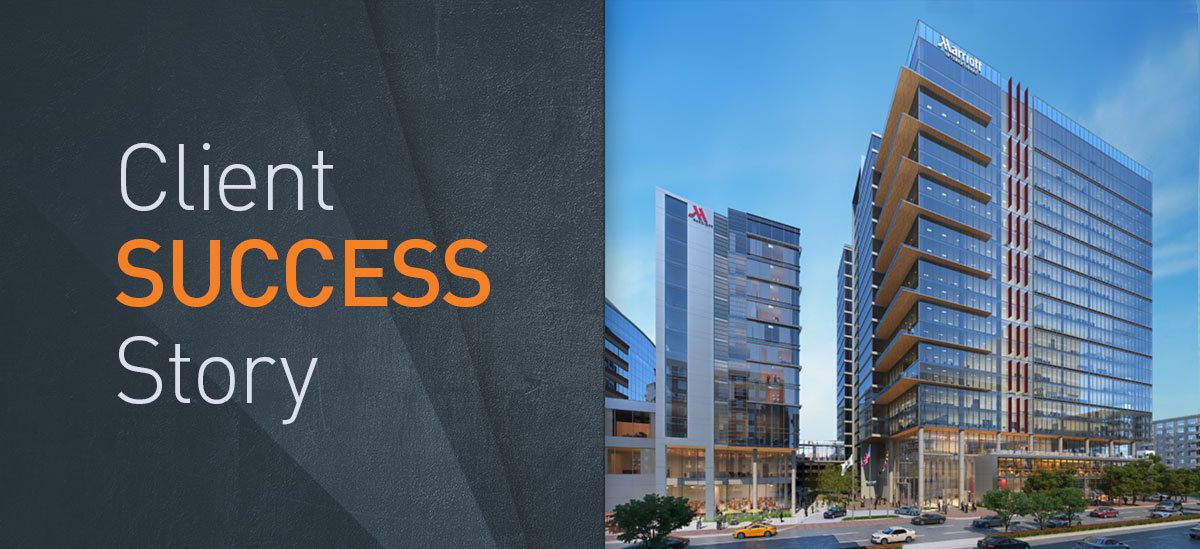 Date: March 2019
Financing Amount: $255 million
PNC Hold: $90 million
Financing Type: Syndicated non-recourse construction loan
Property Type: Office: World Headquarters
Scope: 734,000
Location: Bethesda, Maryland
When Marriott International decided to move to a new world headquarters, it wanted to stay close to its current base in Bethesda, Maryland. Marriott turned to Boston Properties and The Bernstein Companies to construct the 734,000-square-foot project.
When it came to financing the construction loan, Boston Properties and Bernstein turned to another familiar entity – PNC Real Estate.
Just five miles from Marriott's current headquarters, the new Marriott World Headquarters is rising in the Woodmont Triangle neighborhood of downtown Bethesda. The tower will be completed by 2022.
The LEED Gold certified building will offer a childcare center for associates, a fitness center, a cafeteria and accessible parking both onsite and at a nearby garage. An adjacent, 262-key, full-service Marriott Hotel will be developed and wholly-owned by an affiliate of The Bernstein Companies.
The sponsor, Boston Properties Inc. (BXP), is the largest publicly-traded developer, owner and manager of Class A office properties in the United States.
The high-profile deal was highly competitive, with more than 20 banks angling for the business. In selecting a financing strategy, Boston Properties considered its long-time relationship with PNC. PNC has been in the Boston Properties revolver since the company went public in 1997. PNC has also maintained a broad-based relationship, including credit and non-credit products.
Marriott's new world headquarters is one of Maryland's largest development deals. The state of Maryland and Montgomery County provided a $60 million incentive package. The project is expected to generate $2.3 billion in business activity during its first year of operation and up to $1.8 billion for local taxing districts over the next 20 years.
PNC committed more than $90 million to the $255 million construction loan arranged by PNC Capital Markets with three other banks.
In discussing the transaction, James Magaldi, SVP of finance and capital markets said, We had an excellent experience with PNC. PNC checked all the boxes for what we needed, gave us the terms we wanted and closed on time.