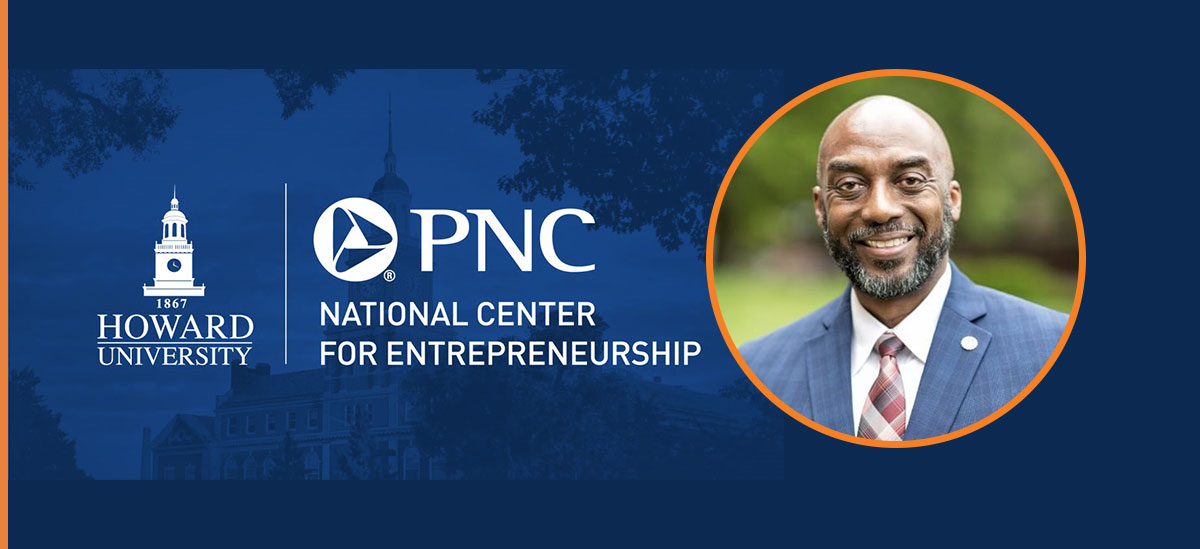 There's a rich history of African American-owned businesses thriving in the United States despite some of the historic barriers that have curtailed access to the resources necessary to sustain or grow their business. Today, only 18.7% of businesses1 are minority-owned, and PNC hopes to help bridge the gap between those necessary resources with the launch of a national education center aimed at helping Black entrepreneurs across the country.
In October 2021, the PNC Foundation announced a five-year, $16.8 million grant to create the Howard University and PNC National Center for Entrepreneurship. The Center will support enhanced educational, leadership and capacity-building curricula, resources and programs for Black entrepreneurs while increasing access to financial services and capital in low- to moderate-income communities.
Though the center sits in the nation's capital at Howard University, three other historically Black colleges and universities (HBCUs) – Clark Atlanta University in Atlanta, Morgan State University in Baltimore and Texas Southern University in Houston – will serve as regional centers that coordinate programs, research and community outreach for the nation's network of 101 HBCUs.
Anthony Wilbon, dean of Howard University School of Business says the joint initiative between Howard and PNC is an opportunity for economic empowerment with long-lasting effects on Black communities. He shares his thoughts and hopes about the new center's work.

PNC: Why is it important to focus on entrepreneurship?
Wilbon: The vast majority of businesses in this country have less than one hundred people in them and these small businesses help drive this country's economy. So, I think it's important that the country embraces entrepreneurship. And it's equally important that institutions, universities, the government and agencies embrace small businesses because if they fail, it poses a critical challenge for the nation.
For Howard and other universities, we have to, of course, prepare our students, but we also serve our communities. It's incumbent upon us to help the businesses thrive in the communities we serve, and I think it's the same for the other HBCU regional centers that have small businesses surrounding them.
This initiative between Howard and PNC allows us to both educate our students and provide resources to local small businesses.
PNC: What do you teach your students about entrepreneurship?
Wilbon: Entrepreneurship is the engine of this nation. Our students and alumni are entrepreneurs by nature and really embrace the concepts of what it means to start up and run a business. Some of our students go on to become entrepreneurs themselves, while others find entrepreneurship concepts useful within corporate jobs. We've been trying to support their passion and interest in entrepreneurship as much as possible, and it is very much a part of what we do at Howard University.
The D.C. Small Business Development Center has been housed in our business school building for the past 40 years, and we've had an entrepreneurship concentration since 2019. We also have an endowed chair of entrepreneurship for the campus who is charged with bringing entrepreneurial activity on campus together under a cohesive umbrella.
---
Watch More Conversations About Minority-Owned Small Business and Entrepreneurship
---
PNC: What has the process of establishing the Howard University and PNC Center for Entrepreneurship been like?
Wilbon: We took a very thoughtful approach to what the center would look like, what our goals should be and who should be involved. We identified the opportunity to establish three regional centers in locations with strong PNC presence – Atlanta, Baltimore and Houston. This will allow deep engagement with PNC leadership and employees in educational offerings.
We want to hone in on three specific areas around entrepreneurship – technology, social and franchising. The business model we're working on could give each regional center a specific focus. For example, the Southeast may be more focused on technology while the Mid-Atlantic may be more focused on entrepreneurship that addresses social issues. Franchising is interesting because it's an easy entry point for a lot of businesses.
Addressing all of these different angles will allow us to be successful and make an impact.
PNC: How do you envision the national and regional centers impacting their surrounding communities?
Wilbon: The failure rates of small businesses across the board are very high, and Black business owners in particular struggle with sustaining their small businesses. Much of that comes from a lack of access to information and, often, lack of access to capital or equity to build their businesses. A support system is needed, and we are providing that access through our HBCUs.
We hope building a network with institutions like PNC will provide Black-owned businesses with information and resources that will help them determine avenues toward long-term sustainability.
There's a long history of African American business owners providing services to their communities and that really was brought about out of necessity due to segregation and other social forces. But representation of Black business owners has diminished over time, and that's why our work is so important.
The center is about so much more than teaching and providing resources to students and entrepreneurs. It's about laying the groundwork so Black entrepreneurs may establish successful businesses and leave something for the subsequent generations to build upon.
Read More About Our Work With HBCUs