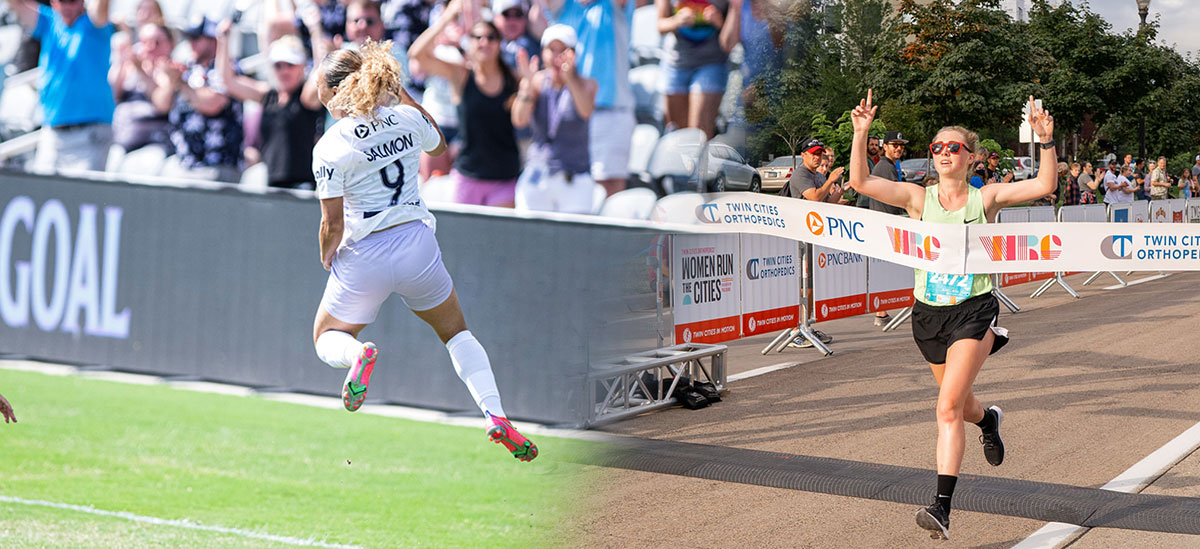 Across the nation, PNC sponsors women's sports organizations, from races and professional soccer to esports. While significant in and of themselves, these sponsorships represent something much larger than the company's financial commitment. They reflect PNC's dedication to diversity and inclusion, as well as the emphasis PNC places on engaging its customers and communities through sports.
A few partners spoke about how PNC's support has impacted their organizations and their communities as a whole.
Pittsburgh Knights – E-Sports
Global esports team, the Pittsburgh Knights, is striving to overcome obstacles faced by women in the predominately male world of competitive video gaming. The Pittsburgh Knights give women a platform to train and develop their skills, allowing them to compete in the same tournaments as their highly ranked male counterparts.
"There is a misconception that women aren't as interested in gaming as men, but recent studies show that women actually make up nearly half of all gamers," said Angelica Sirabella, director of communications for the Knights.
Opportunities to play professionally are in short supply, which means young girls often don't see themselves represented in esports. The Pittsburgh Knights are hoping to change that.
"There's a notion of 'if you can't see it, you can't be it,'" Sirabella said.
Creating opportunities for women to compete in esports creates more roles for women in esports careers overall, as many similar management roles that exist for professional sports are also prevalent in professional esports. Beyond career opportunities, many benefits of esports exist that match those of traditional sports such as confidence building and developing a sense of teamwork. And in esports, there is typically a more diverse landscape of players of all backgrounds, ages, and genders that are more likely to compete together. Esports teams can also be more accessible to people with disabilities than traditional sports.
Not only is PNC a sponsor of the Pittsburgh Knights, but the Knights look to PNC's commitment to inclusion and accelerating women's financial equality as inspiration. With the help of PNC, the Knights have launched a thought leadership series intended to help other esports organizations and companies that support them to understand the complexity of the gender issue and encourage them to look beyond gaming for guidance on how to support women in esports.
The future of the Knights looks bright in terms of championship wins, but the ultimate goal is to grow as a source of advice and inspiration for future generations in esports.
Racing Louisville FC – National Women's Soccer League
PNC's partnership with Racing Louisville FC was almost serendipitous. Just days before discussions began regarding PNC's interest in sponsoring Louisville's USL Championship professional men's team, it was announced that the same ownership group had landed franchise rights for a NWSL team, Racing Louisville. This news changed the course of the conversation. It encouraged PNC's leadership team in Louisville to pursue an opportunity that would empower women and facilitate engagement within the community by becoming the first sponsor of Racing Louisville, which began league play this year.
"This partnership allows PNC to support an effort that showcases professional women performing at the highest levels of their sport. Young women in our community who love sports have never before had the chance to see role models at this level that reflect their own interests," said Mike Moll, client and community relations director for the Louisville market.
The sponsorship, represented by PNC's logo on the back of the team jerseys, reinforces PNC's commitment to inclusion and accelerating women's financial equality, not only in the Louisville metro market, but in nine other PNC markets with NWSL franchises. Further, members of Women Business Development and Women Connect will be working with Racing Louisville to help bring this commitment to life.
One recent example of this commitment is the completion of a new training facility, featuring a cafeteria, weightlifting and fitness equipment, and locker rooms that are identical for both the men's and women's teams.
While the partnership with Racing Louisville is still new, PNC is working to make the team a staple in the community and the stadium a place where women and young girls who are interested in sports can pursue their passion.
Twin Cities in Motion – Running Groups and Races for Women
More than 700 miles north of Louisville, PNC is promoting healthy habits in and around Minneapolis through three partnerships that support women and girls through the sport of running.
Girls on the Run provides a space where all girls belong.  The program promotes social and physical skills, while working to build confidence in elementary and middle school-aged girls. PNC's partnership with this program has brought to life The Dream Team – a component of Girls on the Run that partners young members with career women, providing mentorship and inspiration.
Women Run the Cities celebrates strong women building strong communities.  Women come together for fitness and fun and celebrate their accomplishments at a post-race brunch sponsored by PNC.
Moms on the Run is a program that supports busy women of all ages and fitness levels who want to discover or rediscover physical fitness.  This year part of PNC's sponsorship is a program called MOTRCares where they talk about the importance of exercise on not only physical health but the impact it has on our mental health. 
"Supporting women is part of our DNA at PNC and we know that fitness and self- care play a big role in how we show up each and every day to accomplish our goals both personally and professionally", said Deb Rohloff, client and community relations director for Minnesota. "Running is a great way to build confidence, reduce stress and create a community of support. "
Sponsorships Reflect Our Values
Women's sports teams and programs are pillars of PNC's local sponsorships strategy and will continue to be a priority as the bank seeks opportunities to grow support for women in sports. These sponsorships not only support organizations in the communities where PNC employees live and work, they also help to build awareness of the company's values. When exploring sponsorship opportunities, PNC evaluates how the potential partnership aligns with its values and culture.
"When PNC sponsors a program, it's more than just a sponsorship, it's a relationship," said Molly Sapienza, head of corporate sponsorships for PNC. "We challenge our partners to think creatively about how we can promote women's sports and provide more opportunities by expanding resources to continue engaging women."​