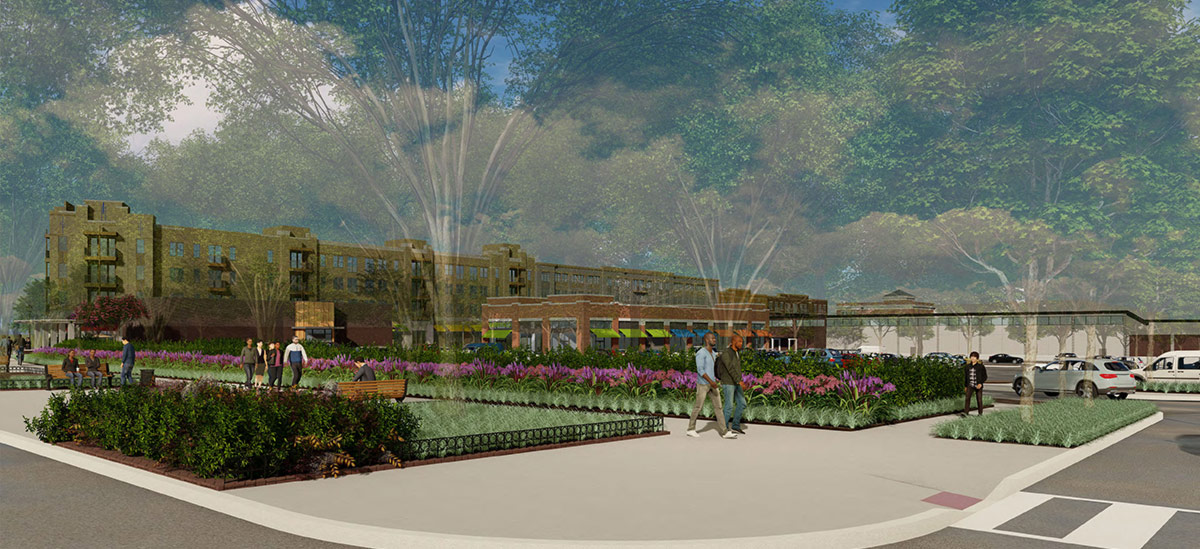 PNC's financing of a $16.8 million New Markets Tax Credit (NMTC) development with a longtime real estate client is paving the way for residents in Southeast Washington, D.C. to gain better access to fresh, quality foods and eateries through a new retail development set to revitalize one of the city's most underserved areas.
The Skyland Town Center is a multiphase retail and residential development in Washington's Ward 7 community – about four miles from the U.S. Capitol and on the less affluent side of the Anacostia River – and will serve surrounding neighborhoods that have been designated as food deserts by the U.S. Census Bureau.
Ward 7 holds a 26.3% poverty rate1 compared to the city's overall 13.5% rate2.
"Through this investment, we are able to transform a central piece of the real estate while meeting a critical need and stimulating other investments to revitalize the community by bringing in resources to populations that have been historically overlooked by developers and investors," says Richard Bynum, executive vice president and chief corporate responsibility officer for PNC Bank. "The Skyland Town Center not only brings in healthy, accessible food options, it also brings job creation from construction and retail, tapping into a workforce native to Wards 7 and 8."
A Phased Approach
Phase One of the development includes The Crest, a 263-unit apartment complex slated for full completion this summer, and a few retail spaces, including a pharmacy and a local nail salon, barber shop and eatery.
The Crest opened in April 2021 with a limited number of units as the first new-market rate multifamily residential property East of the Anacostia River in 40 years.
Phase Two, the PNC-financed retail block that will open in 2022, will be anchored by a 29 ,000-square-foot grocery store and has attracted local businesses along with eateries that are a part of national, regional and local chains.
PNC's Community Development Banking team provided a $9 million loan, while PNC's Tax Credit Solutions group – a PNC Real Estate business, provided a $4 million equity investment through New Markets Tax Credits (NMTC) to incentivize economic growth and development in a vulnerable part of the city.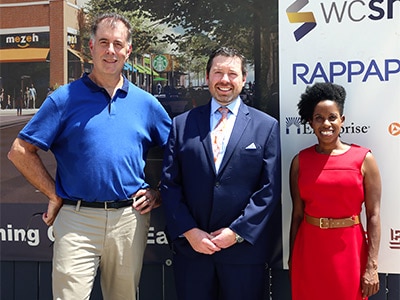 PNC's Daniel Moss, underwriter for New Markets Tax Credits; Dave Gibson, senior vice president and manager of specialty tax credit investments for PNC Real Estate; and Keiva Dennis; , vice president and relationship manager in the Community Development Banking Group, are part of the teams that worked on financing the Skyland development.
"We are incredibly proud to be an active participant in the New Markets Tax Credit program, which provides flexible investment capital for economic development projects in low-income areas," says Dave Gibson, senior vice president and manager of specialty tax credit investments for PNC Real Estate. "The Skyland project has been years in the making and through our partnership with Community Development Banking, we know this project will be transformative, revitalizing the community in addition to bringing employment opportunities and new resources to residents."
Longtime PNC Real Estate client WC Smith along with a third-party, Rappaport, is building the Skyland Town Center.
"PNC Bank has been a valued partner on some of our major development projects," says Chris Smith, chairman and CEO of WC Smith. "Residents of Ward 7 deserve the same opportunities for housing, retail, community resources and employment in their neighborhood that development has long afforded residents of other parts of the city. It's a start, and I'm encouraged to see more development projects breaking ground and opening in other parts of the ward."
In addition to financing the Skyland Town Center, PNC provided key support for WC Smith's three-building, 1,100-unit multifamily residential development in D.C.'s Capitol Riverfront neighborhood – The Collective.
Community Development Banking in Action
Through its Community Development Banking team, PNC's community-based professionals identify local projects across the country for financial support that respond to the particular needs of local communities, including those where low- and moderate-income (LMI) residents and Black, Indigenous and other people of color live predominately.
"Retail east of the Anacostia River has historically been a challenge," says Keiva Dennis , vice president and relationship manager in the Community Development Banking Group at PNC. "Efforts to develop the area have been going on for quite some time, but resources being offered by this development will ensure opportunities for residents of Ward 7 and neighboring Ward 8 to thrive."
With 92% of its population identifying as Black, Ward 7 has an unemployment rate of 11.5% – nearly double the national unemployment rate3 – and a median income of $45,3184 – about half the amount of D.C.'s median income.
WC Smith and Rappaport established the Skyland Workforce Center, located across the street from the town center. The work force center is a collaborative of nonprofit organizations providing employment-related services for many unemployed and underemployed residents of Wards 7 and 8 in Washington, D.C.
Since its launch, the work center has served more than 5,000 D.C. residents and placed nearly 680 people in jobs.
Pledge for Economic Empowerment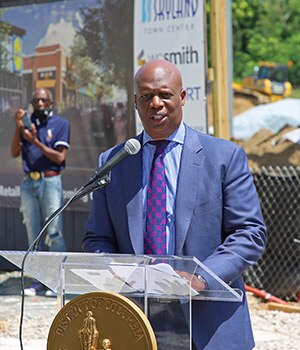 PNC Regional President for Greater Washington Jermaine Johnson speaks during the June 21 groundbreaking of the Skyland Town Center retail space in Washington, D.C.
The Skyland development is part of PNC's commitment to help end systemic racism that it announced last June5. The bank's Community Benefits Plan (CBP), which totals $88 billion and takes effect Jan. 1., furthers the commitment of $1.5 billion already pledged for community development financing for low- and moderate-income communities and Black, Indigenous and other communities of color6.
The plan incorporates, builds on and expands the pledges and plans previously announced by PNC and BBVA USA, which was acquired by PNC Bank on June 1.
"Economic empowerment, entrepreneurship and education stand as key tools for positive outcomes in communities," says Jermaine Johnson, PNC regional president of Greater Washington. "But, it's the capital that organizations are willing to invest in vulnerable communities that have the most impact. That's what makes the most tangible difference for individuals and for the businesses that reside in those marketplaces."