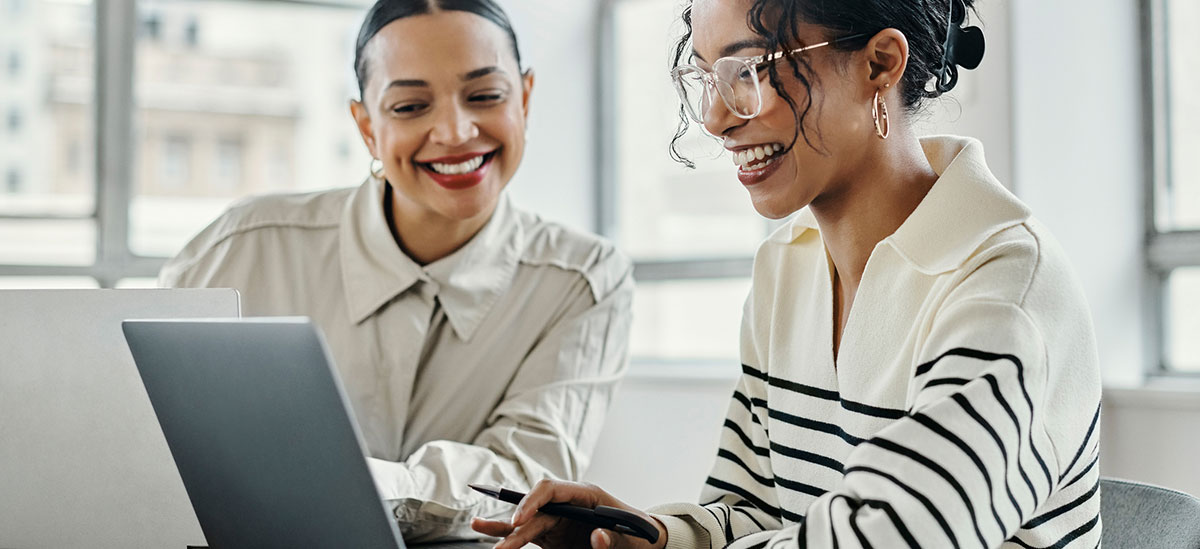 When it comes to serving the communities in its footprint, PNC believes its employees play a critical role, not only in providing financial services, but through community engagement and support. That belief drives the company to encourage a steady flow of volunteerism.
Through its PNC Grow Up Great® early childhood education initiative and Racial and Social Justice (RSJ) initiative, PNC offers employees the opportunity to engage in skills-based volunteerism through SkillShare, which helps nonprofits solve pressing challenges, and Sky's the Limit, a nonprofit organization that helps emerging underrepresented entrepreneurs.
Providing Valuable Assistance
PNC's Paid Time Off for Volunteerism policy provides up to 40 hours each year for employee volunteers working with approved organizations focused on providing high-quality early education or addressing economic empowerment, education or entrepreneurship for low- and-moderate income individuals and communities as well as people and communities of color. In addition to the employee volunteer hours, organizations also may receive grants based on the number of hours PNC employees dedicate to their organizations.
PNC Grow Up Great® volunteerism began in 2004 with about 13,000 volunteer hours and the hours have grown year after year.
"Over the years, we've had 78,600 employee volunteers, logging over 1 million volunteer hours, and 2,900 volunteer grants totaling $9.3 million," says Mark Bezilla, corporate volunteerism manager at PNC. "PNC volunteers support meaningful work in our communities, and our employee volunteers provide valuable assistance through a wide range of expertise – representing the bank's various lines of business, as well as offering the leadership, communication, technology, and project management skills they possess."
Through SkillShare, PNC's Talent and Corporate Volunteerism teams work with Robert Morris University in Moon Township, Pennsylvania, to match four- or five-person volunteer teams with nonprofits across the country in need of employee skillsets such as bilingual communication, information technology, financial education, data mining, and more, to help solve challenges through a 12-week project. Many of the projects have focused on providing support to PNC-approved early childhood education programs and RSJ organizations. Volunteers have participated in cities including Pittsburgh; Chicago; Raleigh, North Carolina; Kansas City, Missouri; Detroit; Phoenix; and Cleveland, as well as engaging in a few virtual opportunities.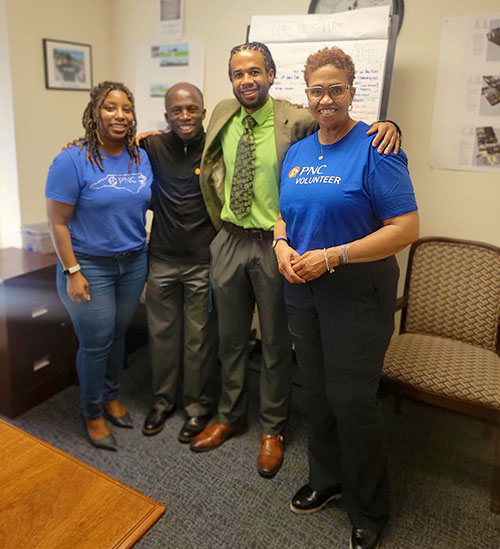 PNC volunteers stand with Durrell Petway, director of Operations at the Boys & Girls Club of the Tar Rvier Region, during a volunteer session. The PNC employees created a data tool to measure the academic outcomes of the Rocky Mount, North Carolina club's student members.
Maintaining Promising Lives
PNC employees recently volunteered through SkillShare with an RSJ-approved organization – the Boys and Girls Clubs of the Tar River Region, located in Rocky Mount, North Carolina. They were tasked with creating a data tool to measure the academic outcomes of the local club's student members.
Rocky Mount sits near the Northeast side of the state with a predominately Black population of 63% and a poverty rate of 19%1 – compared to the U.S. rate of 12%.2 Though the area has its economic challenges, local Boys and Girls Club CEO Ron Green says it's an area with a great deal of promise.
"A diverse group of PNC volunteers was able to come in and mine our membership data to compare the academic performance of our kids based on the number of days they frequented the club," says Green, whose local club serves children ages 5-18.  
PNC volunteers used their data mining and analysis skills to show that students who participate in the club's academic, wellness, and social programming three days or more outperformed their peers who visited the club one day a week or less.
"That was a huge proof point to uncover," Green says. "PNC understood our needs and provided us with the data needed to bring in more resources to help us with programming for our members."         
Creating a Community of Entrepreneurial Support
While PNC employee volunteers work directly with nonprofit leaders though SkillShare, PNC's work with nonprofit Sky's the Limit offers a chance for them to share their expertise with traditionally underrepresented young entrepreneurs. The partnership is part of PNC's racial and social justice volunteer program and is available to employees corporate-wide. 
About 20% of new businesses fail during the first two years of being open, and 45% fail during the first five years.3 Sky's the Limit attempts to remedy that challenge by creating a community where young entrepreneurs and volunteer business professionals can build meaningful relationships that help their businesses thrive.
PNC employee volunteers select individuals to mentor based on their type of business, location, or need. Then entrepreneurs contact the volunteers based on the skills they can offer. PNC employees work one-on-one with one or more entrepreneurs and meet with them on a recurring or one-time basis.
PNC employees can volunteer individually or in groups of up to 10 and may earn grant money that helps support Sky's the Limit's mission to support budding entrepreneurs based on the number of volunteer hours they complete.
Adding Value Through Knowledge and Expertise
PNC volunteer Rob Kristanko, senior client solutions manager for PNC Private Bank, has volunteered multiple times with teams helping Sky's the Limit entrepreneurs. His team volunteered 240 hours from March 2022 to July 2023, generating $6,000 in grant dollars for the organization.
"Most of the interactions I've had involve questions around how to create a business plan, asking us to review the content on their website, or how to tap into federal or state funding opportunities," Kristanko says. "It's really about listening to their needs and finding the right resources for them."
He recalls being matched with an entrepreneur looking to explore the launch of an indoor/outdoor dog park in Buffalo.

"As a person who loves dogs and frequents dog parks, I was glad to have the match. We talked about everything from dog treats and offerings for the pet owners to what the space could look like and what would make it a differentiator. I felt like I added value to her business concept," Kristanko says. "I also wound up connecting her to another entrepreneur I mentored since they had done extensive research on funding opportunities that could be helpful to her. I really hope she thrives."

Bezilla believes PNC's SkillShare program and the work with Sky's the Limit are an example of the direct impact PNC can make on the lives of the next generation of leaders and business owners.

"PNC's success is proportional to the prosperity it helps create for its stakeholders," he says. "These skills-based volunteerism efforts are just one way we are putting that belief into action."