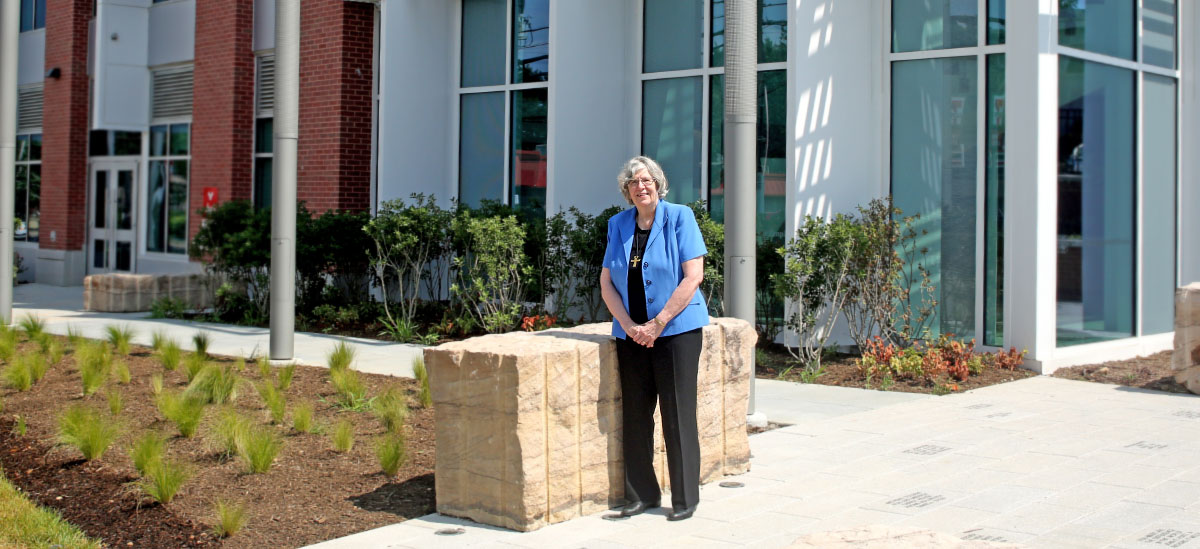 Dr. Goetcheus in front of the new clinic space
Every day, dozens and dozens of patients, from parents with newborns to the elderly, visit Unity Health Care's East of the River Health Center for medical care. For many people in that Northeast Washington, D.C. community, this may be the only place they go to see a doctor. Unity doesn't turn away anyone who seeks care, no matter their circumstances.
The small gray health center is showing its age. It wasn't supposed to be in continuous use for the past 20 years. It's a temporary modular office building sitting on a lot next to a Metro subway stop. The development of a permanent facility was hampered for years by a lack of funding and other issues.
Directly across the street from the location, it's a whole different world. The Conway Center, a big beautiful, new, mixed-use development built by So Others Might Eat (SOME), is being completed and Unity Health Care has leased space there for a brand new health center. The Conway Center development also will include low-income housing, job training and in-patient addiction treatment services for the community.
"This area is truly in need of access to quality healthcare," said Dr. Janelle Goetcheus, one of Unity's co-founders and Chief Medical Officer. "We're just grateful that we are able to expand and offer care to even more folks."
Looking to the Future
The new health center will increase Unity's capacity from its current 11 exam rooms to 43 exam rooms. It will be able to service four times more patients, offer a wider range of services and have a greater positive impact on the community as a whole.
New and expanded medical services at the location will include OB/GYN, dentistry, ophthalmology, infectious disease, pharmacy, urology, cardiology, gastroenterology, behavioral health,  expanded health center hours and other specialties in coordination with a hospital partner. Unity also is hoping to expand its preventive medicine programs in the community including women's healthcare with new mammogram equipment, access to other cancer screenings and case management for patients with cancer.
There are a lot of issues in that community, like a high infant mortality rate and deaths from cancer, that could be prevented.  Add to that hypertension, strokes, diabetes and the complications that come with them. Access to quality healthcare, is very important to this area.
- Dr. Janelle Goetcheus, Unity Health Care
It Really Does Take a Village
It took a diverse team to turn Unity's dream of a new community health center into reality. A huge piece of the puzzle was obtaining funding for the $8 million construction project. Funding came from several sources including the federal government and the Nonprofit Finance Fund's relationship with PNC Bank. Through PNC's Community Development Banking and other sources, NFF was able to provide $2.55 million in financing for the construction of Unity's new health center space.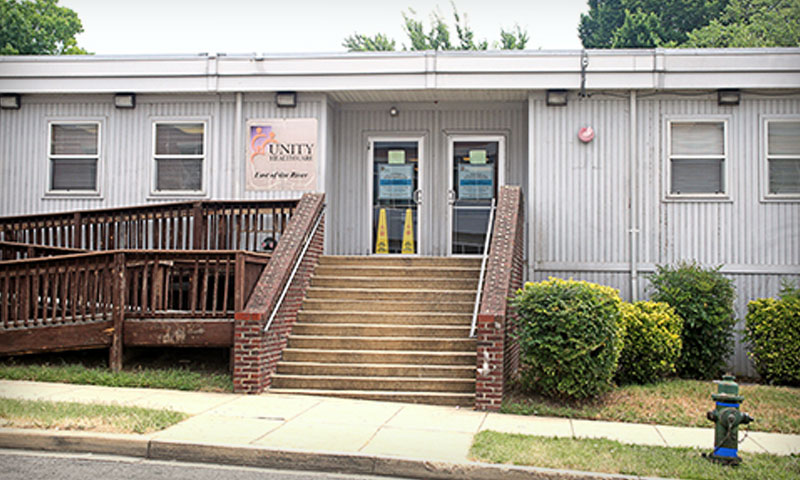 Exterior of current Unity health Care clinic in Northeast Washington, DC
The NFF helps community organizations that support underserved communities to find capital, creative financing and advice.
"This health center is critical to the fabric of the DC multi-cultural community," said Brenda Loya, Director and Senior Investment Officer at the Nonprofit Finance Fund. "We are honored to be able to support organizations like Unity Health Care that bring much-needed health services to neighborhoods across the country."
Working with the Nonprofit Finance Fund to finance Unity's vital new health center is just one of the many ways PNC's Community Development Banking commits to local communities in its retail footprint.
"NFF's mission to provide capital that impacts low-to-moderate income communities is a great alignment with the core focus of PNC's Community Development Banking," said Darlene Robison, Vice President at PNC. "The bank is able to provide the capital that NFF needs to finance the health center's expansion.Truly, this is a "win-win" all the way around for the local community, NFF and PNC Bank."
The new Unity Health Care location at the Conway Center in Northeast Washington, D.C. is slated to open at the end of 2018