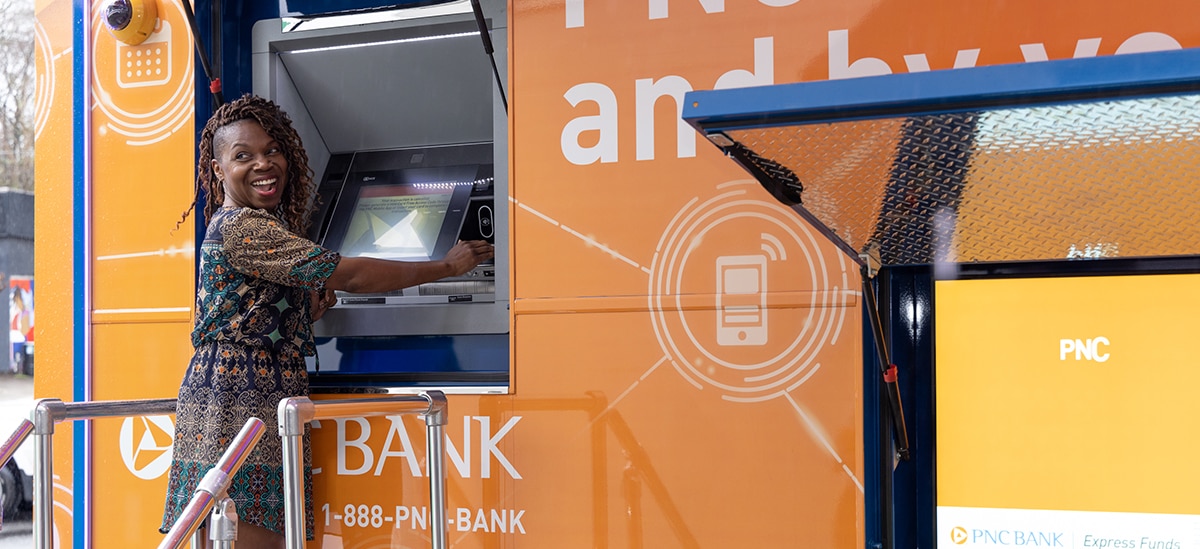 PNC's Retail Banking and Community Development Banking teams are actively using mobile branches as community outreach tools to extend essential banking services into low- and moderate-income communities and strengthen relationships with unbanked or underbanked members of these communities.
For more than 15 years, PNC Bank has maintained a fleet of mobile units to help customers when they need in-person banking services most – especially during branch closures due to renovations and natural disasters, but also outdoor festivals and events and college move-in days.
PNC currently has three 40-foot units that have an ATM in addition to the teller services that are also offered on the eight 30-foot mobile branches are used for the community outreach efforts. PNC's fleet also includes five smaller cash-dispensing ATM sprinter vans.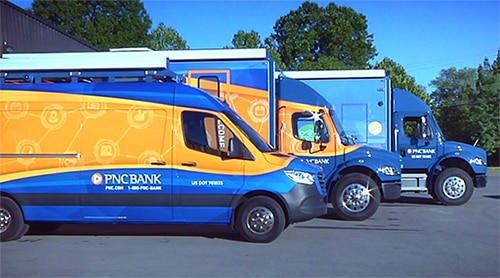 With three 40-foot units that have an ATM and teller services that are also offered on its eight 30-foot mobile branches, PNC is able to serve its markets hit with natural disasters as well as community outreach. The fleet also includes five smaller ATM sprinter vans..
More Than Traditional Banking
"Our mobile branches provide community members the opportunity to meet with a personal banker, open a checking account, apply for a home equity loan, issue or replace a PNC debit card and a number of other traditional banking services," says Chris Hill, senior vice president and mobile branch channel manager for Retail Banking. "But we decided we wanted to go beyond that and provide more convenient access to important banking services in the communities we serve by physically bringing the bank to the communities and meeting people where they are versus asking them to come to us. We also wanted to leverage our mobile branches to provide consumers with financial education."
PNC deployed one of its 30-foot units to Chicago in September 2020 and teamed up with 17 community organizations and centers to set a monthly route with repeating stops scheduled in multiple neighborhoods. In doing so, the mobile branch outreach program has aligned with PNC's $88 billion commitment to make its products and services more accessible to diverse and low- and moderate-income communities.
Since the Chicago launch, PNC has expanded its mobile branch reach with the initiative to Detroit in 2021 and Baltimore and Dallas in 2022. Atlanta and Houston joined the list in 2023 with plans for mobile branch outreach to be active in at least 10 markets by the end of the year.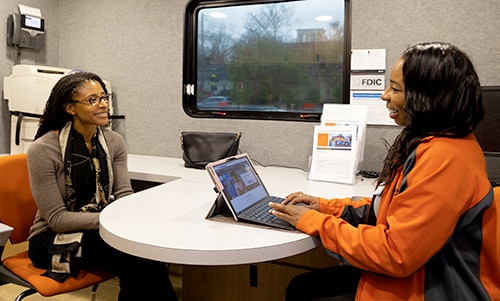 In addition to teller services, PNC offers financial education seminars and tips for money management with the help of its community partners.
Helping to Achieve Goals
PNC's mobile branches not only offer financial education seminars for consumers, small businesses and nonprofit organizations, they also provide seminars for homebuyers and tips for money management in an effort to improve the financial stability of people and families who may not otherwise have convenient access to banking services, rely on high-fee check-cashing and payday loans or who don't have checking accounts at all.
"We want to help unbanked or underbanked residents who are in traditionally underserved communities take steps toward reaching their financial goals, and we are able to respond with opportunities for economic empowerment and lifelong learning through this more personalized mobile branch approach," says Reymundo Ocañas, executive vice president and director of Community Development Banking at PNC. "Our ability to offer financial education enables individuals of all ages to learn ways to make confident financial decisions so that they can achieve their goals."
A Commitment to the Community
PNC's mobile branch community partners include organizations that focus on senior communities, families, neighborhood revitalization and more in low- and moderate-income areas.
Terrell Williams, co-director of nonprofit Turnaround Tuesday in Baltimore, says PNC's relationship-building approach to the community has been invaluable to the unemployed and underemployed individuals his organization trains and prepares for living-wage jobs.
"Our primary goal is employment, and we hope to provide an arsenal of tools to navigate life so members of our community can get out of a hole and stay out," says Williams, whose organization works with a number of formerly incarcerated citizens.
He sees his work and PNC's outreach as an important measure of showing the people he serves that they are worth the investment of resources.
"These mobile branches that PNC has put in place demonstrate the fact that PNC believes this community still deserves a banking experience, even if the market isn't yet mature enough to warrant brick-and-mortar locations," Williams says.
Tony Smith, who was the community development banking manager for Illinois and Wisconsin at the time of the Chicago launch now leads the territory that includes the Atlanta mobile branch unit.
He agrees and notes that PNC's mobile branches are part of its national main street bank approach.
"It's vital that we create communities in which people want to live, work, invest, play and learn," says Smith, Southeast territory executive for community development banking. "We have to continue to do that. I think it's among the many things that makes PNC a stand-out player in a market like Chicago as well as our other markets."
Building Relationships, Speaking the Language
Smith says having PNC be a part of the community that it serves is not only gratifying, but it is key to understanding the needs and building relationships.
Many of the neighborhoods on the mobile branch routes include residents who speak a language other than English at home.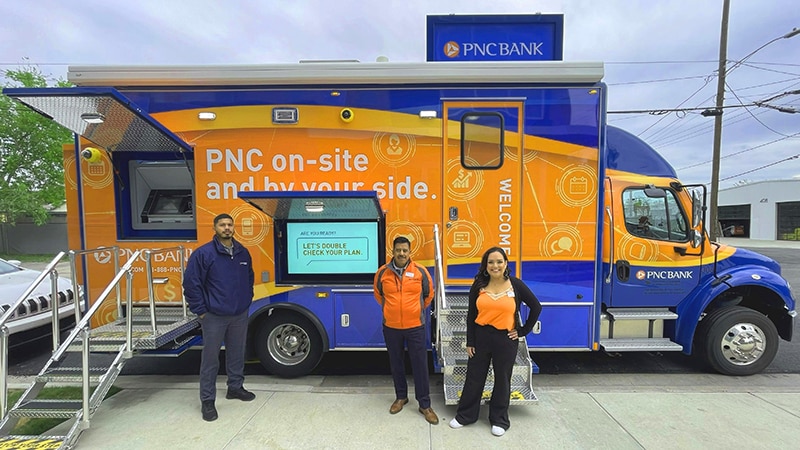 Houston became the sixth market to launch its mobile branch outreach initiative working with community partners in March 2023.
Spanish-speaking bankers are available in many of the mobile branch markets to help residents, and PNC keeps materials translated in Spanish on hand.
"The bilingual bankers are essential because they allow residents to talk with someone familiar with their language and culture. We also hire talent from the communities to better understand the challenges distinct to the area," says Hill. "PNC wants to build the kind of relationships with our customers that are not just transactional."
On-site assistance may also be available in Polish in certain locations in Chicago, since it's home to the largest Polish population outside of Poland.1 The mobile branches in the Detroit area also have a heavy focus on Arabic since it home to the second largest population of Arab Americans in the country.2
"Embedded within the PNC culture is an authentic commitment to our communities – especially communities of color, seniors, veterans, people with disabilities and those with lesser means," Smith says. "That makes it extraordinarily rewarding to do this kind of work at PNC."