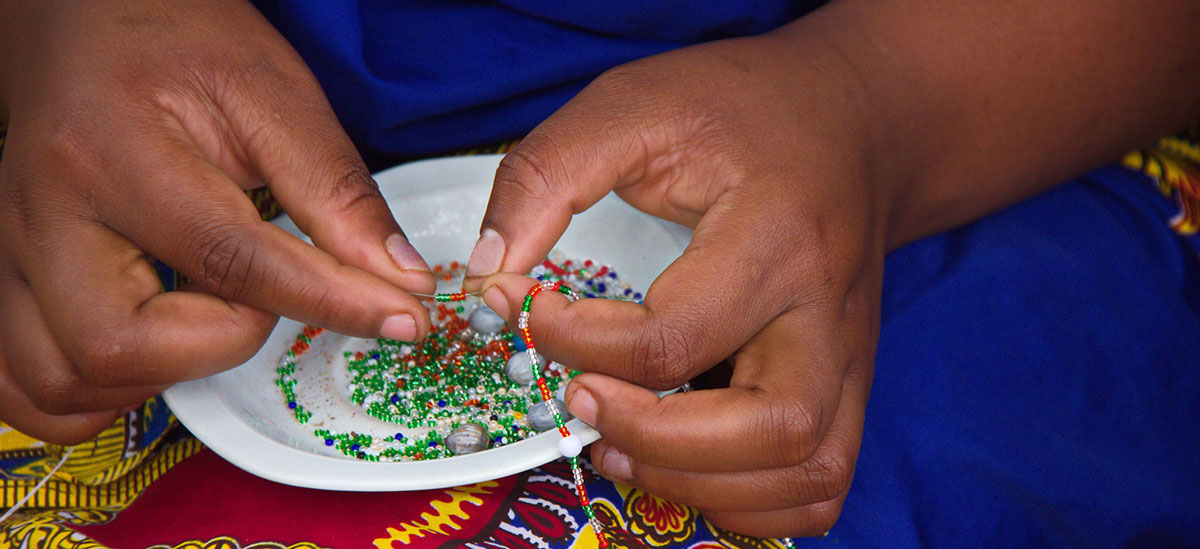 The South African women behind Ubuhle Beads may be nearly halfway across the world, but the financial independence they are afforded through the sale of their hand sewn paintings in beads is one way this group of women is earning income – an effort that aligns with PNC's Project 257®: Accelerating Women's Financial Equality initiative to help close the economic gender gap.

When the women of Ubuhle Beads decided to turn the artistry of their work into a worldwide traveling exhibit, PNC's Orange County-Inland Empire market was there to sponsor its July 1-Aug. 27, 2023, showcase at the Bowers Museum in Santa Ana, California. "Ubuhle Women: Beadwork and the Art of Independence" highlighted a contemporary form of bead art, the ndwango (translates as "cloth" or "rag"), created by the women in South Africa's rural KwaZulu community.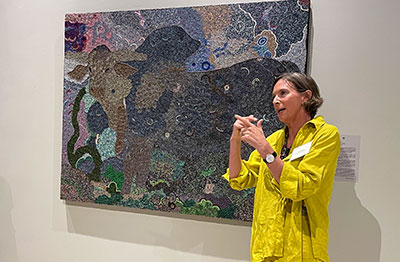 Ubuhle Beads co-founder and curator Beverly Gibson talks about one of the pieces of beaded artwork featured in the PNC-sponsored exhbit at the Bowers Museum in Santa Ana, California.
Founder and curator Beverly Gibson and artist Ntombephi "Induna" Ntobela established Ubuhle, which means "beauty" in South Africa's Xhosa and Zulu languages, in 1999 for women to learn the community tradition of beadwork using Czech glass. In the rural, mountainous community of KwaZula-Natal province, cattle-raising and corn and sugar crops drive the local economy, and women often are denied opportunities to earn a steady income or obtain a Western education.1
Ubuhle Beads opened an opportunity for the Xhosa and Zulu women to sell the pieces to establish some financial freedom.
Jarrod Ingle, regional president and head of corporate banking for PNC's Orange County-Inland Empire market, says sponsorship of the traveling Ubuhle exhibit brings visibility to the importance of moving all forward financially.
"The exhibition is representative of women's ingenuity and the inequity they face around the world and here in our own community," Ingle says. "Our team is dedicated to supporting the achievement of women financial decision-makers across the region and will remain diligent in our work to help close the economic gender gap."
Progress, But Much Work Needed
The bank's PNC-Certified Women's Business Advocates (WBAs) have been providing resources to women financial decision-makers for nearly two decades. In 2021, on Sept. 14, the 257th day of the year, PNC launched Project 257®, inspired by the World Economic Forum's 2020 Global Gender Gap Report, which declared that it would take 257 years for women to catch up to men economically. The recently released 2023 report shows improvement: 169 years to reach economic parity at the current rate of progress.1
"It's a hopeful sign that nearly a century's worth of progress toward economic equality can be achieved in just a few short years, but 169 years is still too long to wait," says Beth Marcello, director of Women's Business Development at PNC. "The new data gives me confidence that closing the gap is within the realm of possibility if everyone works together to increase women's representation in the workforce, income equality and access to credit."
Across the country, the bank continues to look for opportunities to support women. A coast-to-coast network of 5,000 men and women PNC-Certified WBAs are dedicated to supporting the financial success of women, including those who own or lead businesses. Dozens of those WBAs serve the Orange County-Inland Empire market.
The bank makes further impact through partnerships that align with PNC's values and commitment to supporting women, including  relationships with the global nonprofit Coralus, which provides 0% interest loans, mentorship and support to women entrepreneurs, and Women Presidents Organization, which provides a peer network to women presidents across the globe. Another example is PNC's annual Women in Business Week, which offers motivating experiences and insights on a variety of topics relevant to women financial decision-makers.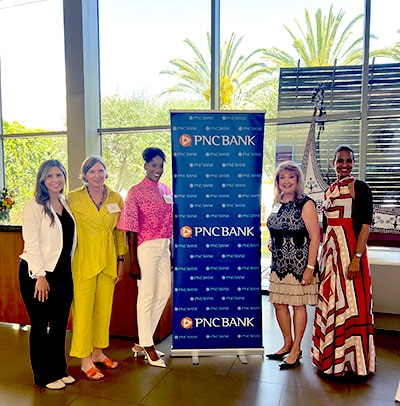 PNC's Women's Business Development champion for the Orange County-Inland Empire market Katherine Collins, far left, is joined by panelists Beverly Gibson, Ubuhle Beads co-founder; Debora Wondercheck, founder and chief executive officer of the Costa Mesa-based Arts and Learning Conservatory; and Mary Cramer, member of Bowers' board of governors, before their discussion on the exhibit and women's financial equality at the Bowers Museum. PNC's Raquel Bone moderated the conversation.
PNC's support for accelerating women's financial equality also shows up through its role as The Official Women's Business Champion for the Angel City Football Club in Los Angeles and the enterprise-wide Women in Motorsports partnership with Chip Ganassi Racing, an internship program that engages a selected group of women college students in on-site learning and career-development experiences in the traditionally male-dominated sport of auto racing.
Moving All Forward in Orange County-Inland Empire
To help launch the Ubuhle exhibit last month, local PNC WBAs presented a panel discussion on women and finance that included Ubuhle curator Gibson along with community leaders Mary Cramer, member of Bowers board of governors, and Debora Wondercheck, founder and chief executive officer of the Costa Mesa-based Arts and Learning Conservatory. Gibson led a tour of the exhibit following the discussion.
Raquel Bone, managing director for Institutional Asset Management in Southern California, moderated the conversation that touched on everything from establishing the early foundations of financial wellness to the responsibilities of managing childcare while building a successful business or career.
"These kinds of conversations can help lift the veil to reveal the barriers to financial success that women often face," Bone says, "and they also serve as a great source of inspiration that can guide women to the many resources in our community that can help accelerate financial equality."  
Related Content