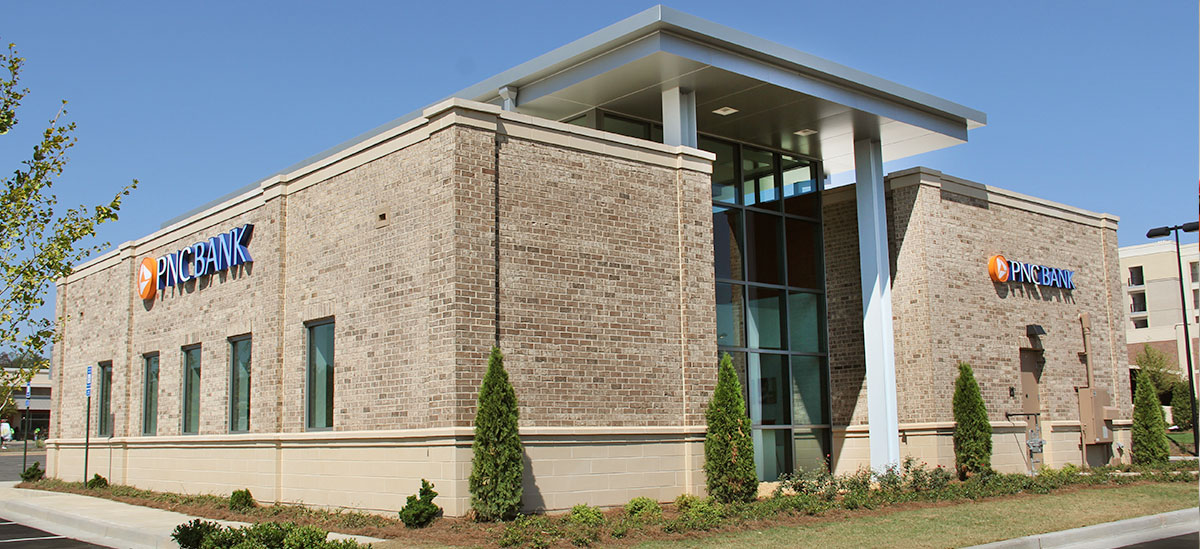 There was a time, not too long ago, when the local bank was considered a place of strength and security for the community. Bank branches held a lot of cash that was important to the commerce of the community.
Bank buildings were generally large structures made from brick or stone. Ornate teller grates and huge vaults dominated early 20th century bank interiors.
"For customers in those days, having a physical edifice that felt secure was really important because their cash was going in that space, and if it wasn't physically secure they could be in trouble," said Bob Rice, PNC Bank's branch environment planner.
Strong & Secure
The old Riggs Bank Corcoran branch in Washington, D.C. is an excellent example (Riggs is a predecessor bank of PNC). The Corcoran branch dates to the turn of the 20th century, before automobiles roamed the streets of the U. S. Capital and is located directly across the street from the United States Treasury and the White House.
The massive bank branch mimics the Treasury building with its tall ionic columns and imposing white granite facade. On the inside, it has a very tall atrium lobby supported by marble columns with many teller windows and open areas on multiple levels where customers could meet with their bankers. On the lower level, there is a huge vault with a massive door where customers can store their valuables inside heavy safe deposit boxes.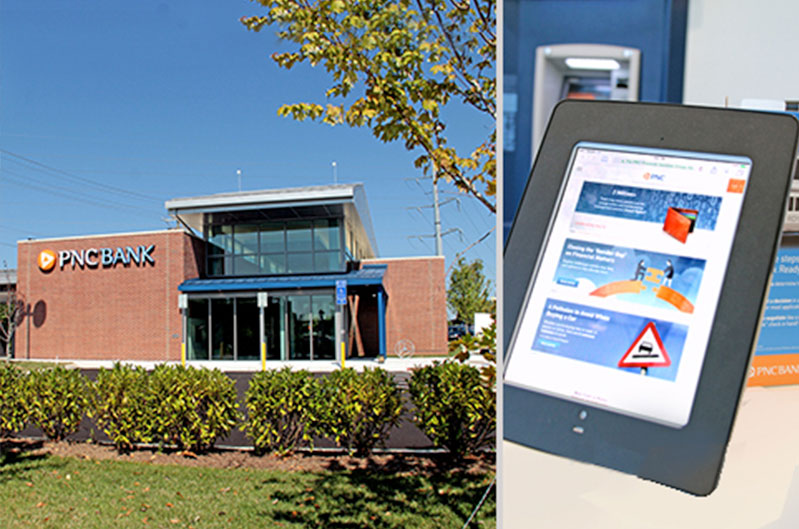 Tablets and next-generation ATMs are part of today's modern bank branch design
Deposit with Confidence
Bank branch design began to change in the mid-1930s after the creation of the Federal Deposit Insurance Corporation. The FDIC began in 1933, as part of the Banking Act, in response to thousands of bank failures that occurred in the 1920s and early 1930s. The FDIC provided deposit insurance for bank customers, and physical security became slightly less important.
But, there was always that implication that a physically-imposing bank was important. Over time, the need for a strong external and internal appearance diminished. Bank branch design became more modern and many of us started banking electronically.
Connecting with the Customer
For Bob Rice, there is a new goal. "What we're after now is how do we break down potential customer barriers?" Rice says.
For example, we use a concierge station as opposed to a teller window because it takes some of that physical barrier away.
There also are next generation ATMs that will enable banks to handle many banking transactions much quicker and more efficiently.
Technology will become more and more valuable to us. As we look at the next generation of ATMs, they'll be able to do multiple things much quicker and much more efficiently.
- Bob Rice
Additionally, most old traditional banks didn't offer enough privacy. Back then, they'd have three, four, six or more open desks in the middle of the lobby. "How would you feel if you wanted to talk with somebody about your finances or applying for a loan and they needed to ask you some personal questions to determine if you're ready for a mortgage?" Rice wonders. "It's not comfortable."
Current bank branch design includes spaces where bankers and customers can have private conversations. In older bank buildings, modular office space is being installed that won't harm the beautiful historic open lobby areas.
Smaller & Better
Bank branches are becoming smaller and more energy efficient. In days past, bank branches could be 10,000-square-feet in size. Today's bank branch is more functional and designed around the ability to have deep, and private, conversations with customers. Now, a stand-alone branch is closer to 3,500-square-feet complete with a customer-friendly lobby, ATMs, concierge stations, multiple meeting spaces and an energy efficiency package to reduce operating costs and be more environmentally friendly. In some locations, the bank branches are even smaller, relying on ATMs and a small staff using minimal office space.
Bank branches have always evolved. The amount of cash that banks keep on hand now and use every day is significantly less than in years past. As more banking customers use their computers, phones and ATMs to conduct basic transactions, bank branches end up being a destination for customers when they need financial help.
"Today's branch is now more functional and centered around deep conversations with our customers so that we can help them achieve their financial goals," says Rice.
Customers aren't abandoning bank branches. In many cases, they're just looking for different services when they come in.