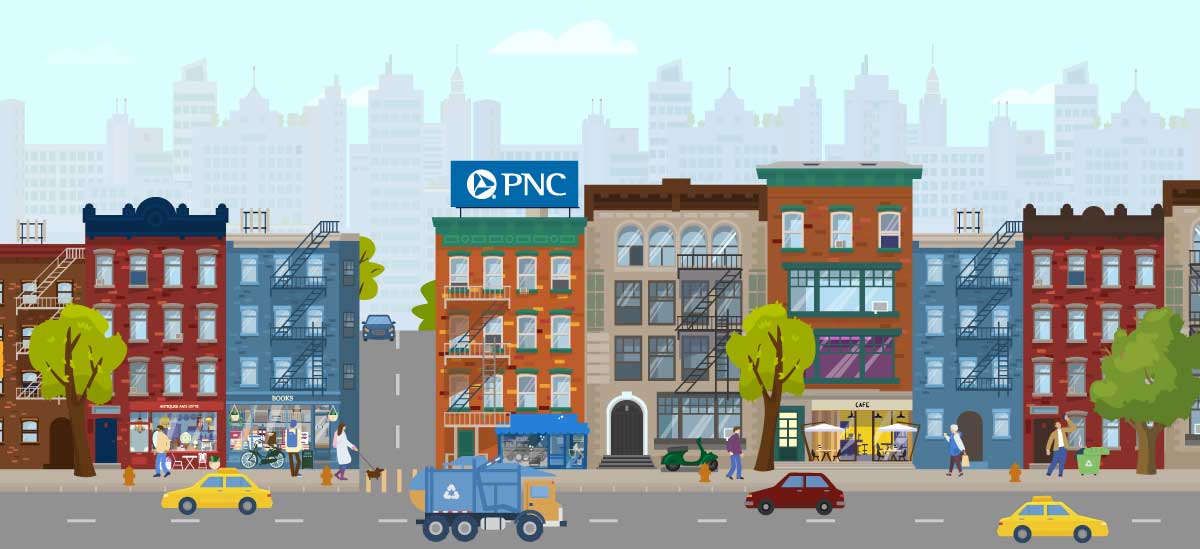 PNC's recent acquisition of BBVA USA sets the stage for one of the largest bank conversions to date and leaves PNC to answer one critical question about its future: Can a bank built on a Main Street banking philosophy maintain that focus across a greatly expanded footprint?
The short answer is: Yes.
Maintaining Community Focus
One of the strongest indicators of PNC's commitment to its Main Street banking model is its legacy of staying true to this philosophy in previous acquisitions. Since its establishment in 1852, PNC has consistently expanded through a combination of organic growth and strategic acquisitions. Today PNC has more than 50 regional presidents who lead the local decision-making at the heart of PNC's Main Street model coast to coast.
"PNC's regional presidents and local teams are squarely focused on delivering the extensive resources of a leading national bank, with an unwavering commitment to serving our clients and supporting the communities we serve," said Louis R. Cestello, executive vice president and head of PNC's regional markets. "Whether they are volunteering with local nonprofits or shopping at the small businesses that make their communities strong, our regional leaders are fully immersed in their communities."
In addition to the products and services they deliver, regional presidents are able to provide local insight and leadership to address specific needs. PNC's local market leaders live and work in the communities they serve, and as active members of the community, they are able to see and respond to local issues as they occur and address the local impact of wider-reaching issues, including the ongoing pandemic, social justice issues and others.
PNC's acquisition of BBVA USA will broaden its reach across the South and Southwest, as well as Alabama, Arizona, Texas, New Mexico and California. PNC's regional president model will allow the bank to continue leveraging existing local talent and relationships combined with the talents of seasoned PNC employees to meet the needs of its clients.
The acquisition accelerates PNC's national expansion and position the bank to deliver its industry-leading products and services to a number of new markets and customers.
"The expansion of products and services, combined with the continued commitment to innovation and technology, will undoubtedly benefit PNC customers in these new markets," said Mark Mistler, PNC Regional President for Tucson and Southern Arizona, who joined PNC through its BBVA USA acquisition. "I expect the combination of my team's tenure in this region with the resources of PNC will make us an attractive financial partner for retail customers and commercial clients alike."
A Shared Culture
Part of that model is reflected in PNC's commitment to its communities, led by its sustained investments in early childhood education through PNC Grow Up Great®. Since 2004, Grow Up Great has helped children get a good start in school and life through grant-funded programs, the development of resources for parents and caregivers, and volunteerism by PNC employees. To date, the initiative has served more than 7 million children in the communities served by the bank.
In conjunction with its acquisition of BBVA USA, PNC announced an $88 billion Community Benefits plan, which will commit funding to home lending, small business lending and community development initiatives in low- and moderate-income (LMI) communities across all of its markets. The plan is a multi-year initiative, which will also expand access to PNC's products, services and facilities in LMI communities.
"BBVA USA was always dedicated to bringing financial opportunity to our communities," said Susana Melendez-Valencia, PNC regional president and head of commercial banking for the Texas border market, who also joined PNC from BBVA USA. "I am excited to tap into PNC's resources -- as well as the institution's philanthropic and community development initiatives -- for the benefit of this region and our customers."
Julie Sudduth, PNC regional president for Houston, sees the bank's expansion in Texas as an opportunity for continued growth. "PNC has a significantly expanded presence in the state, as well as a wide breadth of local leaders in individual markets," said Sudduth. "The BBVA USA acquisition makes us fourth in local deposit market share and sets the stage for an exciting future for all of us."
A History of Commitment
While former BBVA USA employees like Mistler and Melendez-Valencia share a sense of optimism in becoming part of PNC's established organization, current PNC Regional Presidents affirm their expectations. Jim Hansen, regional president for PNC's Eastern Carolinas market, joined PNC as part of the bank's last major transition – joining the bank as a result of the acquisition of RBC Bank USA in 2012.
"When PNC acquired RBC, we quickly recognized that retaining those relationship builders and the tremendous amount of talent they brought with them was at the heart of what we offer communities," said Hansen. "Of course, we enter new regions by acquiring facilities, but the real impact comes from the engagement of the team itself and the difference they continue to make every day for our customers and community."
Just a few years prior to Hansen joining PNC, the bank ran a similar playbook when it announced in 2008 that it would acquire National City Bank, Cleveland's oldest bank known for its commercial leadership, service to its customers and its contributions to the community. Today, PNC's branches and board rooms remain filled with talent and experience that came from these strategic acquisitions.
Looking Forward
PNC's expanded footprint includes some of the nation's fastest-growing markets. This includes Phoenix, Austin, Dallas, Fort Worth and Houston – which are among the top ten metropolitan statistical areas exhibiting the most population growth in the last decade, according to U.S. Census Bureau data. The resulting organization will be able to leverage a coast-to-coast national franchise, serving retail and business clients in 29 of the top 30 largest markets in the country.
Though thousands of miles separate the original PNC office in Pittsburgh from communities across the Southwest, the consistent implementation of PNC's local delivery model will deliver the power of a national bank to every market, large or small, with the insight and influence of local leadership.