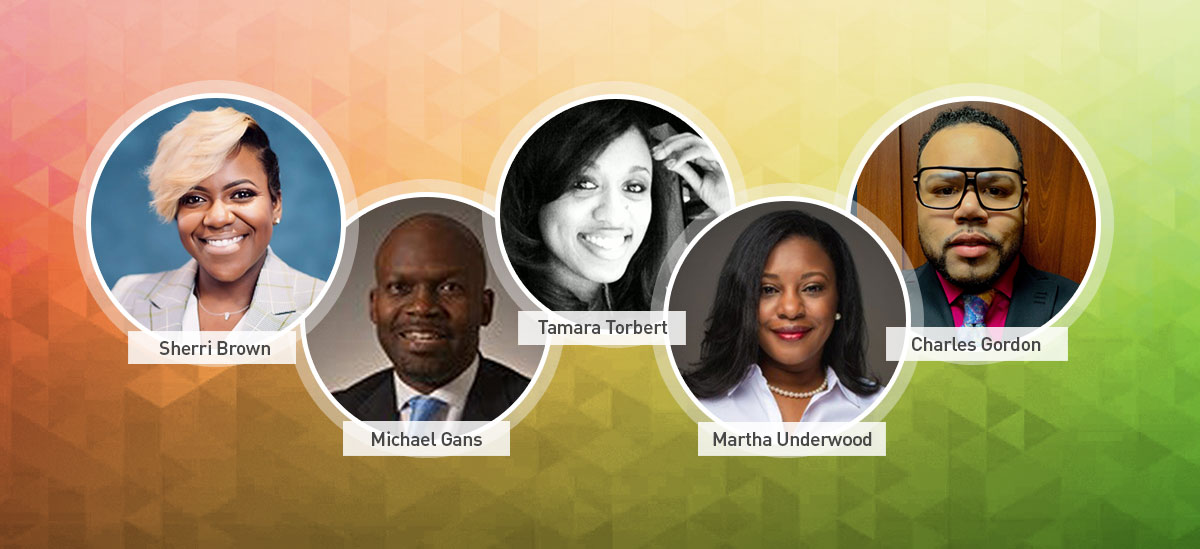 As we recognize Black History Month, we frequently reflect on people in American history who have inspired change, determination and success for all of us. Are there specific African American figures who have been particularly inspiring to you? In what way?
Martha Underwood: Katherine Johnson, an American mathematician made famous in the movie Hidden Figures, has always been an inspiration to me. Her calculations made space exploration possible. She endured deep scrutiny not only because she was African American but also because she was a woman. Her mental and emotional strength and courage in sharing her talents despite the racism and gender bias she endured… It's deeply inspiring to me. She paved the way for women like me in STEM in so many ways.
Michael Gans: Thurgood Marshall, the first African American to serve on the Supreme Court. His work as a civil rights lawyer, using the courts to fight Jim Crow and dismantle segregation from the inside, has always been very motivating for me. I also like the fact that he was a bit "prickly" to everyone… he would stand his ground and disagree with anyone, even if they were technically on his side.
Have there been other – possibly less well-known – people who have impacted you personally? A mentor, co-worker, teacher or professor? Friend or family member?
Tamara Torbert: My mom and dad. He is a retired certified minority business owner, and she is a retired community development leader. They made community connections and were part of advocacy groups to promote their own organizations and others like them, to benefit other minority business leaders. Today, I'm navigating a corporate America that's very different from the one they knew, but because of the foundation they laid, I know that I belong at the table.
Sherri Brown: Definitely my father. He served as a military recruiter for over 20 years, and he just had a knack with people. He knew that people go where they feel comfortable, so he was always looking to find common ground. During his career, we moved a lot. That taught me to be adaptive, open to learning about different cultures and communities, how to adjust. And most of all, I learned to listen. My childhood and the foundation he provided have definitely influenced my professional career by teaching me to be authentic and true to myself and to accept people as they are.
How important is it for you to have co-workers who make a point to "stand in the gap", attempting to remove roadblocks as/if you encounter them? How does that influence your perception of corporate culture?
Charles Gordon: Allyship demonstrates for me that authenticity can still exist. Having people around you that create space for you to be your whole self, your authentic self – that gives me energy. And in my role as a Human Resources business partner, it's incredibly valuable for me to share that part of PNC's culture with potential employees.
Tamara Torbert: Everyone can be an ally. While many experience more privilege than most, if you really think about it, we all have some level of privilege to leverage to benefit others. Here is where we learn to be generous with one another. And there will be people who are consistently left out, whose voices aren't being heard. Knowing there are people willing to speak out on their behalf, or just be curious enough to learn more about that missing perspective, is incredibly valuable.
Michael Gans: If I didn't have an ally, I might not have a voice. Everyone needs an advocate. That's how doors open. I always say, it's great to be first, but don't be the last.
Has mentorship (as a mentor, mentee or both) played an important role in your career growth and professional development? If so, in what ways do you think mentorship serves as a tool for growth, inclusion and equity? Where might we have opportunities to do better?
Tamara Torbert: Representation matters. Seeing that representation shapes thoughts and actions and inspires hope. Having diverse mentors is a great way to broaden your perspective. Of course, it can show you the next step on your career ladder, but it can also expose you to new ideas, other ways of thinking, and other people's experiences.
Sherri Brown: I haven't been part of an official mentoring program – either as a mentor or a mentee – but I do make a point to take advantage of mentoring opportunities whenever I can. When I encounter someone in a meeting who has an interesting perspective, I try to set up time for coffee. Or I'll reach out to connect on LinkedIn. I keep notes, too, with quotes from people I've met, books they've recommended, whatever engages me.
Michael Gans: Not all my mentors have looked like me, and I think that's a good thing. In my opinion, it's more important to work with someone who can give you a blueprint for success.