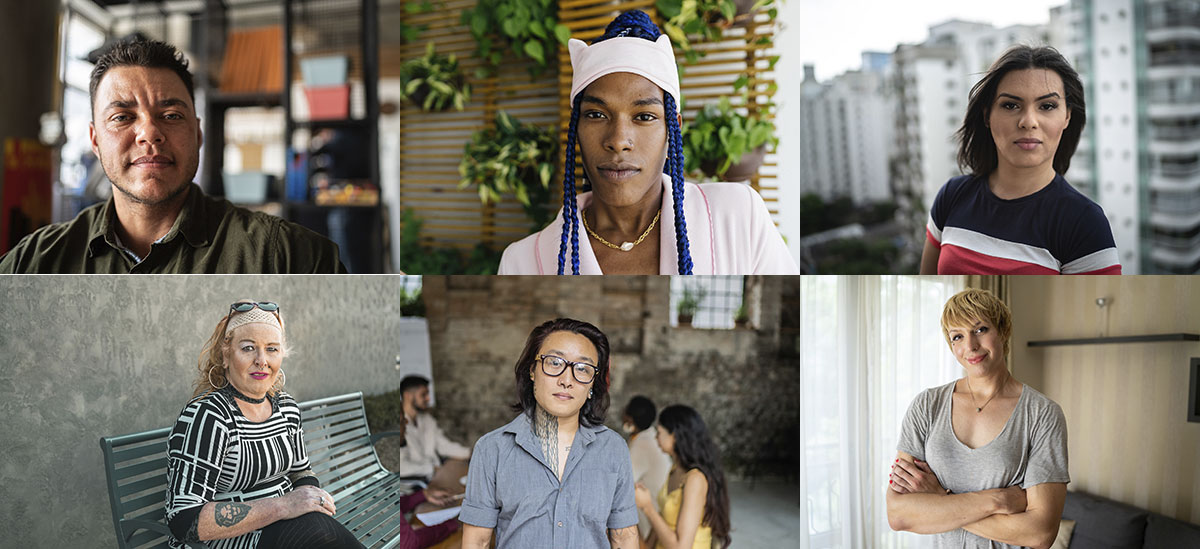 When a name is received at birth, it is generally assumed to be legally permanent. It follows a person through life. Without it, routine tasks can become major or even insurmountable. For many people in the transgender community, the simple act of producing identification – that often doesn't look like them, doesn't identify them as the gender they identify with and uses a birth name that feels foreign to them – can all bring shame.

Having a legal name and identification that matches their identity can help humanize the experience of a transgender person and allow them to confidently present an ID.
"People are people, and they deserve to be respected. They deserve to live their lives authentically," says Sonia Chung, a member of PNC's corporate legal team and pro bono committee.
Chung volunteers with the Transgender Legal Defense and Education Fund's (TLDEF) Name Change Project,1 which matches transgender applicants with legal representation to navigate the process of changing their names.
In partnership with Pittsburgh-based law firm Reed Smith, members of PNC's corporate legal team offer their legal expertise to participants. Through the program, they've donated many hours to help dozens of transgender people work through the name change process – at no cost to participants.
A Daunting Process Without Support
"While you don't need a lawyer to help get your documents changed, it is daunting to do this without support," Chung says. "The whole process, from beginning to end, is several months of work and interaction."

That work includes fingerprinting and background checks for any issues such as outstanding debts or criminal convictions, then filing the paperwork with the court system. Trying to go through it alone without an advocate can be overwhelming and expensive. Transgender people often quit from frustration when they are faced with doing it on their own.
"It probably takes a month or two with the court, then there is a court hearing where the name is finally changed. Once the client has their paperwork and it matches who they are, hopefully they can move forward," says Chung.
She estimated that paying for such assistance might cost several thousand dollars.
"The clients I've typically seen through the program don't always have resources, and it would be very difficult to hire a private attorney," Chung adds.
She recalled two clients who were gainfully employed but qualified for governmental assistance. Without this kind of community effort, they would not have been able to change their documents.
Beyond the cost savings, with an attorney's help, the court process becomes more accessible. The transgender person has an advocate, calling them by their chosen name, using the pronouns they identify with and showing them respect.
The Name Change Project has helped facilitate over 3,000 name changes since it began in 2007 – 384 completed in 2021. The program currently offers support to people living in all five boroughs of New York and several counties in New Jersey with plans to open additional sites in Chicago, Milwaukee, Pittsburgh, Philadelphia, Atlanta and Detroit.
Volunteering The Time
PNC Managing Senior Counsel Katy Leonard also volunteers with the pro bono clinics and says the work provides great education and insight into the issues, risks and emotional strain that disadvantaged clients face.
While you don't need a lawyer to help get your documents changed, it is daunting to do this without support. The whole process, from beginning to end is several months of work and interaction.
— Sonia Chung, member of PNC corporate legal team and pro bono committee
"Because I'm not a member of the transgender community, I never really thought about the barriers to them feeling empowered to do things on a day-to-day basis. I see how the rest of us may take that for granted," Leonard says. "Life can be really difficult for transgender individuals with concerns about privacy and safety. So, we counsel them on the process for ensuring their name and address are not on public record."
Blair Miicke, another managing counsel at PNC, also volunteers with the Name Change Project. He sees his participation as alignment with PNC's efforts toward Corporate Responsibility and diversity and inclusion. He encourages prospective volunteers to be involved with the entire process, because it can offer them greater understanding of the client and their story.
"Volunteers can't pry into the lives of clients," he says, "but if you listen, you learn what they have had to do to get where they are and to be comfortable with themselves. And that's all pretty amazing."
Reflecting PNC's Commitment to LGBTQ+ Equality
Participating in the Name Change Project aligns with PNC's ongoing support of organizations that promote diversity and inclusion for the LGBTQ+ community. For example, PNC supports the Human Rights Campaign's (HRC) mission, and joined its Business Coalition for Equality Act. This coalition consists of a group of leading U.S. employers that supports the Equality Act, federal legislation that would provide the same basic protections to members of the LGBTQ+ community as are provided to other protected groups under federal law.

This year marks the 10th consecutive year PNC has been recognized as one of the Best Places to Work for LGBTQ Equality by HRC.
These commitments reflect PNC's investment in actively supporting an inclusive culture beyond the walls of the bank – one in which people within the communities the bank serves can feel seen and valued and where their dignity is upheld.
"Having a name that both affirms and aligns with who you are and how you wish to be identified can be a transformative experience. It not only empowers the person, but it also improves their access to the same resources others enjoy and supports true inclusion," says Gina Coleman, PNC chief diversity officer. "From that perspective, the Name Change Project's lasting emotional and practical impact can't be measured."
Read More Related Content