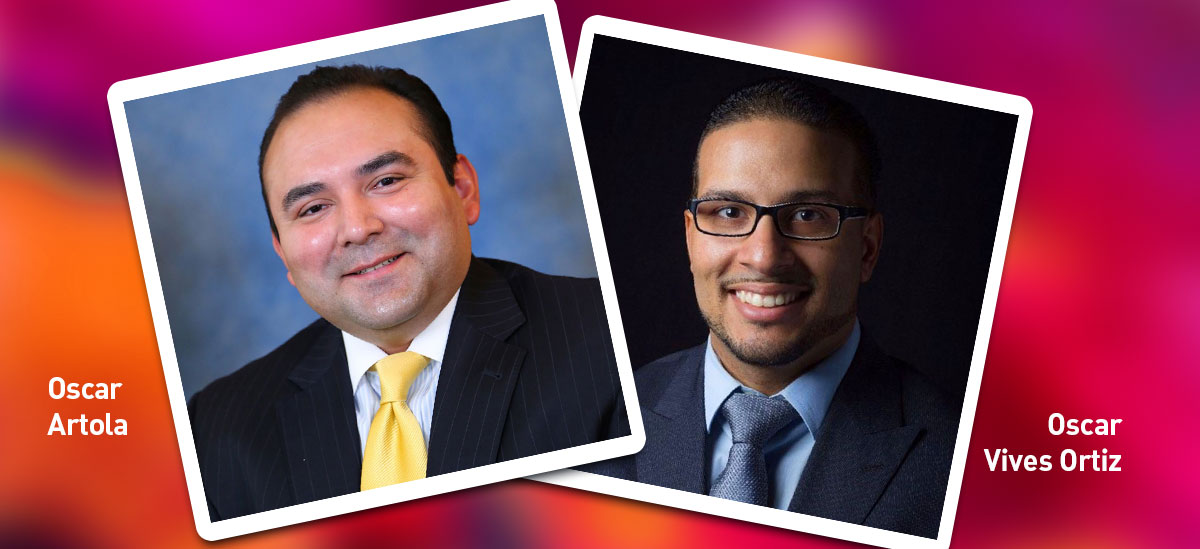 Oscar Artola and Oscar Vives Ortiz have more in common than their first names. Aside from being experts in the world of finance, the two PNC employees know the importance of being a part of the communities that they serve.
The two men say their expertise and authentic connections to their Latino roots work as extensions of PNC's commitment to meet the needs of diverse communities – whether volunteering to conduct financial literacy workshops or providing insights to small business owners.
Artola, vice president and relationship manager in Corporate and Institutional Banking, grew up in Washington, D.C., after immigrating to the United States from El Salvador with his parents. He began his career in banking after college and four years of service in the U.S. Marine Corp.
"I had always been interested in finance, but if you would have asked me 20 years ago, I never would have seen myself doing this work," he says.
Artola, who has been working in the financial sector for nearly 15 years – most recently in PNC's Baltimore market, works with senior leadership at companies to strategize ways to drive profitability, increase cash flow and create competitive advantages.
"I probably never imagined it because I didn't really grow up seeing many people who looked like me in this profession. In my experience, the number of Hispanics and Latinos working in the industry is still limited," he explains.
Overcoming Challenges
Vives has worked as a wealth planner for PNC Private Bank in Tampa, Florida, for five years.
The longtime Florida resident moved from Puerto Rico to Jacksonville, Florida, at age 9 after his parents separated.
"My mother figured she could give me and my little brother a better future by moving, but that presented a number of challenges to overcome," he says. "I came here without speaking English, and though I was a U.S. citizen, the culture was very different from what I experienced in Puerto Rico."
Vives recalls saving up for a video game as a kid. After finally saving the money, he went to the store, selected his game and approached the cashier with exact change. He just didn't factor in the cost with sales tax added.
"I was dumbfounded. I kept telling him in my non-English speaking ways that he had the wrong price – not understanding the sales tax. We didn't have that in Puerto Rico," Vives explains.
Puerto Rico wouldn't establish a sales tax until 20051.
"It's those kinds of cultural differences that can be real barriers for people who move to the U.S. mainland or immigrate to the United States," he says.
Vives says his love for the universal language of mathematics and watching his mother struggle as a single mother of two inspired his interest in finance.
"When I moved to the U.S., I might not have been able to speak English, but I did speak the language of numbers," he says. "As a little kid, I knew I didn't want to struggle financially as my family did. I made it a point to read Warren Buffet's autobiography when I was a teenager, and then I would go to the library and read other financial books."
Taking the Extra Step
Artola and Vives' experiences push them to take extra steps to help others in Latino communities learn about effective personal financial management, budgeting and investing.
"Having materials in Spanish is definitely helpful to ensure an inclusive environment, but it shouldn't stop there," says Artola. "Many in Latino and Hispanic communities rely on word of mouth, and that's when knowing someone who has information or who can bridge the divide for building better generational wealth can be helpful."
Vives recognizes he's had invaluable educational and career guidance along the way. He says its that much more important for him to contribute to his community by helping people with retirement planning, financial literacy workshops as well as through his work as treasurer of Tampa Hispanic Heritage Inc.
The organization focuses on educational and cultural events that celebrate the Latino culture in addition to providing scholarships for students.
Recognition for Their Work
The Hispanic Association on Corporate Responsibility (HACR) recently recognized Artola and Vives as 2021 Young Hispanic Corporate Achievers (YHCA) for their professional and community leadership2. PNC has had ongoing participation in HACR for the past eight years and has amassed an impressive group of YHCA alumni who meet regularly.
Artola and Vives participated in the three-month Achievers program, which focuses on personal and leadership development.
"It was good to be among like-minded individuals who had similar experiences to mine. Our cohort included a spectrum of people linked to different Hispanic countries," recalls Vives. "The program was great at helping us navigate how we can best be our authentic selves at PNC and within our broader communities."