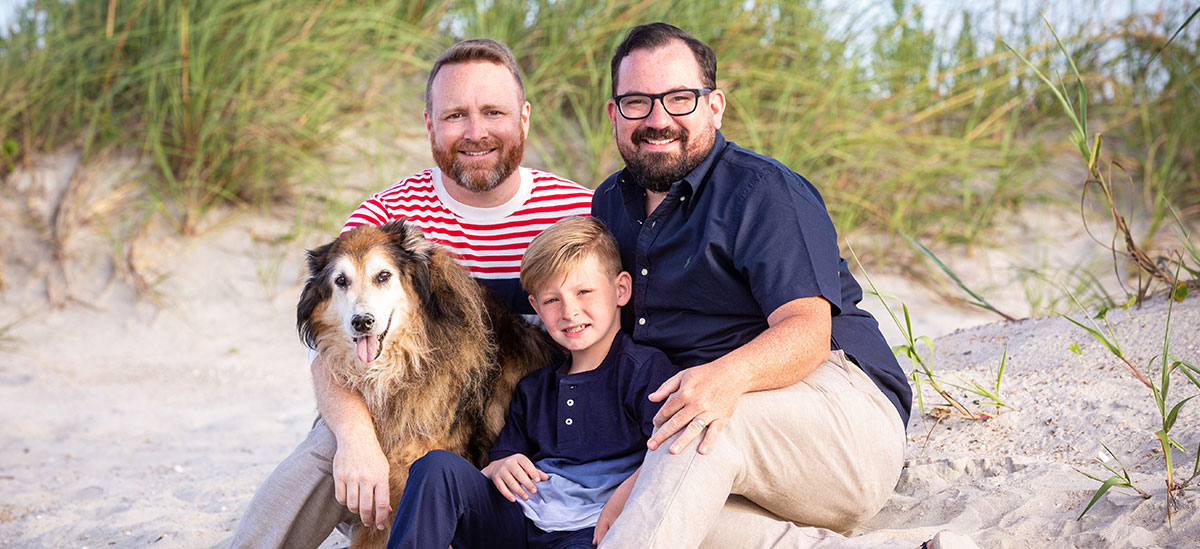 By Josh Stewart, PNC Senior Recruiting Director.
As I was preparing for PNC's annual LGBTQ+ Undergraduate Summit – one part of the bank's annual Leadership & Education for Advancing Diversity (LEAD) Summit Series –  I wondered to myself if programs like this one were still needed in 2022. So much progress has been made by the LGBTQ+ community, and employers like PNC have come a long way in the 20+ years since I first joined the workforce. But as I listened to the enthusiastic undergrads asking questions about being out in the workplace, navigating self-disclosure during the hiring process, and how and whether employers are creating safe spaces for LGBTQ+ employees to thrive, I realized that even amidst great progress, my own "coming out" experience is re-lived by other young LGBTQ+ professionals every day.

When I first joined PNC back in the early 2000s, I was a teenaged college student in search of a supportive community and stability, both at work and at school  – I was a freshman at the University of Pittsburgh. And while I never imagined building a career in banking – I was planning to become a pediatrician – I found myself working in the Customer Care Center and unknowingly building a community and a career. 
The words "diversity and inclusion" weren't used then like they are now, but the feeling of being different and the feeling when those differences were welcomed was easy to recognize.  My team wanted to know my coming out story, lifted me up in the difficult days of that journey and celebrated the good ones. In these moments, I saw greater opportunity to create safe space specifically for me, for my LGBTQ+ co-workers and our allies in the office. I wanted to replicate the sense of support and community I felt within my own team across the entire organization. So I did what every good corporate employee does: I created a slide presentation.
To anyone that would listen, I made a case for PNC to improve our workplace and experiences for LGBTQ+ employees and customers as measured by the Human Rights Campaign's Corporate Equality. Later, I led the bank's LGBTQ+ working group, which eventually became its own EBRG (employee business resource group) called PNC PROUD.
Today, PNC PROUD provides a forum for discussion and development for members of the LGBTQ+ community and allies across 12 chapters. In total, PNC PROUD is one of the company's 11 EBRGs supporting employees with shared heritage, gender, sexual orientation, background or interest in intergenerational connections across 21 markets, encompassing more than 13,000 employees.
After years of pursuing diversity and inclusion efforts as a passion project in addition to my "day job," I was given the opportunity to make that passion my profession as part of PNC's human resources team. It was here that I ended up being responsible for the bank's first survey submission with the Human Rights Campaign's Corporate Equality Index that achieved a 100% score. In 2022, PNC celebrated its 10th year of recognition. Since then, I've had the opportunity to build on the bank's existing culture of inclusion to improve policies and procedures, launch D&I programs and learning experiences, build D&I accountability measures and now lead the teams responsible for recruiting the next generation of diverse and inclusive employees for PNC.
I've had the opportunity to grow – both personally and professionally – during my time at PNC as a direct result of the inclusive environment that surrounds me here. Twenty years later, I recognize the good fortune of joining an organization where the feeling I had on Day One had a name – inclusion – and where the commitment to inclusion can now be seen and heard. But the work is not done.
As new challenges emerge for the LGBTQ+ community, we must remain steadfast in our focus on inclusion. This Pride Month, I've recommitted to being present within our community, to not mistake progress for perfection, to serving as a mentor and to be an out and visible leader for our LGBTQ+ students, colleagues and their families, both personally and professionally. And I am proud that I am part of an organization that does the same. Together, we can continue to do the next right thing.