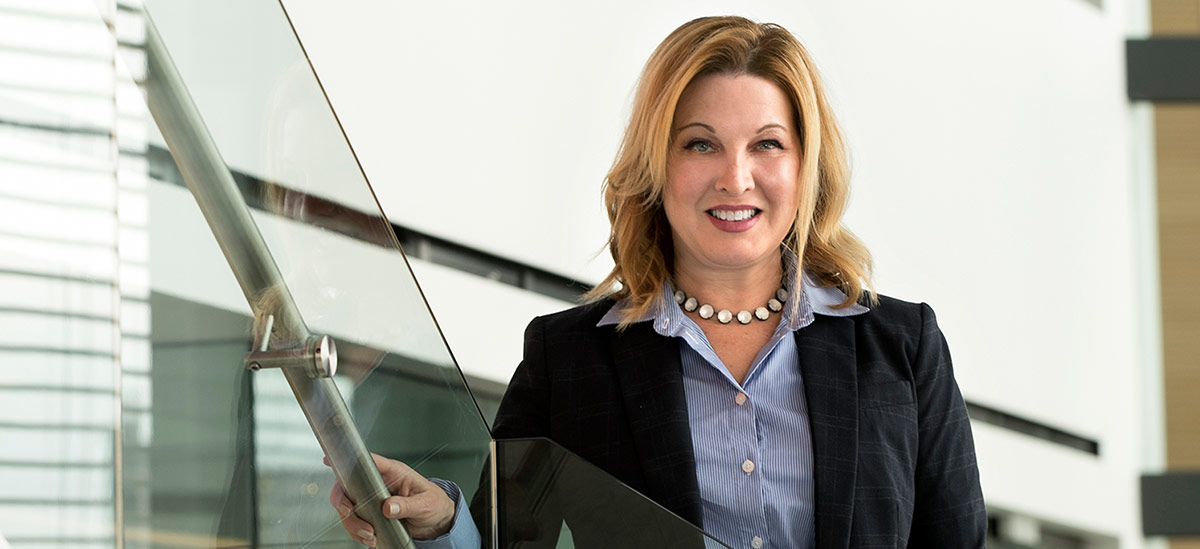 March is Women's History Month, a time to celebrate women's contributions to history, culture and society. With the pandemic disproportionately impacting women, this recognition—and the support and mentorship provided to women in the workplace—may be more important than ever.
"To mentor effectively, it's critical to understand individuals' skills, backgrounds and situations," said Stephanie Novosel, PNC head of Commercial Banking. "My role in the company has made it possible for me to understand individual circumstances and offer my support and advice to others. I am grateful to be able to do that."
Stephanie has long understood the value of mentoring and has mentored many women at different stages of their careers. "I've talked to women looking to make decisions about their career paths, evaluate different roles, and leverage resources for guidance. I've mentored women business leaders in specific areas they wanted to develop further, and I've pulled together groups of female CEOs who want to build stronger networks."
Outside of PNC, Stephanie sits on the Advisory Board for Chatham University's Center for Women's Entrepreneurship, where she has personally funded women-owned businesses through the Center's IncubateHER,[1] a free, year-long business program for early-stage women entrepreneurs. Along with the financial contribution, she connected the IncubateHer program to The Acceleration Project (TAP),[2] a non-profit consulting organization in New York that works to accelerate the success of women entrepreneurs. TAP developed an educational program for IncubateHER participant companies, which PNC sponsored.
Through workshops and engagements, this partnership helped to provide customized resources that delivered tools and ideas on increasing production, which continues to be among the top concerns from women business owners.
Making a Name in the Banking Industry
Stephanie, who was named to American Banker's 2020 Most Powerful Women to Watch, is among four women at PNC who were recognized by American Banker in 2020. Others include Head of Retail Banking, Karen Larrimer,[3] who was recognized among The Most Powerful Women in Banking; President and CEO of PNC Capital Markets Charlotte McLaughlin[4], who was recognized among The Most Powerful Women in Finance; and Chief Security Officer Debbie Guild,[5] who was recognized among The Most Powerful Women to Watch.
With a degree in International Business, Stephanie started her career in audit, tax management and consulting. Prior to joining PNC in 2000 she was senior vice president of market strategy and planning for a mortgage subsidiary of another leading financial services organization. Today, as Head of Commercial Banking at PNC, Stephanie is responsible for leading activities across client and product segments for Corporate & Institutional Banking.
Focusing on the Future
Stephanie has witnessed notable advances for women, both in her industry and others. "More companies understand the value of women's leadership and technical expertise," said Stephanie. "There is less expectation that as professionals we need to neutralize qualities that were historically associated with gender, and there is more understanding of those qualities as strengths, not weaknesses."
That said, the pandemic's negative impacts on women cannot be overstated. According to McKinsey's recent study, "Women in the Workplace 2020,"[6] companies risk losing women in leadership – and future women leaders. This disrupts years of gender equity progress.
With that reality, Stephanie has two hopes for the future.
"My first hope is that companies recognize the current situation and they work to genuinely support equal opportunity for women so that they may achieve their career potential. This support includes providing needed flexibility and considering performance and leadership standards that acknowledge the variety of contributions that make us successful. We also need to make sure that we keep working to minimize bias for employees, clients and communities."
Her second hope is that more work is done to close the gender equity pay gap.
The World Economic Forum's Global Gender Gap Report 2020,[7] suggests it will take 257 years to close the pay gap between men and women globally. "When I first began working, women in the U.S. made $0.70 on the dollar compared to men. Now, it's $0.82 on the dollar. Better, but there is still a long way to go," said Stephanie.
As we navigate life in this new normal, Stephanie believes that it's a sense of duty and commitment to one another that will prevail. "PNC's commitment to women is part of our values and I have seen how deeply rooted and personal it is for our people. I am inspired to see the organization and our people step forward to continue to advance this important work."