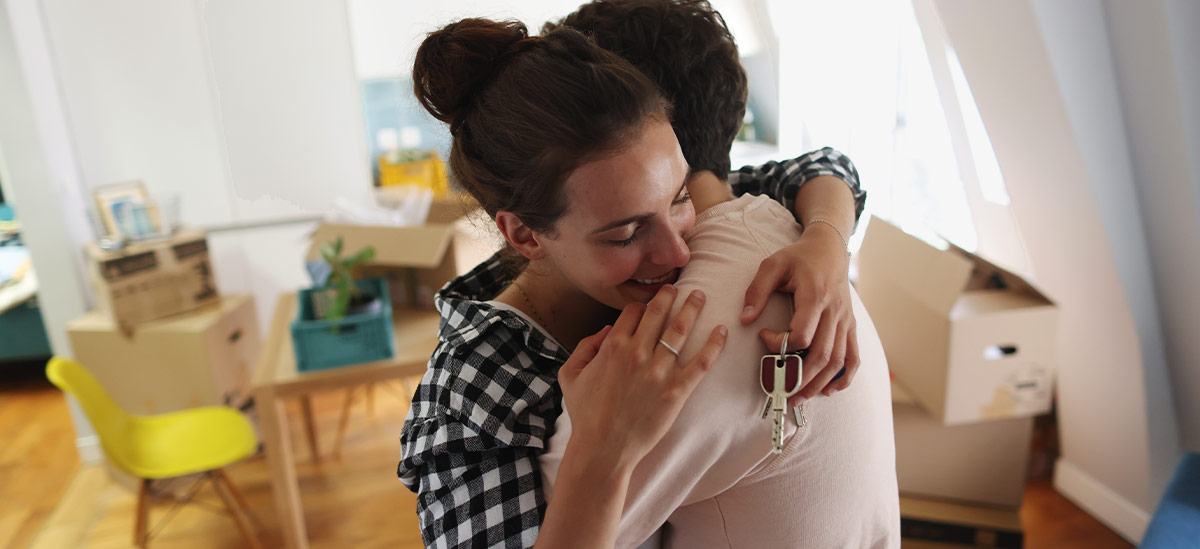 You already know the headlines. Since early 2022, the Federal Reserve has steadily hiked interest rates, forcing mortgage rates upward at the same time.
Does that mean soaring interest rates have put home ownership out of reach? Not so, according to Peter McCarthy, PNC Bank's Head of Mortgage, who points out that the conventional wisdom often has a way of being wrong.
"Yes, today's mortgage rates offer fresh challenges for home buyers. But it's important to realize the ultra-low rates of the past several years were highly unusual. What we're really seeing today is mortgage rates reverting to historical norms."
Meanwhile, even as interest rates have climbed, median home sale prices have registered a steep drop—a plunge of almost 14% between the end of 2022 and June 30, 2023.1 As a result, while home purchases have become seemingly less affordable in one way, they've become more affordable in another.
All this means that with the right attitude, along with a little planning and savvy, the obstacles to owning a home may number fewer than you might think.
To Buy or Not To Buy?

There's no hard-and-fast rule on whether it's more advantageous to buy a home versus paying rent. What's certain is that renting is not necessarily the more affordable option over time. After all, rents in urban areas have climbed roughly 16% between January 2020 and August 2023.2
"The thing to consider?" McCarthy adds, "With a conventional thirty-year mortgage, you'll be paying the same amount each month, assuming you don't eventually refinance at a lower rate. Meanwhile, if you keep paying rent, your payment could be the same as a mortgage without getting the benefit of growing your wealth."
If you're considering buying a home in the short term, decision making should include several factors:
Future plans. Do you plan to stay in the home for a few years?
Lifestyle needs. For example, are you starting a family? Or want a yard of your very own?
Affordability of your location. Every city has its unique range of factors that determine what homes cost. How does your city rate?
In any event, having a clear picture of your requirements is key to helping you get a better understanding of what your ideal home may cost.
Do Your Research

You may not realize it, but there is no single approach to securing a mortgage. And when it comes to a home purchase, a lot of the old rules simply no longer apply.
"There are plenty of mistaken notions about buying a home," McCarthy continues. "One of the most persistent ones is that you need a 20% down payment. Yet there are many programs and initiatives out there that allow for a much lower down payment—or even assist with your down payment. Many of these are developed to benefit first-time homebuyers, veterans, low- and middle-income households, and others. These can go a long way towards literally getting you in the door."
However, preparation matters. "A lot of these grants and other programs are first-come, first-serve, so it's important to know what's available," McCarthy adds. "You want to take the right steps ahead to time to ensure you're qualified."
With the help of these programs, a potential homeowner can explore whether the time is right to purchase a home with greater confidence.
So Where To Start?
Every quest to buy a home should begin with the first vital step: Knowing your credit score. Your credit score does more than predict your eligibility for a mortgage. It also can determine what type of mortgage is best for you, as well as the interest rate you can expect. You can request a free copy of your credit report once each year from the three major credit reporting bureaus—Equifax, Experian, and TransUnion—through AnnualCreditReport.com.  
Generally speaking, the better your credit score and overall financial health, the greater your options. If your credit score is less than ideal, you also have the opportunity to address any issues that might otherwise give a lender pause. Either way, it is a smart move to talk to a mortgage professional to review your options.
"It's important to take your time researching options online," offers McCarthy. "At the same time, it can often be a good idea to have conversations with a mortgage lending professional. He or she can look at your overall financial picture and discuss your needs in greater detail. Chances are, you'll get some really valuable insight on what's possible."
Have A Full Picture Of Costs, Too
Home ownership is more than a mortgage payment. There are other expenses as well. Property taxes. Homeowner insurance. Utilities. Maintenance costs. And, if you hope to live in a condominium or planned community, don't forget the HOA (Homeowners's association) dues. McCarthy recommends researching these costs, using some great financial planning tools, and making them part of your budgeting process.
"Once you have a clear idea of all the expenses associated with owning a home, you gain a much clearer understanding about what you can afford. It also helps you budget for all the other facets of your life as well.
"After all, the last thing you want is to purchase a home that takes all of your income. Instead, you want money left over each month to furnish your new home, put money into savings, go on vacation, and generally enjoy your life."
Don't Be Intimidated
The biggest barrier to buying a home, then, may not be financial at all but psychological. It's easy to be influenced by the drumbeat of negative news, but will that mean talking yourself out of your dreams of home ownership?
Instead, go beyond the headlines and do your own research. Understand your finances and have a conversation with someone who knows the ins and outs of mortgages. The better you have a handle on your real-world financial picture, the clearer the road to home ownership becomes.