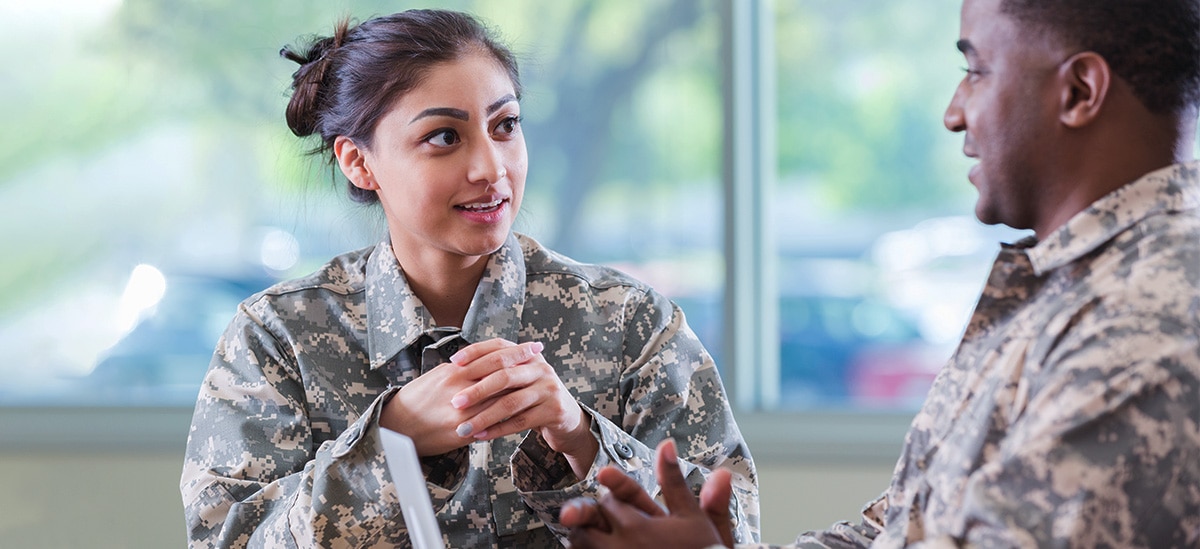 Marine Corps veteran Chris Phillips, now assistant vice president – diversity specialist at PNC, regularly meets transitioning veterans in her work as a military recruiting specialist. She suggests these five actions for setting yourself up for job searching and financial success as a civilian.
Plan 18 Months Out

Just like when you trained for combat, you should be prepared. Start thinking about key details for your transition about 18 months before you step away from service.

"Every vet starts with the VA Transition Assistance Program (TAP)," says Phillips. "This resource helps soon-to-be veterans navigate foreign waters, but remember that you're in control of your future."

Consider the city you want to live in, a career field to pursue, long-term financial goals, and more. The earlier you start thinking about these items, the more time you have to work toward each. You'll get better results than if you wait until two weeks before you leave the military to look for housing or a new job.

Seek a Mentor

Look for someone who's been in your position before. Phillips recommends applying with American Corporate Partners – free to veterans – to be matched up for a one-year mentorship with a vice president or higher executive at a major U.S. corporation. This person may provide tips on job searching, financial planning, mental health, navigating VA resources and more.

Veterans also can gain additional guidance as PNC customer. PNC supports military veterans and families' financial well-being – whether active duty, transitioning to civilian life, or retired – by offering convenient banking options that take the pressure off through job changes and different employment scenarios.

Network. Network. Network.

Start now. Network actively throughout your service. LinkedIn groups are advantageous because they connect you with fellow vets and civilians in your desired career field. Your mentor can also introduce you to new connections, Phillips says.

Land a Job

In a recent study, 55 percent of veterans said finding a job was their most significant transition challenge. Veteran-focused career fairs like Military MOJO may be a great place to start. Just make sure you're prepared – polish your resume and research employers in attendance before you speak with them. Rather than approaching a recruiter with "I was an Air Force weatherman, I can do anything!" try translating your military experience into high-demand skills:

I can analyze complex data.
I can make quick and difficult decisions.
I can think under pressure.
I can lead others through chaotic situations.

These skills ladder up to corporate job descriptions and show prospective employers the value you can bring.

Take a Breath
"Get the sand out of your boots and just breathe," says Phillips. Don't make any quick or irrational decisions the second you leave the service. This might be the first time you've been without a job, but that doesn't mean you should just take the first offer. Make sure it's a good fit in a field you're actually interested in. The same goes for spending money – watch out for predatory lenders who know you've got extra deployment cash or bonus pay in your pocket. It might be wiser to get by with your existing vehicle and save while you adjust to life – and new financial obligations – as a civilian.
With proper planning and support, your military to civilian transition will earn its own salute. Schedule an appointment with a PNC specialist to learn how we can assist you with banking needs before, during or after your transition.