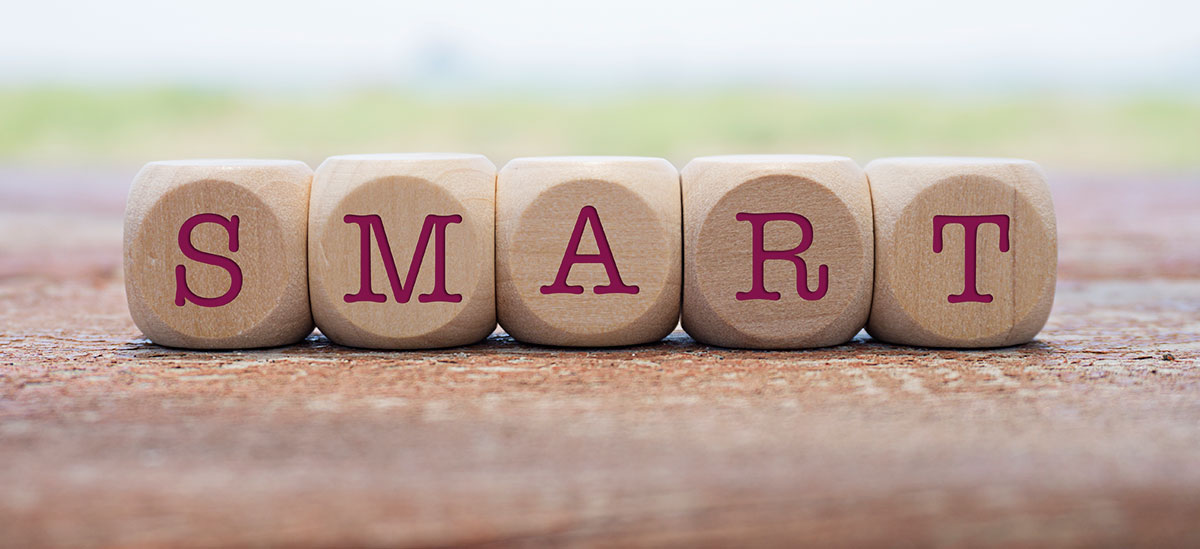 Setting goals is key to sticking to your budget. Not only will great goals give you something to work toward, and shape how you spend your money, they'll also keep you motivated to stick to your budget. After all, when your goals align with what you truly want from your finances, they'll keep you motivated even when budgeting feels difficult or inconvenient.
While virtually any goal helps you budget, you'll get the most benefit from goals that are well-defined and realistic. To do that you'll want to set SMART goals: ones that are Specific, Measurable, Achievable, Relevant and Time-bound.
SMART goals lay out a realistic plan to get where you want to go, and build in milestones to ensure you get there. They also spur short-term action – which is especially key for good financial planning, since your choices today will impact your quality of life years down the road.
Follow these five steps to setting SMART goals, and you can look forward to a bright financial future. 
Set Specific Goals
The S in Smart stands for specific, and you'll want to set detailed goals to work toward. A general pledge to "save for the future," for instance, won't be as impactful as a goal to save $100 a week for retirement.
Some financial goals don't always lend themselves to number figures the way savings goals do, but you can still add specificity. If you want to start budgeting, resolve to track every purchase in the PNC Mobile app1 so you can analyze your spending. Or if you want to curb impulse spending, set a goal to make (and stick to) a list each time you go shopping.
Plan to Measure Your Progress
The benefit of specific goals is that they're also measurable – you'll be able to see at a glance if you really saved $100 weekly, for example. With that said, you'll want to pencil in time to audit your goals regularly and measure your progress.
If your goal was to build a budget, that audit could come in the form of a monthly check in to ensure you're logging your purchases and that your spending aligns with that budget. Or if you set savings goals, your check-in might involve reviewing your retirement savings accounts to see how your balance has grown.
Use check-ins as an opportunity to stay motivated and applaud yourself for sticking to your goals – or, if you've slipped up, as a chance to get back on track.
Make Your Goals Achievable
Failure is often a road bump on the way to success, so don't beat yourself up if you slip on your goals from time to time. But if you're consistently finding your goals out of reach, they might be too aggressive for you right now.
Scale your goals up or down based on your regular check-ins. If saving $100 each week feels too stressful, or you find yourself skipping payments, saving $50 might feel more manageable. You can always raise the goal again later.
Still struggling? Considering adjusting how you measure your goals to add flexibility. If your income varies, resolving to save a set percentage of your income, rather than a fixed dollar amount, may help you stick to your goals during leaner months.
Finally, make meeting your goals as streamlined and simple as possible. Take advantage of the Auto Savings feature to automate saving, and use the Spending and Budgeting tool in Virtual Wallet® to make budgeting and tracking your purchases a breeze.
Keep It Relevant and Impactful
Reaching your financial goals is rewarding, but it's normal to struggle with motivation from time to time. Setting financial goals that align with your values will keep you going, because they support a larger benefit: achieving the life you want.
When you're setting financial goals, think about:  
How you'd like to feel about your finances. What needs to change for you to feel that way?  
What's most important to you right now. How can better financial wellness make that happen?  
What your ideal future looks like. How will financial planning make that possible?   
Prioritize goals that will have the most impact on your life now and in the future. And visualize the rewards of your goal-setting – for example, paying your bills stress-free, or feeling secure in retirement – to stay on track even when it feels difficult.
Set Time-bound Deadlines and Track Milestones
Many financial goals may not fully pay off for years, or even decades, down the line. So build a sense of immediacy into your goals to avoid kicking the can down the road.
Start by outlining actions you can take today. Jump-start your savings goal by scheduling your first payment, and setting up Auto Savings for future ones. Kick off your budgeting goal by downloading the PNC Mobile app to access the Spending and Budgets tools in Virtual Wallet, so you can start tracking your expenses and analyzing past spending.
Schedule your first check-in for a month from now, and outline what you'd like to accomplish by then – and repeat the process for each check-in. Over time, setting a series of short-term goals will snowball into longer-term successes.
Finally, get support when you need it. You don't need to set financial goals alone, and seeking expert advice can help you manage complex goals or keep you on track if you're struggling. Connect with PNC for personalized advice, we're here to help you feel secure in each stage of your financial journey.