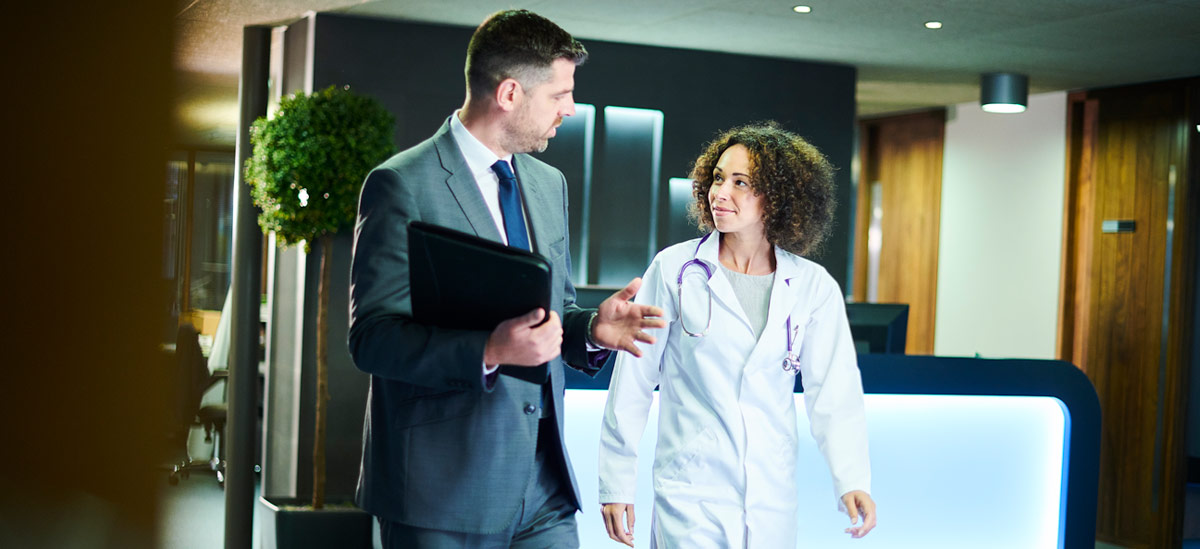 The business landscape has changed rapidly, and that's especially true in healthcare.
On top of meeting the new demands of the pandemic, providers face changing consumer attitudes. Not only do patients expect a more tailored experience, but they're also increasingly concerned with the price of healthcare, and providers feel pressure to minimize costs.
Forming partnerships with like-minded organizations can help practices keep up with consumer demands. By sharing resources and expertise, practices can leverage their partners' complementary skills to enhance care without increasing costs.
Interested medical and dental providers have several options for mutually advantageous partnerships, and the following five types of partnerships may benefit your practice.
1. Mergers and Alliances Between Practices
As healthcare organizations face increased patient demands, they've turned to a straightforward solution: get bigger.
Mergers and alliances between hospitals have risen since the 1980s, with favorable results. Research shows that mergers are linked to higher revenues[1] and profits, partly because they increase the hospital's market share in their local area.
So it's no surprise that medical and dental practices are turning to M&As, too. Healthcare mergers and acquisitions grew 56% in 2021,[2] with the highest growth occurring among physician medical groups.
When done well, these partnerships can benefit both providers and patients. In addition to driving more significant revenues, mergers help increase the organization's buying power, providing more leverage during negotiations to help drive down costs.
Mergers can also help patients access a more comprehensive range of providers than before. They may be able to access more healthcare services in one place, allowing for more seamless continual care.
Alliances can be beneficial for practices that wish to stay independent. Strategizing and coordinating care with a partner organization can offer benefits similar to a merger — like increased buying power, market share, and increased potential to coordinate care — while allowing the freedom to work autonomously.
2. Medical-dental Partnerships
Taking a holistic view of health means caring for patients' medical and dental needs — and medical-dental partnerships can help practices provide more integrated care.
Collaborations that allow patients to access dental care at medical centers and vice versa can help providers enhance patients' overall health. Consider deploying a provider, such as a nurse practitioner, to a partnering dental practice and bringing dental hygienists into medical practices for regular cleanings.
Medical-dental collaboration is on the rise nationwide, with states like Minnesota and Wisconsin launching initiatives for more integrated care.[3]
These partnerships benefit providers and patients by making medical and dental care more accessible. They help patients access the preventive dental care they need, assisting dental providers to reach underserved populations[4] like adults with special needs, older adults, and immigrants. Partnerships that allow for greater preventive care also reduce the risk of costly emergency department visits for nonurgent dental conditions.[5]
Finally, these partnerships may allow providers to better manage medical conditions with a dental component — for example, helping physicians improve blood sugar control in patients with diabetes by ensuring they can access dental care to prevent or treat periodontal disease.
3. Partnerships with Academic Institutions
Academic institutions can make ideal partners for medical and dental practices. They bring a steady stream of fresh talent, broad research expertise, and, often, deep roots in the communities they serve.
Many institutions are often eager to partner with medical centers to broaden the size and scope of the care they can offer. Brown University's partnerships, for example, made it one of the largest multispecialty physician practices in its state.[6]
These large, multidisciplinary partnerships can attract patients seeking specialized care, while providers benefit from the institutions' expertise, talent, and investment.
4. Partnerships with Community Organizations
Some of the most rewarding partnerships for medical and dental practices give back to the community. Partnerships with local government, businesses, and community planning organizations can all prove beneficial — for the community and the practices themselves.
Providers might partner with local organizations to coordinate care for underserved populations, like the elderly or the unhoused. While partnerships with local grocery stores or fitness centers can help patients access the resources they need to live healthier and help prevent chronic illness.
Providers' partnerships with community planning organizations help ensure safe housing[7] for the community to improve public health. And partnering with advocacy groups can help shape public policy to expand access to affordable healthcare for the community.
5. Private Partnerships to Enhance Care
Of course, private partnerships can enhance the quality of care for patients while lowering costs for providers.
More and more providers are turning to partnerships with telehealth companies[8] to help reach patients remotely, allowing them to "pandemic-proof" their care and meet rising patient demand for remote care. Others work with remote patient monitoring (RPM) companies to help ensure continuing care between visits — like this partnership between UCI Health and Bioformis[9] to prevent hospital readmissions through AI-driven RPM.

While the benefits of a private partnership depend on the type of organization you choose to work with, these partnerships can help control healthcare costs for patients, enhance your quality of care, reduce inefficiencies in your practice, and make it easier to reach underserved patients.
How to Form Effective Partnerships in Healthcare
No matter what type(s) of partnerships you're interested in, the following best practices can help make them a success.
 1. Cast a wide net. While partners should share at least one common goal, keep an open mind about the types of partners you seek out and the size and scope of your work together. Look for complementary skills or resources to help ensure the partnership benefits both parties.
 2. Define each partner's role and make an implementation plan. A successful partnership starts with clearly defined goals and an agreement on how to reach them. Work together to create a roadmap, noting which partner will take on which responsibilities.
 3. Split the decision-making. Setting (and resetting) benchmarks will strengthen the partnership and ensure you're working toward your shared goals.
Finally, remember to celebrate your wins. Taking time to acknowledge the hard work you've done together and what you've accomplished as a team makes partnerships feel rewarding — and can inspire others in the community to follow in your footsteps.