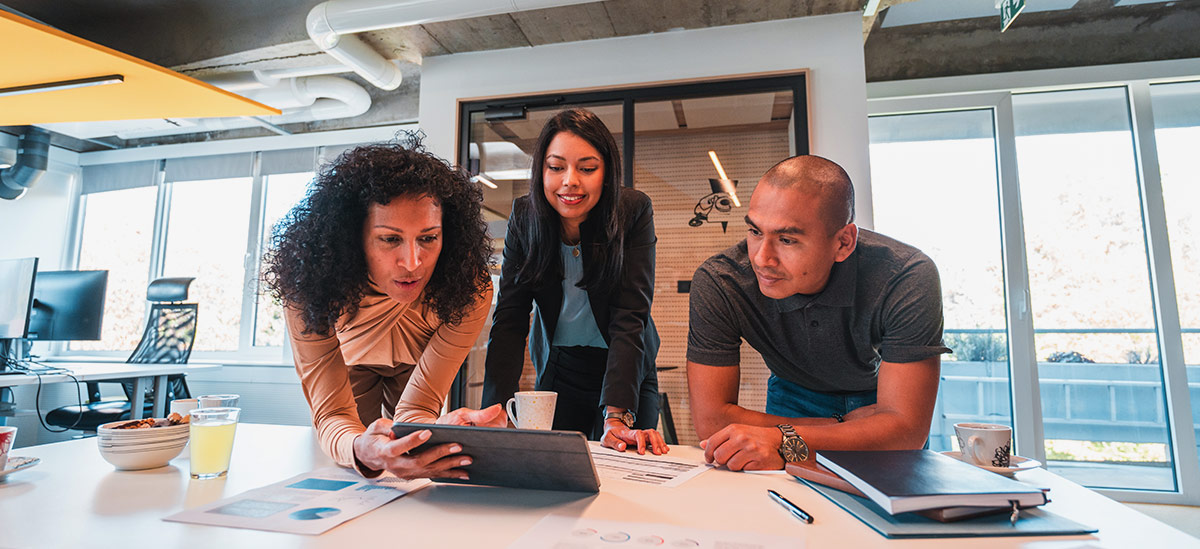 Writing a business plan before opening your company's virtual or brick and mortar doors is one of the best ways to set your business up for success and sustainable growth. It can even bring clarity to what you want to accomplish in the near- and long-term future.
To create an effective business plan, it's essential to clearly set, outline and describe the goals you want to achieve in order to grow your business over time. By serving as a strategy for your venture, your business plan can help you stay focused throughout your operation's lifecycle, no matter how big or small your startup may be.
Developing a business plan can help you determine the type of funding you may need, untangle the types of accounts to open , craft your marketing plan, detail your business structure, and even fine-tune your company's overarching mission.
Presenting a well-polished plan can also help you secure financing. Lenders and investors use your business plan to gauge the viability and sustainability of your business and to help determine your risk profile as a borrower.
Below you'll find more insight into how to make a business plan and what components are usually found in traditional planning documents.
What Is a Business Plan?
A business plan is a strategic document that lays out the market research behind your business, a description of your products or services, as well as financial information and forecasts. Writing a business plan helps outsiders understand your vision for the business and presents research and information to show why your business is viable.
How Long Should a Business Plan Be?
The length and complexity of your plan depends on the nature of your business. The U.S. Small Business Administration recommends 38 to 50 pages for a basic plan and 80 to 100 pages for a more complex one. The plan should be long enough to help readers fully understand your business, as well as gain key insights to help guide funding decisions.
What Goes into a Business Plan?
Whether you're preparing a long business plan or a brief one, you'll want to touch on these key concepts:
Executive summary: A one or two page summary of the plan that helps readers get to know you and understand your business at a glance.
Market research: A forward-looking analysis of the trends affecting your industry and target market. You'll also want to include a competitive analysis that lays out what your competitors are doing and any unmet needs in the marketplace.
Business description: Insight into what you do, who you serve, and how you meet the needs of your target market. Touch on what makes you different, showcasing any expertise or innovation that will help you succeed.
Business and management structure: Your plan for the legal structure of your business, as well as a list of the leading members of your team and their responsibilities.
Marketing plan and sales overview: Describe your marketing strategy, touching on key messages as well as which marketing channels you'll use. Briefly describe your sales cycle, so readers have a sense of what a sale looks like.
Financial overview: Make your business attractive to lenders with documentation to show your financial health. Show balance sheets and cash flow statements, as well as financial projections for the next two to five years. List any assets owned by yourself or the business that you could use as collateral for a loan.
Funding requirements: A brief explanation of the funding you need, supported by your financial forecast. Describe what you'll use the funding for, how it will help you realize your plan, and how you plan to pay it back.
Appendices: Any supporting documents required for your plan. That could include your business or personal credit report, proof of intellectual property, certifications, and supporting documents showing your expertise.
Additional Tips:
Write the executive summary last: A great executive summary makes a strong first impression, and it should be the last thing you include when writing a business plan. As you research and write your in-depth business plan, you'll get a sense of what details are most important. Writing the executive summary last means you can touch on all those key points and ensures the summary accurately depicts what's in the report.
Use storytelling to sell your business: There's a story behind every business and telling yours can make you more attractive to lenders. Storytelling can help influence attitudes and behaviors and make readers feel more connected with your journey — and more likely to want to help you succeed. Include storytelling in your executive summary to hook readers. When you're writing your business description, touch on why and how you started the business, as well as your journey to becoming an entrepreneur.
Note any certifications in your business plan: Getting certified can help you access funding and training opportunities, as well as bring added credibility to your business. List your certifications, or your intention to get certified, in your business plan to look more attractive to lenders.
Focus on the finances: Business owners love to dream big but keeping your financial forecasts rational and achievable is crucial. Make sure you take all your expenses into account and think about contingency plans if something goes wrong, including downturns in the economy and supply chain disruptions. Your forecasts should be backed by facts and figures to showcase the strength and stability of your business. Show prospective lenders how your funding request factors into your financial plan. Let lenders know what the money will be used for and show how (and when) you will play it back in your financial forecast. A strong financial section serves two purposes: it helps you stand out to lenders, and also gives you a chance to consider what types of funding best suit your needs.
A Strong Business Plan Takes Time
In all, you'll need to invest ample time into your business plan.
Depending on the type of business and the inherent complexities that come with it, an effective plan will sometimes take up to a month, and possibly a year. It's all worthwhile to get started the right way and get your business off the ground successfully. An extra set of eyes can also be beneficial, so be sure to run your plan by colleagues, friends and other trusted confidants who will provide candid and objective feedback.
For more information and advice, make sure to visit PNC's Starting Your Own Small Business page.