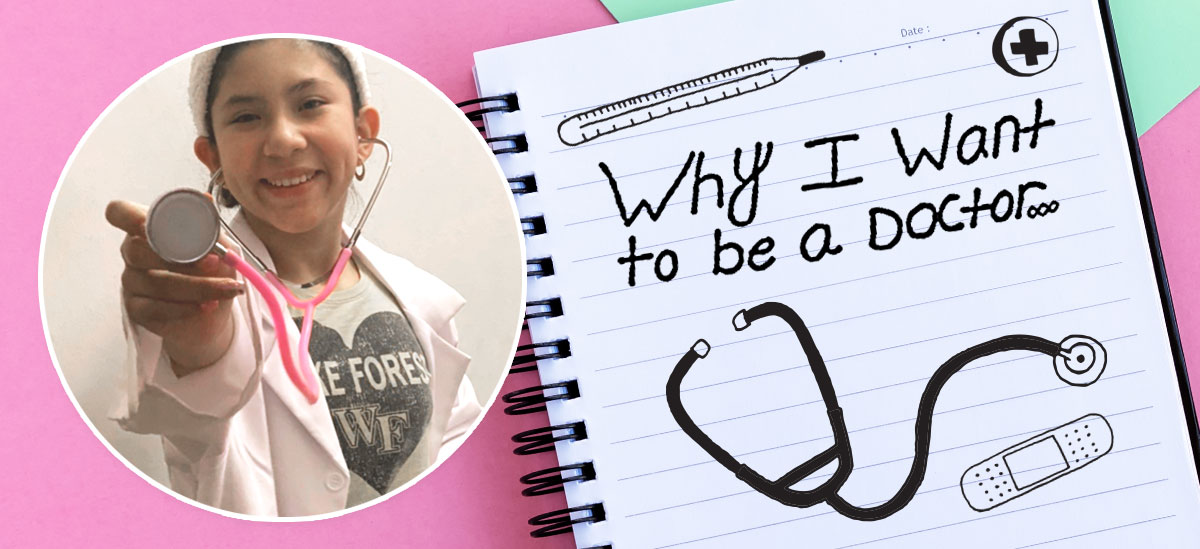 Beyonce once said, "Who runs the world? Girls." Hi, my name is Lilah and I am your typical pizza and craft loving 5th grade girl. I also especially love science! Ever since I can remember, I have always imagined myself as a doctor. My love of science started when my mom and I would try to catch fireflies in mason jars on warm summer nights. I wanted to know why they would light up, and why they were dead in the morning. Ever since then, my curiosity for life and animals has only grown. Up until this point, I have participated in several science events and while they are a lot of fun, I'm only one of a handful of girls there while the rest of the participants are boys. I have always wondered why there weren't as many girls as there were boys. Ever since then, I've made it my mission to encourage more girls to get involved in science.
I knew that I wanted to be a doctor since I was Five-years-old. The reason why I want to be a doctor is because of my passion to help others. I want to be able to help cure children and help them when they are scared. Growing up all doctors were nice to me, and I would love to be that caring doctor for other children that fear doctors. Another reason why I would like to be a doctor is because there are not many doctors that are people of color like me. All the doctors I have had have been kind, but they don't look like me. I want to inspire other children of color, especially girls, that it is possible to succeed in a male dominated field. I want to be able to relate to my patients and communicate with them in their native language, Spanish, since I am bilingual. I also want to make all my patients feel welcomed, cared for, and listened to by me. I want to motivate other children that may think that the odds are against them to reach their goals!
During the pandemic, I joined a STEM program specifically designed to encourage girls to continue their passion in science. It has helped fuel my passion for science because I was able to have one-on-one time with my mentor and search different topics that I was curious about. I was able to do science experiments such as building a bottle rocket that opened my curiosity for other subjects such as finding out what goes behind a rocket launching into space. I was able to grow my understanding of female achievements and how we have taken the science world by surprise. One of my favorite subjects we researched was about the immune system. Being in the STEM program has made me feel more confident in being able to research different subjects. It has also motivated me to continue to learn and become a successful woman in the science field.
The advice I have for other young girls like me is to never give up even when it seems like the world is against you. You can accomplish anything you set your mind to! Take every opportunity you are given even if it seems scary. If you have a passion for science and you are scared that it is a mostly male field, start researching on how women have changed the Science field and I guarantee you will feel how powerful we are. Don't be scared to ask questions and always have a curiosity for the world around you. I think what helped me gain confidence is having a strong female role model like my mom. She never gives up and I would like to say that is where I learned to always give everything my all and break down anything that stands in my way of my goals. When you set your mind to it nothing is impossible, the sky's the limit!